Alex Wang's Fashion Steal
Clockwise from top left: Alexander Wang on stage; the party crowd; Die Antwoord performs; Gievre Bukauskaite, Eniko Mihalik and Samantha Gradoville The financial industry has had a rough couple of years, to put it lightly....
---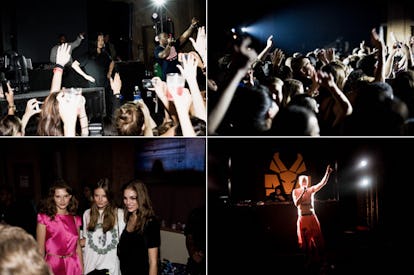 The financial industry has had a rough couple of years, to put it lightly. Occupy Wall Street, anyone? Alexander Wang's Made-sponsored party Saturday night wasn't exactly a protest, but one couldn't help but note the cheeky timing of his choice of venues: the Emigrant Bank Building on Chambers Street, just north of Wall Street itself. Invitations came in the form of stamped cheques and security was airport tight. When was the last time you had to empty your pockets and slip your bag on a conveyor belt for screening just to enter an event? (Fortunately, no shoe removal was necessary, because god knows how long that would have taken considering the fashion crowd.) Once inside the marble domed space, models and scraggly dudes with man-buns roamed, snagging drinks from bartenders who sported name tags reading "Rich" and were stationed behind bank teller stalls. A DJ spun early Nineties and Aughts songs from a central stage while guys and girls wearing Halloween-esque rubber masks posed as faux bank robbers. Just before midnight, Wang himself entered wearing a rubber ghoul mask himself and a black robe, with a troupe of similarly-clad marauders (the designer has clearly seen The Town a few times). Soon, the cavernous dark space transformed into a mosh pit rave-cum-concert scene with performances from Die Antwoord and Busta Rhymes that had Karlie Kloss, Joan Smalls and Hanne Gaby Odiele dancing all night.
Photos: Shawn Brackbill