Upping the Ante
Bowtie devotee Alexis Mabille's debuts his couture collection.
---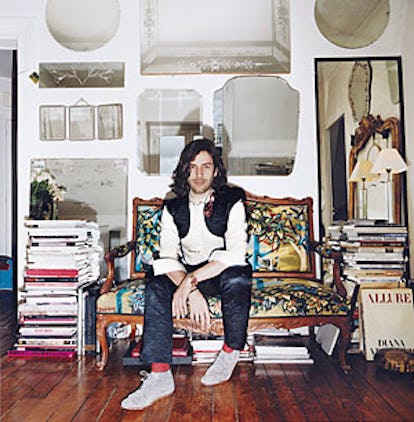 On a drizzly January day in Paris, a grinning Alexis Mabille bounds into his newly acquired atelier and pours out a plate of M&M's. It's certainly a sweet moment for this French designer, still reveling in the glow of his triumphant runway debut and clutching a fresh order for high-waist capri pants from one Dita Von Teese.
A look from Alexis Mabille's January 2008 show.
"I'm still reeling," says Mabille, 31, who, with his dandy countenance, Tom Thumb stature and thick mane of unruly black hair, could have walked straight off the set of Dangerous Liaisons.
Until now, the young eccentric has been best known for his über flamboyant line of bow ties, called Treizeor, of which Karl Lagerfeld and Mick Jagger are said to be fans. Prior to staging his first catwalk show as a guest member of the official couture schedule, Mabille spent years quietly honing his clothing skills on made-to-measure orders for private clients, including Sofia Coppola and her boyfriend, Thomas Mars, lead singer of the French band Phoenix.
The approach paid off, propelling Mabille onto the international fashion radar. His charming and sophisticated show, held at the rococo tearoom Angelina—its foyer dotted with silver trays of macaroons displayed on counters—had everyone wanting a slice of Mabille.
"I was quite surprised at the quality of the show," says photographer Jean-Baptiste Mondino, who has known Mabille for years. "I see him as part of a new wave of young French creatives." Mondino even hails Mabille's collection of ingeniously detailed upscale basics as emblematic of a renaissance of Gallic style.
Mabille, however, says his inspirations are more Studio 54 than Saint Germain. "I'm very influenced by American fashion from the Halston period, the idea of a casual kind of glamour. There's always this notion of sportswear at play," he says at his studio, gesturing to a drop-waist baby pink gown that was, in fact, inspired by a men's shirt.
All the while the radio is blaring, and in the background Mabille's willowy Dutch muse-cum-manager, Myrthe Mabille, glides about the room decked out in a burgundy grandpa sweater and a pair of mannish Katharine Hepburn–esque pants. Mabille met Myrthe more than a decade ago, when she modeled for him in a fashion show while he was a student at the Ecole de la Chambre Syndicale de la Couture in Paris. Subsequently, she married his brother, Martin. "We go back a long way. It's all a bit Little House on the Prairie around here," jokes Mabille, hopping up to show other fashion treats, including a layered organza minidress, its hem piped with a line of slanted bows like dormant propellers. Yet another bow-covered extravaganza, this one in billowing organza, was inspired by a generic hoodie and looks suited to a modern Little Red Riding Hood. Clearly, he's a tad bow-obsessed. In his show, which included both couture and ready-to-wear, he gave the motif a charming workout, even scattering bows throughout the models' tousled manes.
Hailing from Lyonnaise bourgeoisie, Mabille has deep roots in French fashion, his ancestors having made their fortune producing silk in the region during the 19th century. "I spent my childhood foraging through my aunt's collection of antique family clothing," he says, describing the huge stash of fabrics, trimmings and buttons he accessed to create costumes. From there, he began making clothes for family and friends, and by age 15, he had established a local bridal business, dressing roughly one bride per month.
To this day, Mabille likes to pull from a hodgepodge of eras, fabrics and genres, juxtaposing old-school English tweeds, say, with a pair of silver glitter pants within the same collection.
He also blends rough fabrics with refined ones. "It's almost bourgeois in essence, but I like to play with lengths and proportions to give it a twist," says Mabille, demonstrating an aggressive cut on a Prince of Wales–check hunting suit, lined with bloodred silk.
Despite his sudden arrival on the runway scene, Mabille has hardly been toiling in seclusion. He worked for more than 10 years as the costume jewelry designer for Dior. (While there, he befriended some of John Galliano's inner sanctum, including famed hairdresser Odile Gilbert and model Morgane Dubled, both of whom worked on Mabille's show.) Currently he collaborates on Yves Saint Laurent's costume jewelry.
"I had a burning desire to get back to making clothes," says Mabille, whose first solo foray was with a line of unisex pants, presented in fall 2005, followed shortly after by the bow tie line that has since become his theme. For the latter project, Mabille morphed the after-dark accoutrement into a versatile fashion accessory that can be worn in the hair, pinned around the body or cinched around the waist. "They were kind of a joke to begin with, but ended up going down well with retailers," says the designer, who is rarely seen without one pinned to his lapel.
A full unisex line, playfully chic in its allure, was presented in the midst of the men's fashion and couture weeks in January 2007. Then Mabille showed at the fabled Parisian taxidermy boutique Deyrolle. For the event, Mabille wrapped bow ties around the necks of stuffed ostriches and giraffes, and pinned others alongside gleaming butterflies in glass cabinets, wittily echoing the insect's forms.
Mabille claims to be a nocturnal creature, creatively speaking, and he frequently designs into the wee hours. Shut-eye has never been his thing, he maintains, and roughly five hours of rest suffices. During the rare times he does lay the needle to rest, hobbies include scouring the Porte de Vanves flea market in Paris for antique mirrors, glass tableware and old French linens. He also reserves each Sunday morning to watch two movies in a row. "I haven't missed a single Disney movie, and I love anything that's a bit weird, like The Lord of the Rings," he says. Another favorite: Jean Cocteau's rendition of Beauty and the Beast.
But it's a restless thirst to create that drives him to push his collection further. "I would like one day to enter the court of the giants," Mabille muses, implying that he aspires to the stature of such couture greats as Galliano and Karl Lagerfeld.
Mabille is convinced the time is right to pursue his vision, especially since he detects a renewed gusto among the young for dressing up. "There is a customer for a new kind of couture that's a bit offbeat, but that is extremely chic in terms of its construction and fabrics," he says. "Things have been grungy for so long, and I don't think the future is about that."
runway: Giovanni Giannoni