Alicia Keys and Stella McCartney's New Breast Cancer Awareness Campaign Is Personal
They're opening up about their personal ties to the cause.
---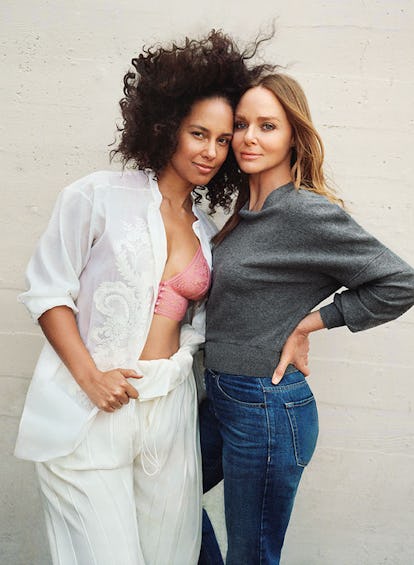 Stella McCartney
Alicia Keys and Stella McCartney are getting a head start on Breast Cancer Awareness month, which begins October 1. The musician and the designer have partnered on a new campaign that shines a light on breast cancer prevention and early detection, as well as all of the good the Memorial Sloan Kettering Breast Examination Center of Harlem does. McCartney will be donating to the institute via a percentage of proceeds from the sales of the pink Ophelia Whistling bralette ($160) and the Poppy Pink bikini brief ($90)—both of which go on sale October 1 at StellaMcCartney.com—that Keys models in their new campaign. A proceed of the sales from the lingerie set will also go towards the Linda McCartney Center in Liverpool, England, which was started in the memory of Stella's mother and provides early detection programs as well as treatment.
For McCartney and Keys, the cause is a very personal one. Keys also lost her mother to breast cancer, which she reveals in a video clip alongside McCartney. "Every 19 seconds a woman around the world is diagnosed with breast cancer," says McCartney. "So I'm showing my support by wearing Stella's Ophelia Whistling lingerie set," Keys adds, "where a percentage of the proceeds are donated to the Memorial Sloan Kettering Breast Examination Center of Harlem, which is super important to me. I was raised in Harlem so this really resonates with me and also my mother is a breast cancer survivor and I don't think I've ever really got to really share that story, so this is important to me."
"I don't think enough women know that," McCartney says. "Sadly, I lost my mother to breast cancer 19 years ago. She didn't meet my children. My children didn't meet her, and we are here today to raise awareness."
"That's right," says Alicia. "And to start a conversation and to break the taboos and to really encourage everybody to get checked."
Part of the conversation is also talking about the barriers to early detection that many face. "I just recently learned that African-American women have a 42 percent higher rate of mortality from breast cancer than Caucasian women in part because we don't always have the opportunity to get an early diagnosis or the right kind of treatment," Keys told Harper's Bazaar. "So increasing that awareness is another reason this project is extremely important."