Alicia Vikander and Michael Fassbender Are Officially Married
The rumors are true: Alicia Vikander and Michael Fassbender have apparently tied the knot in Ibiza.
---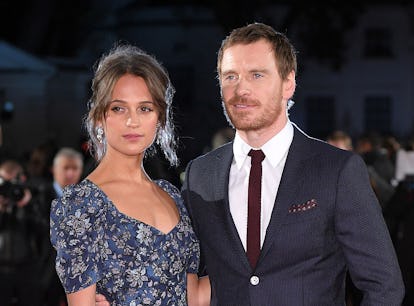 Karwai Tang/Getty Images
Everyone can stop guessing now because the rumors are true: according to E! News and People, Alicia Vikander and Michael Fassbender officially wed on October 14, after a fun-filled weekend in Ibiza with family and friends.
Rumors of a relationship between the notoriously reserved couple started back in 2014, when they met on set as the leads in the 2016 film The Light Between Oceans, a romantic period drama in which a lighthouse keeper and his wife attempt to keep a baby who washes up ashore as their own child, all while clad in extremely cozy-looking sweaters. Over time, their onscreen romance bled into real life as they lived together for at least a month during production, which Vikander later hinted, in interviews around the time of the film's release, was what cemented her coupledom with Fassbender.
The two had been seen vacationing on a boat together earlier this summer, and after months of speculation about the status of their alleged engagement, they were spotted together in Ibiza wearing wedding bands on October 15. A source confirmed to E! that they did indeed tie the knot after a full beach day on the Spanish island. (Reps for the couple have yet to comment.)
In addition to soaking up the sun with family and friends during their nuptials (including Fassbender's favorite director, Steve McQueen), the newly betrothed couple are both currently very busy with their careers. Recently, Oscar-winning Vikander has been flexing her action hero muscles, while filming the new installment of the Tomb Raider franchise as Lara Croft, a role initially portrayed by Angelina Jolie. Fassbender has also been working on his superhero mojo, continuing his portrayal of the villainous Magneto in the forthcoming X-Men: Dark Phoenix.
Related: Love of the Irish: Michael Fassbender, Saoirse Ronan, and More of Ireland's Best in W