Here's How Alicia Vikander Gained 12 Pounds of Toned Muscle For Tomb Raider
The actress put on weight for her role as Lara Croft in the upcoming Tomb Raider reboot.
---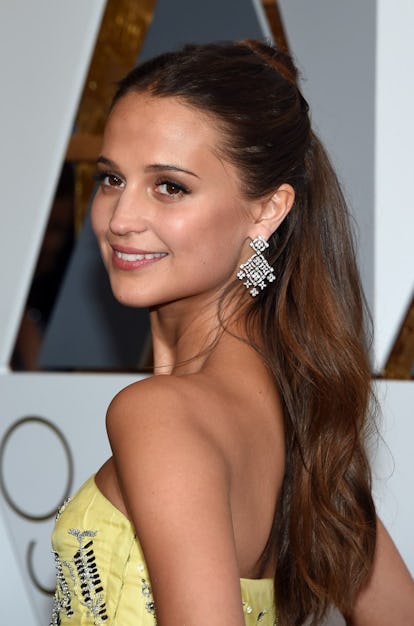 Getty.
Swedish actress Alicia Vikander may be known for her petite frame and delicate, feminine features, but after putting in some serious work into her upcoming role for her next film Tomb Raider, Vikander's newly toned physique is not to be missed. Working out alongside trainer Magnus Lygdback to help prepare her for the infamous role of Lara Croft—the part famously originated by Angelina Jolie in 2001, of course—the Oscar-winning actress gained an impressive 12 pounds of muscle while filming.
Breaking down her rigorous workout routine to Entertainment Tonight, Vikander shared that,"On this job, it was the first time I was expected to do as much muscle and weight training as I've done. I've really felt it very empowering, and I still feel like I have a physique. I already wanted her to be a strong, physical girl", she added, further revealing,"This film is about her becoming the action hero we know her to be." The classically trained ballet dancer and currently very happy wife of Michael Fassbender continued to share with Vogue that she achieved her chiseled figure through "weight training, MMA fighting, climbing, archery, and swimming".
And while Vikander's three month long training period was "no walk in the park", according to Lygdback, it's not impossible to achieve either. "People think they need to spend hours in the gym. With my method, that's not what we're doing," he explains. "Never more than one hour a day and not even seven days a week… you might do a little cardio in the morning and working out in the afternoon while cutting, but that's it." Lygdback also added that when it comes to training, it not about the numbers, "It's all about how you feel and how you look. It's about building the character."
Tomb Raider opens up in theaters starting on March 16th.
Proof that Swedish Actress Alicia Vikander Can Wear Any Hairstyle
At the Anna Karenina film premiere in 2012, Vikander wore her hair in a simple up do.

Photo by Getty.
Vikander wore her hair in tousled up do with her bangs pinned back and a soft, dark smoky eye at the world premiere of Anna Karenina in 2012.

Photo by Getty.
Sporting a slicked back locks and a glossy berry lip, Vikander looked chic and fashionable at the British Academy Film Awards in 2013.

Photo by Getty.
Vikander looked pretty in pink at the 2014 British Academy Film Awards with her hair in loose waves and a bright pink lip.

Photo by Getty.
At the 19th Annual Hollywood Film Awards, Vikander rocked a bronzed smoky eye with a slicked back bun.

Photo by Getty.
Vikander attended the 68th annual Cannes Film Festival in 2015 with silver frosted eyeshadow and a swept back up do.

Photo by Getty.
With her sleek curls pinned back and luminous skin, Vikander looked stunning at the 2015 Toronto International Film Festival.

Photo by Getty.
Celebrated her Oscar for her role in The Danish Girl, Vikander was glowing at the 88th Annual Academy Awards in 2016 with her hair half up in a loose top knot and a natural face.

Photo by Getty.
With a gold shimmery eye and sleek twisted up do, Vikander was luminous at the 73rd Annual Golden Globe Awards in 2016.

Photo by Getty.
At the The Light Between Oceans film premiere in 2016, Vikander wore a messy up do with a natural eye and pink lip.

Photo by Getty.
Keeping it playful with a knotted high pony and a metallic silver eye, Vikander looked effortless at the London premiere of Jason Bourne in 2016.

Photo by Getty.
Keeping it sleek and sophisticated at the 22nd Annual Screen Actors Guild Awards in 2016, the star wore her hair straight with a golden smoky eye.

Photo by Getty.