Alicia Vikander Is "More Happy and Content" Since Marrying Michael Fassbender
They tied the knot in Ibiza last October.
---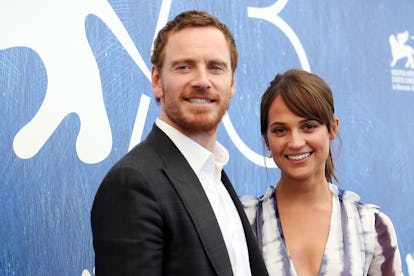 Franco Origlia/Getty Images
Ever since people started chattering that Alicia Vikander and Michael Fassbender had taken their onscreen romance from 2016's The Light Between Oceans offscreen, the genetically blessed couple has been one of Hollywood's most secretive duos. They're rarely seen together in public, decline to speak about each other in interviews, and kept their October 2017 wedding in Ibiza strictly between themselves and their closest friends and family members. But in the March 2018 issue of Vogue, Vikander finally opens up, just a bit, about married life with Fassbender.
For starters, the Swede explained why she and her German-born husband, who recently settled down together in the "Williamsburg-ish" city of Lisbon, prefer to keep their lips zipped about their relationship. "It's not about being secretive," she said. "It's just about choosing the few things that you keep private." This privacy has, apparently, served the couple well: "I feel I'm more happy and content than I've ever been," Vikander said, before clarifying that "the 'happy and content' thing, that's talking about my private life," since she still has plenty of lofty goals to achieve in her professional life.
But the Oscar winner isn't opposed to mixing her private and professional lives. Vikander said she's open to working with Fassbender again, especially since their first onscreen pairing went so well. "We had a great experience, apart from the fact that we…" she said, trailing off as she glanced at her wedding band and laughed. "I think he's one of the absolute best actors I've worked with. Of course, he'd done more films than me, but immediately when we started to work together, he was so open to wanting me to chip in new ideas and thoughts. He would be like, 'I'm stuck; what should I do?' and I would say, 'You're asking me?' That was such a sweet thing." Vikander added, "Life is about a lot more than work, but if it's also your biggest passion, of course it's something you enjoy talking about."
After tying the knot in an extremely low-key ceremony in Spain last fall, just a few days after her 29th birthday, Vikander and Fassbender were spotted honeymooning all across Italy, where they stopped for selfies with fans in Verona, Florence, and Bologna. Immediately following the romantic getaway, the Tomb Raider star flew back to New York City, sans husband, where she debuted her wedding ring—a set of three platinum or white gold diamond-encrusted bands, all connected by a single, much larger diamond—at a Louis Vuitton event.
Related: Alicia Vikander Tried to Talk to Prince William About The Crown