Alicia Vikander Tried to Talk to Prince William About The Crown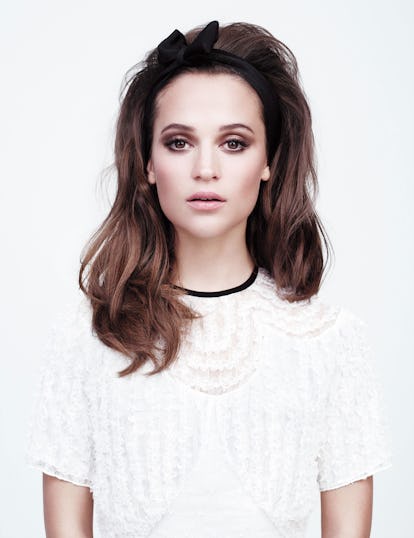 Photographer: Willy Vanderperre Stylist: Edward Enninful
If you were seated next to Prince William at a dinner party, what would you talk to him about? Prince Harry and Meghan Markle's upcoming nuptials? EU politics? The refugee crisis? Or probably you would, of course, ask him about his favorite TV shows, as Alicia Vikander did just last week. During a visit to the Norwegian talk show Skavlan this week, the Oscar winner revealed that, upon meeting the British prince for the first time at a black-tie event in Stockholm during his and Kate Middleton's royal Scandinavian tour, she attempted to talk to him about The Crown, the Netflix show based on his grandmother's life.
Vikander said she tried to start her conversation with William based on things they have in common: "Well, I've seen The Crown. It was actually the first thing my friend and I started talking about with William," she said, according to Hello. The actress didn't share any further details about how Prince William responded to her introduction, though that may be because he quickly changed the subject to talk about his own favorite prestige television show. "Apparently, he's a Game of Thrones fan, I was told," she said.
Although little is known about the royal family's binge-watching habits—outside of Will and Kate's well-documented love of GoT—The Daily Express reported last year that Queen Elizabeth II had watched and enjoyed the first season of The Crown. And at the end of the year, after the Queen appeared to reference a moment from the second season in her annual Christmas address, fans assumed it was a sneaky confirmation that she had eagerly binged the second season, as well.
Vikander, who will be starring in Tomb Raider soon, went on to describe how nervous rubbing elbows with the royals made her throughout the entire dinner, where she sat next to Will and Kate. "I was sitting there looking around me," Vikander told host Fredrik Skavlan. "I guessed that you were supposed to wait, but I was very hungry. Normally, if you're more than 10 people you're allowed to start eating, but nobody else did, so I held back. I didn't even have a sip of water because I thought 'No, I'll just wait.'"
Related: Alicia Vikander Auditions for Humphrey Bogart's Role in "Casablanca"