Prince William and Kate Middleton Will Have Dinner With Alicia Vikander During Their Royal Tour
Their Royal Highnesses are off to Sweden and Norway.
---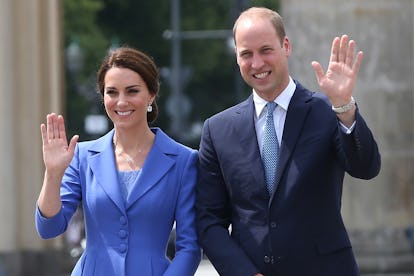 DMC/GC Images/Getty Images
In exactly two weeks, Prince William and Kate Middleton will embark on their royal tour through Sweden and Norway, and they're set to have a very busy four days. As their first official visit to these two countries, the Duke and Duchess of Cambridge are "keen to experience a taste of the Scandinavian way of life for themselves," according to Kensington Palace. This includes meeting "as many Swedes and Norwegians" as possible, including children, "young people," people working in mental health, government officials, civil servants, leading researchers, and one Alicia Vikander.
The Oscar-winning actress and latest Lara Croft will be joining the royals on night one, during a black-tie dinner at the British Ambassador's place. She's there as a "representative" of "popular culture," per the press release, along with actor Stellan Skarsgård (also father to Bill and Alexander Skarsgård). Also present will be Prime Minister Stefan Löfven and, naturally, the Swedish Royal Family.
Meanwhile, in Norway, the country's pop-culture representatives will be the stars of hit teen show Skam. On a trip the show's school-skipping fanatics can only dream of, Prince William and Kate Middleton will be visiting the high school where Skam is set. There, they'll meet with the stars and producers.
Of course, it's not all rubbing elbows with Hollywood A-listers and teen stars. In Sweden, the Duke and Duchess of Cambridge will be meeting with researchers and practitioners to discuss mental-health initiatives and programs, while in Norway, the Skam visit will include a talk with students to discuss issues like bullying, sexual assault, and eating disorders that the show and its social media presence have brought to light.
Mental health has been a major advocacy cause for the royal couple—especially Kate Middleton, who has made several royal visits to increase mental-health awareness in British community centers, schools, and elsewhere, and has been the royal patron of mental health charity Place2Be since 2013. Meanwhile, Middleton, Prince William, and Prince Harry started a campaign called Heads Together in 2016 to boost the efforts of other charities in mental health.
Related: 25 Intimate Portraits Of the British Royal Family, From King George VI to Young Prince George
These Rarely Seen Family Pictures Prove Princess Diana Was the Original Royal Child Style Icon
Diana Spencer with her pet guinea pig during a 1972 pet show in Sandringham. She won first and second prize, both in the "fur and feathers" section, for her pet guinea pig in two different pet shows at Sandringham. She also brought her guinea pig to her first boarding school, Riddlesworth Hall, where she was made head of "Pets' Corner," where the students' pets were housed.

Camera Press/(Spen/AL)
"Diana sits on her suitcases as she prepares to go to boarding school at Riddlesworth Hall in the fall of 1970. Distraught over the separation from her home, she told her father, 'If you love me, you won't leave me here.'"

(Spen/AL)/Camera Press/Redux
"Always poised, even when jumping off a slide into the family's pool at Park House, a youthful Diana shows off her fun side. Her red swimming badges can be seen at the bottom of her bathing suit."

(Spen/AL)/Camera Press/Redux Pictures
"A photo from a private family album dated 1967–69 shows Diana posing cheekily as a young girl. Obviously a natural in front of the camera, she also had a keen sense of fashion from an early age."

(Spen/AL)/Camera Press/Redux
"At Highgrove, Diana rests with her head in her hands. Charles had asked Diana to Highgrove when they were dating, and she would later undertake an interior renovation of the manor house led by designer Dudley Poplak."

Tim Graham/Getty Images
"Diana's pet Shetland pony Soufflé moves in to nuzzle her 14-year-old owner. Diana kept the pony at her mother and stepfather's house on the Isle of Seil, off Scotland's west coast, which she visited during vacations."

Hulton Archive/Getty Images
"Diana attends a gala charity dinner for cancer research at London's Bridgewater House in November 1995, the same day her explosive BBC Panorama interview aired, in which she discussed her infidelity and bulimia."

Tim Graham/Getty Images
"To promote her message on behalf of the charity HALO Trust, Diana walked through an active minefield in Huambo, Angola, in front of the press."

Pool/Tim Graham Picture Library
"The media surrounding Diana could be relentless. After her separation from Charles in 1992, journalists and editors would regularly visit with Diana, who realized the importance of remaining in the hearts of the public as well as shaping the narrative about her marriage. One adviser cautioned her not to have anything to do with the media, a warning that supposedly shocked her. Here, Diana, who was in France for the second International Night of Childhood, waves to the paparazzi from a car."

Patrick Bruchet/Paris Match/Getty Images
"Here, [Diana] dresses in plaid at the Braemar Highland Games in Scotland, September 1982."

Anwar Hussein/Getty Images