Prince William Addresses Princess Diana's Bulimia for the First Time
It's part of his campaign to destigmatize issues of mental health.
---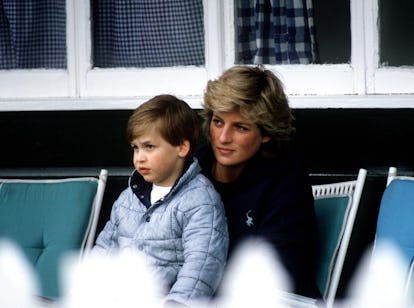 Tim Graham/Getty Images
Prince William and Prince Harry have continued their late mother's efforts to destigmatize mental health issues in recent years. And now, for the first time, Will is addressing Princess Diana's own struggles with low self-esteem and a subsequent eating disorder.
In a new documentary from British broadcaster Channel Four entitled Wasting Away: The Truth About Anorexia, William discusses the importance of speaking openly about eating disorders and other issues of mental health with Mark Austin, a former anchor for a British news network, and Austin's daughter Maddy, who is battling anorexia. According to British Vogue, Will acknowledged the Austin family's bravery for opening up about Maddy's struggles. "We need to normalize the conversation about mental health. The fact that you are speaking out is incredibly brave," he said. When asked by Austin whether he's proud of his mother for speaking out about her struggles, William said, "Absolutely. These are illnesses. Mental health needs to be taken as seriously as physical health."
In a bombshell 1995 interview, Diana told the BBC's Martin Bashir how her tumultuous marriage to and subsequent divorce from Prince Charles had affected her self-confidence and mental health. "I didn't like myself, I was ashamed because I couldn't cope with the pressures," Lady Di said. "I had bulimia for a number of years, and that's like a secret disease… It's a repetitive pattern which is very destructive to yourself." She continued, "It was a symptom of what was going on in my marriage. I was crying out for help, but giving the wrong signals, and people were using my bulimia as a coat on a hanger: They decided that was the problem—Diana was unstable."
Prince William, Princess Kate, and Prince Harry started the Heads Together campaign in 2016 to bolster other charities' efforts in "tackling stigma, raising awareness, and providing vital help for people with mental health challenges," according to the campaign's website. Since then, the three have spoken openly about issues of mental health. Most recently, Harry was featured on the Telegraph's Mad World podcast, where he revealed his own struggles with depression following his mother's 1997 death.
"I can safely say that losing my mum at the age of 12, and therefore shutting down all of my emotions for the last 20 years, has had a quite serious effect on not only my personal life but my work as well," he said. "I have probably been very close to a complete breakdown on numerous occasions when all sorts of grief and sort of lies and misconceptions and everything are coming to you from every angle." He continued, "My way of dealing with it was sticking my head in the sand, refusing to ever think about my mum, because why would that help? [I thought] it's only going to make you sad, it's not going to bring her back. So from an emotional side, I was like, 'Right, don't ever let your emotions be part of anything.'" Harry revealed that William encouraged him to seek consistent therapy, and since doing so, he has been in a much better place. "Because of the process I have been through over the past two and a half years, I've now been able to take my work seriously, been able to take my private life seriously as well, and been able to put blood, sweat and tears into the things that really make a difference and things that I think will make a difference to everybody else," he said.
Related: Kate Middleton Takes a Shine to Princess Diana's Favorite Tiara
Princess Diana's 8 Most Iconic Looks:
These Rarely Seen Family Pictures Prove Princess Diana Was the Original Royal Child Style Icon
Diana Spencer with her pet guinea pig during a 1972 pet show in Sandringham. She won first and second prize, both in the "fur and feathers" section, for her pet guinea pig in two different pet shows at Sandringham. She also brought her guinea pig to her first boarding school, Riddlesworth Hall, where she was made head of "Pets' Corner," where the students' pets were housed.

Camera Press/(Spen/AL)
"Diana sits on her suitcases as she prepares to go to boarding school at Riddlesworth Hall in the fall of 1970. Distraught over the separation from her home, she told her father, 'If you love me, you won't leave me here.'"

(Spen/AL)/Camera Press/Redux
"Always poised, even when jumping off a slide into the family's pool at Park House, a youthful Diana shows off her fun side. Her red swimming badges can be seen at the bottom of her bathing suit."

(Spen/AL)/Camera Press/Redux Pictures
"A photo from a private family album dated 1967–69 shows Diana posing cheekily as a young girl. Obviously a natural in front of the camera, she also had a keen sense of fashion from an early age."

(Spen/AL)/Camera Press/Redux
"At Highgrove, Diana rests with her head in her hands. Charles had asked Diana to Highgrove when they were dating, and she would later undertake an interior renovation of the manor house led by designer Dudley Poplak."

Tim Graham/Getty Images
"Diana's pet Shetland pony Soufflé moves in to nuzzle her 14-year-old owner. Diana kept the pony at her mother and stepfather's house on the Isle of Seil, off Scotland's west coast, which she visited during vacations."

Hulton Archive/Getty Images
"Diana attends a gala charity dinner for cancer research at London's Bridgewater House in November 1995, the same day her explosive BBC Panorama interview aired, in which she discussed her infidelity and bulimia."

Tim Graham/Getty Images
"To promote her message on behalf of the charity HALO Trust, Diana walked through an active minefield in Huambo, Angola, in front of the press."

Pool/Tim Graham Picture Library
"The media surrounding Diana could be relentless. After her separation from Charles in 1992, journalists and editors would regularly visit with Diana, who realized the importance of remaining in the hearts of the public as well as shaping the narrative about her marriage. One adviser cautioned her not to have anything to do with the media, a warning that supposedly shocked her. Here, Diana, who was in France for the second International Night of Childhood, waves to the paparazzi from a car."

Patrick Bruchet/Paris Match/Getty Images
"Here, [Diana] dresses in plaid at the Braemar Highland Games in Scotland, September 1982."

Anwar Hussein/Getty Images