This Stunning Christmas Photo of the Royals Was Taken On an iPhone
British civilian Karen Murdoch snapped a perfect portrait of the royals with her iPhone on Christmas Day.
---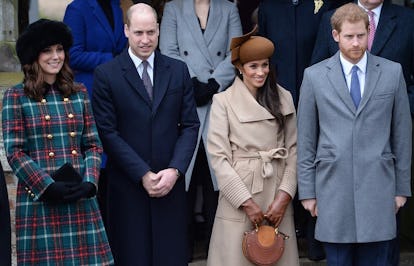 Kensington Royal/Instagram
A near-perfect shot of the Royals as they walked by for Christmas Day service at Queen Elizabeth's Sandringham estate was taken by an unsuspecting subject. No, not a paparazzo or famous photographer took the snapshot of the year, but a British civilian standing in the crowd snapped a photo of Prince William, Kate Middleton, Meghan Markle and Prince Harry, after grabbing their attention with a quick "Merry Christmas!" greeting.
The Telegraph reports that Karen Murdoch, a 39-year-old single British mother, took the photo with her iPhone on Christmas Day before tweeting it out to the general public. The photo happens to be the first time all four royals have been photographed together, and nearly every major newspaper in England, from the Daily Mail to the Daily Telegraph, used the image on their front pages the following day. The Sun's royal photographer, Arthur Edwards, told the press, "We had probably the 20 best photographers in the country there, and she's scooped us all." Standing in the right place at the right time, wishing the Royals a "Merry Christmas" and keeping her iPhone at the ready, Murdoch was able to capture a stunning portrait of the British royal family.
After receiving attention from thousands of Twitter accounts, the photo went viral, and Murdoch hired celebrity agent Ken Goff to manage the money the photo is expected to make, so that she doesn't have to give the photo up for free. Hiring Goff is a smart move, as he projects that the perfect royal image may bring in thousands of pounds for Murdoch, who plans to spend the money on her 17-year-old daughter Rachel's university expenses. Murdoch, who works at Queen Elizabeth Hospital, told the press her daughter would like to join her by working at the same hospital one day one day, revealing, "I hope this will help because she wants to go into some form of nursing. I want to be able to support her as her mum. Now I want to save money for my daughter for (university) and if I can do that, and can get that opportunity, that's amazing."
Related: See What Meghan Markle and Kate Middleton Wore on Christmas Day
The Evolution of Meghan Markle's Style Through The Years: