See What Meghan Markle and Kate Middleton Wore on Christmas Day
Meghan Markle and Kate Middleton attended Christmas Day church services with partners Prince Harry and Prince William.
---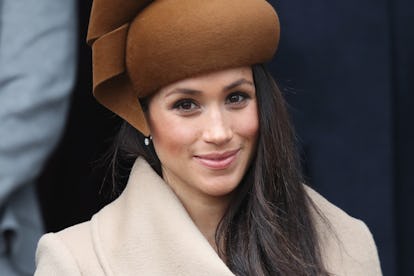 Chris Jackson/Getty Images
Meghan Markle might be breaking royal protocol by spending Christmas with her fiancé, Prince Harry, but there's one protocol she's sticking to: dressing impeccably for royal outings. Markle joined the royal family for her very first Christmas Day service, and she's already proving that she can keep up with her famously elegant almost-sister-in-law, Kate Middleton.
The soon-to-be family members arrived for Christmas Day services at the Church of St. Mary Magdalene, and the coats alone were probably enough to make the expectant crowd's wait to see the royal family worth it (some of them had arrived at 2:30 A.M. to catch a glimpse!).
Markle stepped out wearing a tan wide-collar Sentaler coat and very on-trend circular Chloé bag. She topped of the ensemble with a Philip Treacy hat, leather gloves, and suede Stuart Weitzman boots.
Middleton, on the other hand, wore a festive Miu Miu coat embellished by a double row of brass buttons and topped off with a delightful fur hat. (The $2,200 coat is, of course, already sold out.)
We already know that the "Meghan Markle Effect" is very real, which means that you should probably act now if you're trying to show up at New Year's Eve dinner with your family looking like, well, royalty. (Or, hey, sneak in some very last-minute changes to your Christmas wish list.)
Watch: The Evolution of Meghan Markle's Style Through The Years
Related: People Are Already Requesting Meghan Markle Lips, According to a Top Cosmetic Doctor