People Are Already Requesting Meghan Markle Lips, According to a Top Cosmetic Doctor
Doctor to the stars, Dr. Tijion Esho, talks lip fillers gone wrong, 'Snapchat dysmorphia' and his sold out line with cult beauty brand Deciem.
---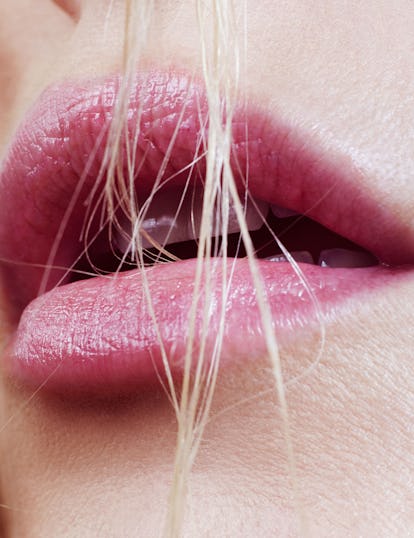 Photographer: Craig McDean Stylist: Olivier Rizzo
U.K.-based cosmetic doctor Dr. Tijion Esho sees 15 to 20 patients wanting lip fillers each day. Many of them are Hollywood A-listers and royals wanting subtly plumper lips (or those who are hoping to fix botched lip filler jobs). In addition to working out of The Esho Clinics offices, the doctor also has a line of non-injectable lip plumpers, in collaboration with the cult beauty brand Deciem (which is slated to open up a store in New York City in the near future). The range has a cult following–and is, in fact, already sold out. "My own mum can't even get it," he laughs. The good news? Esho and Deciem are coming out with more product, along with some new additions to the range. Here, Esho talks about his new line, the celebrity lips his clients want to emulate (newly minted royal-to-be Meghan Markle being one of them), and the dangers of 'Snapchat dysmorphia'.
You have said that you get about 15 patients a day wanting lip fillers. How does that number compare to just a few years ago?
I work seven day weeks most weeks and see around 15 to 20 patients a day. In 2013, I would see one corrective case every two months. Now, a third of my daily list, five patients a day, are those who are coming to me for corrective treatment due to a procedure that has gone wrong when carried out by an under qualified practitioner which is a worrying trend.
What are some common issues you see with lip fillers?
I've seen everything that can go wrong with lip fillers from abscesses caused by severe infections to haematomas – big clots of blood in the lip – and, in more extreme cases, necrosis where the tissue in the lip starts to die. However, the thing I am seeing more and more frequently is lip cysts, which are often due to poor injector technique. With a high number of lip cysts, the injector has injected too superficially within the mucosa of the lip, which means that the filler is too close to the surface of the patient's skin. If the lip then becomes infected the cyst can increase in size. Non-surgical treatments are more available than ever before and cases like this happen when people use cheap shortcuts without doing research. I always say there's no shortcuts when it comes to your face, and in some cases no second chances … you only have one!
Do you ever see a patient and tell them no, they shouldn't get lip fillers? Who is not a good candidate for lip treatments like this?
I definitely say no! So much so that at one point I was called 'Dr. No.' I think it's a mark of a good doctor not just to know how to treat but to know when not to treat. At The ESHO Clinic, we will not treat anyone under the age of 21. This is because the face is still developing at this stage of life. Any enquiries that we got from patients under 21 we use as an opportunity to invite them into the clinic with a parent or legal guardian for education. We'll then explain the reasons why we won't treat the patient and outline the risks with non-surgical procedures. Usually, those patients are surprised by what they hear and have a change of heart once they are educated about the potential risks. However, some do not always heed advice and will go to a practitioner who will agree to treat them, regardless of their age. I believe that we have reached a point where dermal fillers and Botox are being classified in the same category as beauty treatments such as manicures and waxing. As a result, requests from younger patients are on the rise. Because of this, it is so important to educate young women on the long-term effects of treatments which they seek and act ethically. These are medical treatments that carry significant risks.
We have a stringent consultation process in place, which assesses the patient's suitability for treatment and we never do treatment same day, allowing the patient to 'cool off' and really think about their choice. This is important as many can act on impulse. During the consult it's key to look for red flags which may indicate underlying body dysmorphia where the patient's view of themselves and the expected outcome of their treatment is completely unrealistic. Treating someone like this will start them on a journey where they will never be happy and psychological support is needed. One particularly worrying trend I'm seeing in this area is something I call "snapchat dysmorphia" where patients bring in filtered/altered pictures versions of themselves that they want to look like.
Yikes, that's a scary trend. On that note, I'm guessing lots of patients bring in pictures of how they want their lips to look. What celebrity pics do they bring in?
I have about 20-30 clients a week who will show me images of influencers, or celebrities on social channels and want me to recreate their look for them. There are various celebrities who have set cosmetic trends. Kylie Jenner, for example, spiked the original lip filler trend. Other popular celebrities that my clients seek to emulate are Michelle Keegan, Emily Ratajkowski and, more recently, our new royal-to-be Meghan Markle.
Do you feel like Instagram is partly the reason why lip fillers and bigger lips in general have become so desired? Or, is it truly the Kardashian effect?
I believe, as with most problems, it's multifactorial. Today's generation can't escape "the Truman effect" because from birth they are born into an age of social platforms where their feelings of self-worth can be based purely on the number of likes/followers that they have which link to how good they look or how great these images are. These images are now readily accessible and judged, whereas before we had to see images via magazines or TV we now see them daily via social platforms making us more critical of ourselves. Social media also amplifies and accelerates trends. The Kardashians have had huge influence on social platforms and their millions of followers mean they are in a position to dictate trends but with more and more millennials using social platforms the "influencers" have grown massively to include fitness, fashion, film and even royalty. There is now a generation of both women and men who are more visually aware than ever before.
Do they also refer to images you have posted on your own Instagram account?
Yes. Absolutely. I have built awareness of my clinics off the back of social media, particularly Instagram. As well as posting before and after results, I also use social media as an educational tool. My followers can see treatments as they happen in clinic, the patient's reaction to those treatments, and I also post corrective work that I'm carrying out as a result of previous botched work carried out by unqualified practitioners. It's important to do so as many can trivialize these treatments which again can become part of the problem. When used correctly, as above, Instagram can be a really powerful tool. Celebrities and people in the public eye have seen my work on Instagram, Twitter or Facebook and have contacted me via this route which has helped to grow my brand.
How often should people come in to re-plump their lips? How often is too often?
With aesthetics there is no one size fits all. At The ESHO Clinic we pride ourselves on bespoke treatment packages that are created to suit that specific client's needs. My approach is about building gradually using techniques such as the nano droplet technique, where micro amounts of filler are placed around the inside of the lip to produce an outstanding, natural and defined result. Patients these days are coming to realize that it's not so much about size than it is shape and that to achieve the desired result, things must be done in stages. Four to six months is typically the length of time we recommend to leave between appointments. However, it all depends on the patient and how quickly they metabolize the product.
What type(s) of fillers do you work with?
I use hyaluronic acid (HA)-based dermal fillers. There are permanent fillers on the market which are rarely seen now due to the long-term complications that have been discovered with their use. They aren't recommended and it is my advice to avoid them. Of the HA fillers, my favorite is the Allergan Juvederm Vycross range and I work closely with Allergan in their development and use.
What is the difference between British and American lips in terms of their goals?
Before, there was a large difference between the British/European lip and the American lip. The European lip was characteristically conservative in both size and shape and the less is more approach was key – but now, I would say in the last year, it has become more "Americanized" where bigger is always better. More recently, I am seeing a happy medium between the two in both the U.K. and America where the desired lip is now a full one but one that also looks natural.
What are the latest medical developments with lip fillers? What are other ways to get that plumped lip look without injections?
The latest development in lip fillers has to be the Juvederm Vycross range. They are very soft and attract a lot of water to the lip giving a very natural look and feel to the lip when used correctly. The latest development in non-injectable lip plumpers is actually my ESHO range in collaboration with Deciem. Sculpt has been formulated for people who don't have lip fillers. Unlike traditional lip plumpers which use irritation to cause the lip to swell, ESHO Sculpt has an unparalleled concentration of peptides that are pro-collagen, pro fat and pro water which gives visible enhancement in size and shape of the lip immediately and increases with daily use which means the enhancement can be sustained, with minimal irritation.
Tell me more about your capsule line with cult beauty brand Deciem. Why did you feel Deciem was the right brand to partner with?
Lips are my passion. I perform 20 to 30 lip treatments every day, which has helped me to identify specific features that patients want where their lips are concerned and the problems that they face with them. This inspired me to find solutions, the first was to develop a pre- and post lip complex, for use with my clients in clinic, to help improve and maintain the effects of their lip filler treatment, but I wanted to explore options for those who don't want to go under the needle.
Within the lip market, no brand has ever been able to identify and address all major concerns, for those with and without fillers. Many products have used irritation as a mechanism to achieve temporary volume and size, but these have long term effects on the lip and can also have detrimental effects on fillers. The ESHO range, like all Deciem products, has taken great care to investigate and apply the science required to achieve the perfect lip. Deciem has never worked with a doctor before [on a capsule line], and I am honored to have created this range with them.
It looks like the products are sold out already. Are you doing another collection with them?
At the moment the range is completely sold out. My own mum can't even get it. It will be available again very soon and we are adding two additional products to the line. ESHO Coat which is an instant hydrating lip lipid barrier support. I like to call it lip butter, it feels amazing. We also have Sculpt Sensitive as Sculpt is so powerful we know some fans of the range will want a milder form. We aim to listen to all the feedback from our clients and are constantly wanting to give them what they want. I hope by the end to have at least one item in the range that is a must have for everyone from all different walks of life.
We will also be launching some specialized professional lip products that can only be used by medics in clinic to aid lip augmentation.
When do you think this lip trend will fade? What's next do you think?
I really don't think it will fade. I think it's been something many people have wanted to do for a long time but were too scared of the potential adverse outcomes and safety. As practitioners become more skilled and technology continues to improve I suspect more and more people will take that brave step forward when previously they wouldn't have. I do believe that butt augmentation is also quietly on the rise and we will see a surge of innovation and patients seeking treatments in this area
In the Mood for… Luscious Lips