Where Did All Your Favorite Celebrities Spend Christmas?
Some celebs spent the holidays where not even an Instagram geotag could give away their whereabouts.
---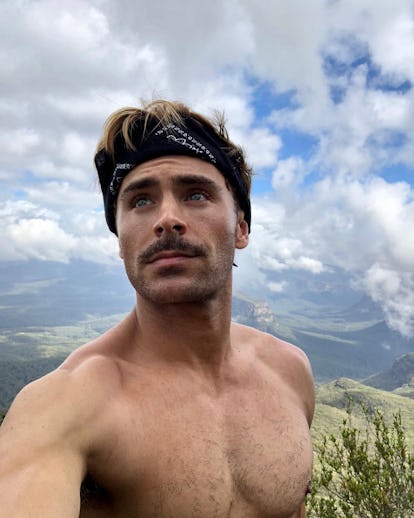 Zac Efron/Instagram
The day after Christmas is the perfect time to get back to scrolling, and catch up on everything you missed if you weren't too busy documenting every waking second of your holiday the day before. While you were cozied up by a fireplace, eggnog in one hand, wrapping paper in the other, your favorite celebrities were doing their own thing too—some of them were also nestled closely by the fire, and others were on a whirlwind adventure all on their own, in places not even a location geotag could pick up. Still, whether they spent their vacation in front of the television, tanning on the beach or climbing way up in the mountains, they never hesitated to share their holiday cheer (or in some cases, lack thereof) on Instagram.
The Kardashians
Kris Jenner held her annual Christmas Eve party in Calabasas, and all of the usual suspects were in attendance (Jen Atkin, Jordyn Woods), but one very important guest was notably absent from all of the traditional festivities. A presumably pregnant Kylie Jenner was nowhere to be found among the onslaught of Kardashian-Jenner holiday cheer, not even in Kim Kardashian's 25th (and final?) Christmas card of the year.
Meghan Markle
In her first official photo with Kate Middleton, Meghan Markle posed for a photo at Sandringham during a traditional Christmas Day service.
Jennifer Lopez and Alex Rodriguez
J.Lo and A-Rod got cozy in Miami this Christmas.
Ashley Graham
Ashley Graham posed by a very bright Christmas tree in Wilmington, Delaware, which did not look as bleak as it sounds.
Zac Efron
A shirtless, mustachioed Zac Efron wishes us all an "epic" holiday from somewhere in the mountains. Presumably these mountains are located somewhere warm, because why else would he be shirtless at such a high altitude at the end of December?
Beyoncé
There's no geotag on her holiday posts, but one can only assume Beyoncé spent her Christmas at the North Pole this year.
Paris Jackson
The Jackson family went tropical this year.
Armie Hammer
Armie snapped a photo of his family's Christmas card from a cozy couch in Denver.
Ansel Elgort
Of course Ansolo went to a Knicks game at Madison Square Garden this year for Christmas. This time, he wasn't joined by fellow Golden Globe nominee and former high school classmate Timothée Chalamet, but was side by side with his girlfriend, Violetta Komyshan, and his brother, Warren.
Mariah Carey
Nobody does Christmas like the inventor of the word "festive" herself, Mariah Carey. Of course she brought Santa to her holiday getaway in Aspen, and of course she is playing her own Christmas album in the background.
Will, Jada, Jaden and Willow Smith
Will Smith narrated his family's sleigh ride, brought to them by none other than Jada Pinkett Smith.
The Hadids
Before jetting off to warmer weather, Bella, Gigi and Anwar Hadid spent some quality time on the farm.
Bria Vinaite
The Florida Project's Bria Vinaite kept it cool in Bed Stuy this Christmas.
Emily Ratajkowski
Emrata hit the beach with her mom for sure, but which beach could this be? Inquiring minds want to know.
Related: What Beyonce, Nicki Minaj, and Karl Lagerfeld Do on Private Planes