Timothée Chalamet vs. Ansel Elgort: Which New York Scion Will Be The Hollywood Heartthrob of 2018?
The two Golden Globe nominees face off.
---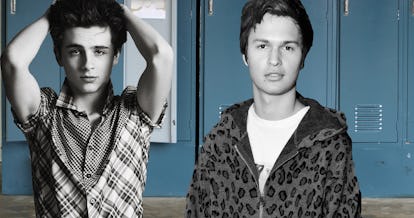 Tribeca Film/Courtesy Everett Collection
Timothée Chalamet and Ansel Elgort have ruled the awards circuit conversation this year—with Timothée in his breakout role as Elio in Luca Guadagnino's Call Me By Your Name and Ansel as the titular getaway driver in Edgar Wright's high-octane Baby Driver. While they may represent different archetypes of what constitutes a Hollywood heartthrob (Timothée's on the rise, just flirting his way into stardom, Ansel is already a big name, and a goofy guy who tends to star in big blockbusters) they do have one thing in common—they both attended LaGuardia High School in New York City.
You might be thinking, "What's the big deal if these two Golden Globe nominees both happened to grow up in Manhattan and attended the same high school?" LaGuardia isn't any regular high school, it's an institution known for churning out some of the most successful superstars of the last century, from Robert DeNiro to Nicki Minaj. Seriously, the school's notable alumni page just reads like a who's who of every single performing art under the sun, whether that be in the fields of music, dance or art. The soon to be 22-year-old Timothée Chalamet was a member of the class of 2013, and the 23-year-old Ansel Elgort attended until June 2012. While at LaGuardia, both showed early interest in performing, acting in school musicals (Ansel took a turn as Hairspray's Link Larkin, Timothée starred in Sweet Charity) and extracurricular activities.
This awards season, Timothée and Ansel are each nominated for a Golden Globe—Timothée for his performance in Call Me By Your Name, and Ansel for starring in Baby Driver—and since their nominations fall in different categories of drama and musical or comedy, respectively, they could each take home the award for Best Actor. Timothée's been charmingly blushing his way through this awards season (I mean, have you seen the compilation of Timothée mumbling, "No I'm kidding," at the end of just about every interview he's ever given? It's delightfully adorable to say the least), while Ansel's been his typical goofy self (the guy loves to cheese for his 9 million followers on Instagram), but as we race towards the Oscars, one question remains: Which one will be the New York City scion who rules Hollywood in 2018? There can only be one ultimate Hollywood heartthrob, and based on four distinct categories, we're here to put these two to the test.
Indie Cred
As Elio in Call Me By Your Name, Timothée gives a sweetly tragic performance worthy of many awards. But that's not even the only Oscar contender he starred in this year—he also has another memorable role in Lady Bird, as Kyle, the title character's disaffected object of affection, who, despite his talents at carrying Howard Zinn's A People's History of the United States everywhere he goes, turns out to be a bigger douchebag than she could have ever imagined. From the moment Lady Bird swoons while watching Kyle perform with his band, audiences know he's about to cause some trouble.
Besides Baby Driver, Ansel's most notable work has included roles in big teen blockbusters like The Fault in Our Stars and The Divergent Series. He doesn't have much indie cred (although that could change with his upcoming role in the film adaptation of Donna Tartt's The Goldfinch) so this round will have to go to Timothée, who stole the screen in not one but two independent films this fall.
Winner: Timothée
Extracurricular Activities
Ansel Elgort superfans already know that he performs as Ansolo, an EDM DJ persona who also makes music videos in attempt to rival the other sadboy musicians of the pop world. His official music career paired with his performance as Link Larkin in his high school performance of Hairspray as well as a riff-off against Jamie Foxx on The Late Late Show proves that Ansel actually doesn't sound so bad.
When a cringeworthy blast from Timothée's past surfaced on the Internet last month, we were all introduced to Timmy T, his rapping alter ego. Timmy T made a song about statistics and probability instead of writing a final exam, and according to Armie Hammer, he got a D+ so he didn't even fail!
Would DJ Ansolo have what it takes to rap battle against Timmy T? Probably not, but Ansolo's taking his music career seriously, so with that being said, sorry Timmy T, but Ansolo takes this one.
Winner: Ansel
Celebrity Romances
Ansel is still dating his high school sweetheart, Violetta Komyshan, of six years. Timothée is currently single, but he did date Lourdes Leon, Madonna's daughter, in high school.
This category ends in a tie—it's hard to compare in this category when we don't know too much about Timothée's romantic life (yet).
Winner: Tie!
Style
His Powerpuff Girls shirt that he shared on Instagram this summer and the typical hypebeast uniform of a Supreme tee prove that Ansel loves merch, and there is absolutely nothing wrong with that. He's a sportier guy who loves to rock to his own EDM beats, and that's fine.
But taking a look at the spreads that feature the soft, shy Timothée in GQ and Vogue, it's clear he is open to taking a bit more of a risk. The icing on the cake of Timothée's style came when he showed up to the IFP Gotham Awards to accept his award for Breakthrough Actor in a velvet suit. Timothée and his velvet suit win this round.
Winner: Timothée
The Verdict
After scoring the most points, Timmy takes home the crown in the smackdown of the LaGuardia High School superlative for most likely to be the biggest Hollywood heartthrob of 2018.
Related: Call Me By Your Name Just Officially Became This Year's Oscars Frontrunner