Timothée Chalamet Was Forced to Watch His High School Rap Videos By Ellen Degeneres
Timothée Chalamet had a bit of a rap habit back in high school, which Ellen Degeneres (and Armie Hammer) were eager to remind him of.
---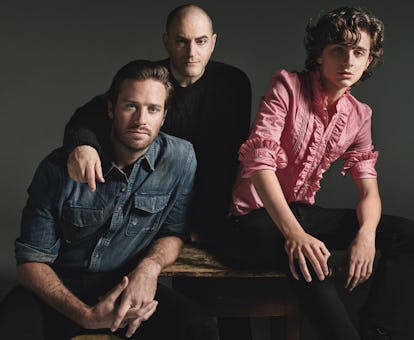 Photographs by Mario Sorrenti, Styled by George Cortina. Hair by Akki at Art Partner; makeup by Francelle for Lovecraft Beauty at Art + Commerce; manicures by Honey for Marc Jacobs at Exposure NY. Set design by Philipp Haemmerle. Retouching by Arc Lab Ltd.; on-set Producer: Steve Sutton; Lighting technician: Lars Beaulieu; photo assistant: Kotaro Kawashima; Digital Technician: Johnny Vicari; fashion assistants: Steven La Fuente, Alex Paul; tailor: Christoforos Kotentos; special thanks to Highline Stages, Noz Catering
Thanks to his starring role in Call Me By Your Name and supporting role in Lady Bird, Timothée Chalamet is 2017's breakout star. If you need more evidence: on Monday night, he won the Gotham Awards' Breakthrough Actor award, and on Tuesday he was given the breakthrough performance award by the National Board of Review. However, if you consult publications like The Source or XXL, you'll notice he's absent from their list of best new rappers of 2017. This is understandable, as he has not actually pursued a career as a rapper, something he dabbled in as a high school student. Naturally, Ellen Degeneres, Hollywood's number one gentle teaser of stars, mentioned this when he and Call Me By Your Name Name co-star Armie Hammer appeared on her show today.
Chalamet, now 21, attended New York's LaGuardia Performing Arts High School (yes, the school that the movie Fame was based on), and as a student adopted a hip-hop alter-ego as "Timmy T." Two videos of his rap exploits have surfaced, one for a school performance and the other for what turned out to be a statistics project for Ms. Lawton's class (yes, performing arts students do take math courses, but apparently they do it a little bit differently than the rest of us).
In the statistics song he raps, "Let's do a problem, let us see, the probability you see me on TV."
"One-zero-zero-zero trillion percent," was the answer, which, well, was correct. He is on television! That may not be how high school statistics are supposed to work, but you can't say he was wrong.
In the second, he has a dis for Justin Bieber and a dance routine that really puts Hammer's meme-able dance moves from the movie to shame.
Of course, the existence of such performances was bound to come up while Chalamet is out making the publicity rounds for one of the most talked about indie films of the year, and, of course, Degeneres would be the one to do it. After complimenting the film, and asking both Chalamet and Hammer about their first rehearsal (it involved just straight up making out), she moves on to the abandoned rap hobby.
"There's a clip of you being a rapper that I understand we have," Degeneres brings up out of the blue. Chalamet looks dumb founded, while Hammer just shouts, "Yes" (apparently relieved to know he's not the only one whose dance moves get brought up on the press tour).
[#https://www.youtube.com/embed/F0rXPrnC_Ps]
Hammer stepped in to explain: "The back story behind that is that was a school project that he had to actually turn in for a statistic class," says Hammer. "So everyone else wrote all these big sort of statistics papers and all that, and he turned in this awesome rap, and the teacher only gave him a D+ on it."
Let this be a lesson to all teenagers who are interested in exploring any rap talents: it might be best to make sure those exploits stay off the internet. You never know where you life could lead, and you might not have Armie Hammer there to cover for you.
Related: Armie Hammer and Timothée Chalamet on Call Me By Your Name, the Year's Most Sensual Love Story
Armie Hammer Loves Cooking for a Small House Party on His Birthday: