Armie Hammer and Timothée Chalamet on Call Me By Your Name, the Year's Most Sensual Love Story
The actors talk about their critically-acclaimed new film by Luca Guadagnino, this year's most stirring romance. "It did take a lot out of me," Chalamet said. "I had to take a monthlong detox after we finished shooting."
---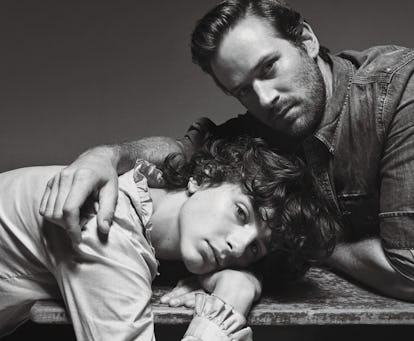 Photographs by Mario Sorrenti, Styled by George Cortina
Call Me by Your Name, which opens in theaters in November, is a film about first love: specifically, an affair between a 17-year-old boy and a 24-year-old doctoral student working for the boy's father, a professor of Greco-Roman culture.
Based on the novel by André Aciman, the film, which was directed by Luca Guadagnino, is set in the 1980s, in a villa in a bucolic small town in Italy, but its sense of youthful desire is timeless and universal. "You don't really see a lot of tender love stories between men," Armie Hammer, who plays Oliver, the older of the two, told me. "There's always one person who says, 'Oh, we can't do this' or 'My family wouldn't approve.' You don't get that in this movie. Instead, you have two men who are trying to figure out the feelings they have for each other."
When Call Me by Your Name premiered at the Sundance Film Festival last January, Guadagnino and his cast were surprised by the overwhelming response. Sony Pictures Classics bought the film for more than $6 million, and Timothée Chalamet, who plays Elio, the young boy, was immediately hailed as the first Oscar contender of 2017. Chalamet has acted since he was a child—"But," he said, "I'm sure no one really wants to think of themselves as a child actor."
In the TV show Homeland, Chalamet stole practically every scene he was in, and in Call Me by Your Name he is electrifying. His mix of raw awkwardness and puppy-like enthusiasm should be recognizable to anyone who has felt a deep longing that they didn't totally understand.
"I first met with Luca when I was 17," Chalamet, who is now 21, told me at the photo shoot for W. He was dressed in jeans and a T-shirt. "We had lunch, and Call Me by Your Name seemed far away from being real. It seemed unlikely that I would be the lead of the movie, or that the movie would happen at all. What I did know is that if the movie did manage to happen, Luca would have his fingerprints on every shot of the film. His superpower is his sensuality—his ability to make everything feel romantic."
Guadagnino, who also directed I Am Love, starring Tilda Swinton as a rich Milanese wife who has a life-changing affair with a chef, as well as A Bigger Splash, in which Swinton plays a sort of Bowie-esque rock star whose bohemian idyll on a Mediterranean island is interrupted by the arrival of her producer (and former lover) and his daughter, was very involved in the casting for Call Me by Your Name.
"I loved I Am Love," said Hammer, who also met with the director long before the film went into production. "I thought it was an incredibly gorgeous movie." Hammer, who became famous after he played both Winklevoss twins in The Social Network, had no idea why Guadagnino wanted to meet with him. "We talked about life. And traveling. And food. And then we said goodbye. Years later, I got the script. I read it, and at first it kind of scared me. I was like, 'There's a lot of stuff here that I've never done on film before. But there's no way I can't do this, mostly because it scares me so much.' "
Chalamet and Hammer met for the first time in the ancient town of Crema, where Guadagnino lives in a lavish but elegantly dilapidated palazzo. (Basically, the film could have been set in his house.) Luckily, the two actors clicked immediately: Their characters' love affair is complicated by their age difference, gender, and the times in which they live. "We both realized that the story was simultaneously important, fresh, relevant, artistic, and out there," explained Chalamet, who has youthful exuberance but comes across as an old soul.
That restlessness mixed with intelligence is evident in his kinetic performance. "It did take a lot out of me," Chalamet said. "I had to take a monthlong detox after we finished shooting."
The final—and crucial—component of Call Me by Your Name is Michael Stuhlbarg, who plays the all-seeing, all-accepting father. A graduate of Juilliard and an acting chameleon (in 2015, he played a tech geek in Steve Jobs and Edward G. Robinson in Trumbo, yet you could have sworn different actors had played those parts).
Stuhlbarg delivers a speech—heartbreaking in the novel—about tolerance and love that changes the entire scope and resonance of the movie. "It was the very last scene that I shot," Stuhlbarg explained, hinting that he took the part purely so he could deliver those lines. "I always saw it as a kind of culmination of the spirit of what we were trying to say with the film."
Call Me by Your Name represents one of those summers in everyone's life experience, one can only hope, when wonderful and forever-altering events transpire. "Like this film," Stuhlbarg continued, "that time can have a great buoyancy and lightness. But it can also be profound. It can change the course of your life."
Watch: Tilda Swinton Dishes on Who She Thinks is a God
Tilda Swinton Dishes on Who She Thinks is a God
Behind the scenes of "A Bigger Splash," Starring Dakota Johnson and Tilda Swinton
"I am making Dakota listen to a piece of music by my composer, John Adams. (That's Matthias behind her). This often happens with me—I want to use John's work before I start shooting the movie, so I shoot the scene to the timing of the piece."
"A portrait of me, Tilda, and Dakota. I'm in a terrible tank top, again. Anyway, a lovely moment. Tilda and I are like brother and sister; and Dakota was such a great discovery. I love them so much that, yes, we want to be together again, in my next film Suspiria … and again and again."
"These are the monitors showing Tilda, as Marianne Lane, going to talk to the police about an incident that happens. You can see the power of Tilda's face. Pantelleria is such a specific space. I wanted the actors to be put in jail by the strength of the place. We were bound to the island for two and a half months."
"I'm directing Lily McMenamy and Aurore Clement. They were the comic relief of the movie, these socialites they were playing. I've directed Aurore in the past, and I discovered Lily backstage at a Fendi show in Milan. She was singing a song from my previous movie, I Am Love. We became instant friends."
"I'm showing how Ralph should act with his daughter, played by Dakota. They have a tricky father-daughter thing. I see behind them one of my greatest collaborators on the right, Fernanda Perez on the right, who is the makeup artist. Much praise to her work on this film."
"In this picture you see Manolo Garcia, the hairdresser in the dark sweater and hat. We did I Am Love together, and will work again on my next feature. You see Tilda is wearing a scarf; the wind was so wild it would've destroyed her hair."
"A close-up of Dakota in the pool. See the concentration, the intelligence in her eyes. She was shooting a scene where she is floating on the water as her father, played by Ralph Fiennes, is dancing to the Rolling Stones."
"I'm very tired, and a little bit burned. It's interesting how golden Tilda is in this picture. I remember we shot a scene by a lake at the very beginning of the shoot, but the actors didn't have time yet to get very tan, so we had to go back and shoot it again at the end."
"This is the last day of the shoot—a concert scene. We just got this beautiful Dior jumpsuit that I am adjusting on Tilda. We shot the concert in a stadium in front of 70,000 people. Thrilling! But her character is not really based on Bowie. It's Chrissie Hynde, it's Roisin Murphy. But Bowie is our DNA in general, so he is everywhere."