The First Trailer for the Ultra-Sensual Gay Oscar Contender Call Me By Your Name Is Here
Moonlight director Barry Jenkins is already sweating.
---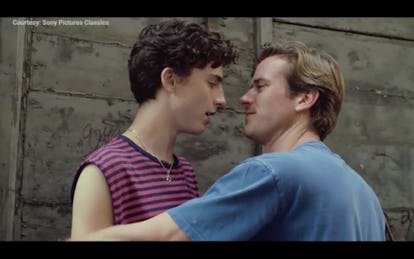 Courtesy of Sony Picture Classics
There's no greater testament to the fact that the ever atmospheric director Luca Guadagnino is a master at making things steamy than the scene in his 2009 film I Am Love, which manages to make shots of Tilda Swinton slowly snacking on a prawn almost as much of a climax to her attraction to her son's much younger best friend as the pair's eventual hook-up. Guadagnino's latest, though, may make that scene look tame in comparison: Judging for the first trailer for Call Me By Your Name, his hotly anticipated coming-of-age gay romance film due out on November 24, it seems like Guadagnino's latest may take the cake—or the peach, as fans of the book might remember.
As usual, Guadagnino has taken things a few decades back and to a remote corner of Italy—in this case, in the early '80s, in Lombardy. All is peaceful in the countryside until the sudden arrival of a notably blonde, toned, and overall handsome Armie Hammer, playing an American student named Oliver in town to assist a professor played by Michael Stuhlbarg. It's Stulhbarg's son, though—a book-smart, precocious teen named Elio played by the breakout 21-year-old actor Timothée Chalamet—to whom Oliver's presence means the most, as he slowly—and then swiftly—becomes captivated by, and then enamored with, the off-limits 24-year-old.
The film is based on a novel by the same by André Aciman, released in 2007 to rave reviews—the New York Times declared it both "hot" and "an exceptionally beautiful book"—and though the film isn't out for another four months or so, it's already drawing equal praise. Having premiered at the Sundance Film Festival back in January, it so far has a 100 percent approval rating on Rotten Tomatoes.
The trailer alone is already causing fans to break out a sweat—to the point that Moonlight director Barry Jenkins has taken to reminding viewers to "breathe" and "hydrate," and even started the hashtag "#survivingdaCMBYNtrailerdrop":
If all that weren't enough to convince you, you better take a seat: The film also features two unreleased songs by Sufjan Stevens, a hint of which can be heard in the trailer.
Related: Actor Timothée Chalamet Is Young and Wise
See W's most popular videos: