Armie Hammer's Call Me By Your Name Dance Scene Has Been Meme'd
See Him Dance to Taylor Swift, Robyn and Carly Rae Jepsen.
---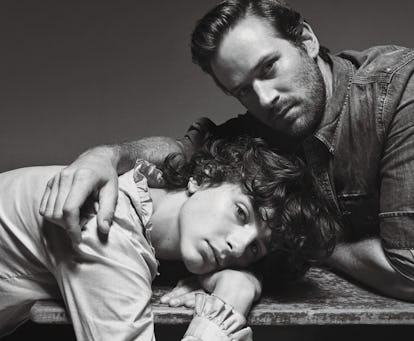 Photographs by Mario Sorrenti, Styled by George Cortina
Call Me By Your Name will not even be released in theaters until November 24, and yet it already has a surprisingly devoted fanbase. Especially for a modestly budgeted European indie film about gay love. In fact, the fan base is so strong that it's already sprung its first meme.
Yesterday, a tiny bit of footage of Armie Hammer dancing in the film alongside co-star Timothée Chalamet hit the internet. It's easy to see why the internet was taken by the original 42 second clip from the '80s-set film. Hammer's in-character dance moves are a bit clunky but so enthusiastic. Then Chalamat swings in for a few exuberant shoulder rolls. (Director Luca Guadagnino is a devotee of the extended dance sequence, having set Ralph Fiennes loose to the Rolling Stones' "Emotional Rescue" for over two minutes in 2015's A Bigger Splash.) Hammer and Chalamet's scene is all set to the time period-appropriate sounds of The Psychedelic Furs' "Love My Way," but people on Twitter quickly broke out their open source video editing software and inserted their own custom soundtracks.
Now, thanks to the internet, you can see Hammer and Chalamat boogying to all manner of music.
Here's the original for context:
Here it is set to Lorde's "Green Light":
The version with Taylor Swift's "Look What You Made Me Do" really gets its glory when the song's electroclash-inspired breakdown kicks in:
This is a gay film, so it was only natural for someone to set it to high priestess of gay emotions Carly Rae Jepsen's "Cut To The Feeling":
Likewise, Madonna's "Like A Virgin" was inevitable if not a little too on the nose:
Here's Harry Style's "Kiwi" so you can dream about what would have happened if Styles had been cast in the film:
Daddy Yankee's "Gasolina" would have worked if the film was set in Miami and called "Bro, Like Call Me Be Your Name":
Donna Summer's "I Feel Love"? But of course.
ABBA's "Dancing Queen" had to happen.
If you were wondering, and at this point you probably were, obviously Robyn's "Dancing on My Own" got the treatment.
As of press time, no one has used a Lana Del Rey song. Which is, frankly, shocking, if not dissapointing.
Still, there is plenty of time until the film is actually screened outside of the festival and preview circuit for the internet to catch up and create many, many more versions of this meme.
Though, we do shudder thinking about what the internet is going to do to that peach scene once they get their hands on it.
Related: Armie Hammer and Timothée Chalamet on Call Me By Your Name, the Year's Most Sensual Love Story
Armie Hammer Loves Cooking for a Small House Party on His Birthday: