Prince William and Kate Middleton Tried to Get Game of Thrones Spoilers Out of One of the Show's Actors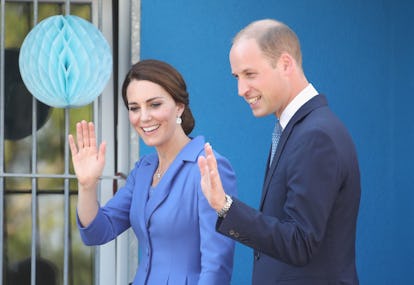 Chris Jackson
Contrary to popular belief, being heir to a throne does not qualify you to receive spoilers about Game of Thrones.
Prince William and Kate Middleton learned that lesson the hard way this week. At an event in Berlin on Thursday, the royals chatted with German GoT actor Tom Wlaschiha, who plays Jaqen H'ghar, the mysterious face-shifting assassin who trains Arya to become a nameless, remorseless killer. Wlaschiha told the Evening Standard that Will and Kate tried to get him to spill the HBO show's secrets but, like a good Faceless Man of Braavos, he gave up nothing.
"They said they really liked Game of Thrones and have watched every series," Wlaschiha said. "They wanted spoilers but I said I couldn't tell them. I'm surprised they have time to watch such a long running series." Surprising, maybe, but totally understandable.
It's a good thing Wlaschiha kept his lips zipped: This month, Gemma Whelan, who plays wannabe Iron Islands queen Yara Greyjoy, revealed that she was almost fired from the show for spilling secrets before she even filmed her first scene. "I wrote on my CV, 'This summer Gemma will be playing Yara Greyjoy in Game of Thrones.' And the Internet went nuts," she told the Times of London. "One of the lovely, lovely producers on Thrones called me into his office and said, 'This is very serious. We almost can't employ you because of this.'" Fortunately, Whelan was allowed to stay on and has since become a badass female character among the ranks of Arya, Sansa, Cersei, and Daenerys.
Will and Kate have previously spoken about their love of GoT. Earlier this year, during a surprise visit to the Radio 1 studio, the pair told host Scott Mills that their favorite low-key date nights include ordering takeout ("definitely curry" for Kate, FYI) and taking a break from Prince George and Princess Charlotte's preferred programming of Peppa Pig and Fireman Sam to catch up on the goings-on in Westeros. "Seems like everyone has watched Game of Thrones," Will said when asked about their TV-watching habits. "That's worth watching."
Related: Star Wars Might Include a Princes William and Harry Cameo
Kit Harington Auditioned for "Game of Thrones" With a Black Eye:
Princess Charlotte and Prince George Are the Ultimate Kid Jet-Setters
Catherine, Duchess of Cambridge, Prince William, Duke of Cambridge, Prince George of Cambridge and Princess Charlotte of Cambridge depart Victoria on October 1, 2016 in Victoria, Canada.

Getty
October in Victoria, British Columbia, can be a bit chilly, and young Princess Charlotte demonstrated that she knows the art of layering. Trading white ankle socks for warmer tights, the little Princess paired a burgundy cardigan over a floral printed dress (a signature of hers!) with of course, matching Mary-Janes.

Getty
Princess Charlotte of Cambridge and Prince George of Cambridge look out of the window of the plane as they arrive at Warsaw airport during an official visit to Poland. Prince George wears a blue and red checked button down shirt for his arrival in Europe.

Getty
A few days earlier, the young royals arrived in Warsaw, Poland, which was the first leg of their royal tour.

Getty
Prince George may be past his terrible twos, but the young royal did not seem as eagar as his younger sister to practice his royal wave and shake hands with German diplomats. However, he still looked the part by wearing on of his go-to pairings, a button-down shirt tucked into shorts, worn with a belt and black shoes.

Getty
Duchess Catherine looked fresh and lovely in an all-white ensemble, while Princess Charlotte stole the show in a red printed high-waist dress, with little white socks and red mary-jane shoes.

Getty
Last fall, the young royals performed had their first overseas adventure, accompanying Mum and Dad on an official Royal Tour of Canada. Charlotte's bow was a sweet touch, while Prince George's knee-socks were the perfect accessory for a growing toddler.

Getty
In Canada on her first Royal Tour last fall, Princess Charlotte received her first lessons in the royal wave, while dressed in a blue printed dress, white ankle socks, and blue mary-jane shoes.

Getty
The royal family is currently touring Germany, with stops in Berlin, Heidelberg, and Hamburg. Here, Prince William, little Prince George, Duchess Catherine, and Princess Charlotte arrive in Berlin to a red carpet welcome.

Getty
Prince George and Princess Charlotte arrive at Berlin's Tegel Airport during an official visit to Poland and Germany on July 19, 2017 in Berlin, Germany.

Karwai Tang
Duchess Catherine holds the hands of her two children, and walks with the young royals down the red carpet. She may have opted to dress Prince George and Princess Catherine in matching shades of blue in honor of Germany's flower, the cornflower.

Getty
Prince George and Prince William, Duke of Cambridge arrive at Warsaw airport ahead of their Royal Tour of Poland and Germany on July 17, 2017 in Warsaw, Poland.

Karwai Tang
Prince William, Duke of Cambridge, Catherine, Duchess of Cambridge, Prince George of Cambridge and Prince William, Duke of Cambridge arrive at Berlin Tegel Airport during an official visit to Poland and Germany on July 19, 2017 in Berlin, Germany.

Franziska Krug
Prince George, Princess Charlotte of Cambridge and Catherine, Duchess of Cambridge coordinated in pastel pinks and purples before departing from Hamburg airport on the last day of their official visit to Poland and Germany on July 21, 2017.

Karwai Tang
Prince George boards the helicopter in a button-down shirt and shorts.

Samir Hussein
Prince George, Princess Charlotte of Cambridge and Catherine, Duchess of Cambridge coordinated in pastel pinks and purples before departing from Hamburg airport on the last day of their official visit to Poland and Germany on July 21, 2017.

Pool/Samir Hussein