Star Wars Might Include a Princes William and Harry Cameo
Everyone wants to be in one of Disney's big blockbuster franchises like Star Wars, including Princes William and Harry.
---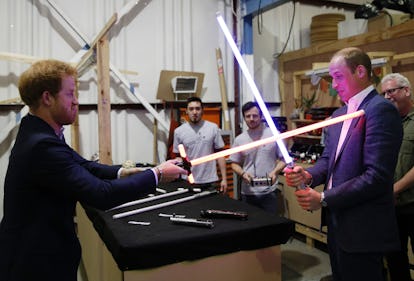 ADRIAN DENNIS
Between their animated movies, Marvel Cinematic Universe and the latest Star Wars movies, literally every single famous person in the world will end up appearing in one Disney blockbuster franchise or another someday. The studio has convinced Oscar winning, indie-skewing actresses like Cate Blanchett and Tilda Swinton to play super villains. Star Wars: The Force Awakens included hidden cameos from James Bond himself Daniel Craig and about half the cast of Game of Thrones. Plus you never know who might wind up voicing something like a talking cloud in a Pixar movie.
No one can resist Disney. No one. Not even the types of people who are so famous that appearing in a movie might seem somehow beneath them.
Yet, if rumor proves correct, they might turn princes of the actual British Empire into foot soldiers of the evil empire.
The Duke Of Cambridge And Prince Harry visited the set of the upcoming Star Wars: The Last Jedi last year. It wasn't much of a secret. Press photographs snapped pics of the royals engaging in a lightsaber duel after all, but the visit sparked rumors that the crowned princes might be making a cameo in the film.
Of course, British tabloids are notorious for passing off fan fiction as reported gossip, but the story went that Will and Harry donned storm trooper suits and secretly filmed a scene alongside Benicio del Toro. Technically, it wouldn't be against royal protocol to do filmset extra work, but it is a curious idea.
The BBC recently sat down with lead actor John Boyega, and eased into the rumors by asking him if reports British boyband member might appear in the film. Boyega offered a "no comment, but he does look good in a Star Wars suit." Then the BBC just decided to get straight to it about the royal rumors.
"No comment on that," Boyega replied (reportedly with a laugh). "But they look good too."
Director Rian Johnson was also pressed about the rumors recently by Yahoo! Movie, and offered a similar brush off.
"I have no idea what you're talking about. I have no clue," he said before pretending to receive a transmission in his ear. "The last voice you heard … I can neither confirm nor deny."
The British press also reports that reps for the royal family refuse to either confirm or deny either.
We'll have to wait a little bit longer to get a straight answer, just like we'll have to wait a little bit longer to see footage of Laura Dern in space.
In the meantime, we're going to get busy spreading a rumor that President Obama ends up cameoing in the next Star Wars flick. Hey, if Will and Harry can, why not Obama? Maybe he's the last jedi.
Related: Star Wars: The Last Jedi's First Trailer Is Finally Here
Oscar Isaac Has a Soft Spot for Jessica Lange and Movies on Airplanes: