Newly Married Alicia Vikander Just Wore Her Wedding Ring on the Red Carpet
She reportedly married Michael Fassbender earlier this month in Ibiza
---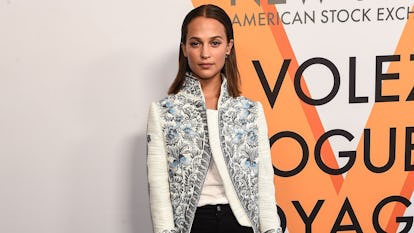 Daniel Zuchnik/WireImage/Getty Images
On Thursday, Alicia Vikander made her first red carpet appearance since it was reported she married Michael Fassbender last week in Ibiza — which also means that her incredibly sparkly, diamond-encrusted wedding ring made its debut on her left hand, as well.
The wedding band is actually three slim diamond-covered bands, which appear to be made of either platinum or white gold and are connected by one much larger diamond. The stunning piece of jewelry went perfectly with Vikander's outfit on Thursday night: The Oscar winning-actress and Louis Vuitton muse wore a white tee, slim black pants with an asymmetrical hem, and a beautiful brocade jacket, all from Louis Vuitton's Spring 2018 Ready-to-Wear collection. She accessorized with simple, black heeled sandals, a small black-and-white purse, natural makeup, and slick hair. In addition to her new ring, she also wore a pair of small, black drop earrings.
Vikander attended the event solo, but she has reportedly been in a relationship with Fassbender since they met in late 2014 on the set of The Light Between Oceans. Since then, they have kept their romance way below the radar, and have not yet confirmed that they tied the knot earlier this month. Multiple outlets reported that they were married on Saturday, October 14, at La Granja farmhouse hotel in Ibiza. They were spotted entertaining friends and family and were trailed by a professional photographer in the area that weekend, and both have been seen wearing new pieces of jewelry on their left hands since.
After the big day, Vikander and Fassbender honeymooned in Italy, according to People. A fan shared a selfie with the newly married pair on Twitter last weekend, writing in the caption that they'd stumbled upon the elusive couple at Osteria del Cappello restaurant in Bologna. In the following days, more Italian fans posted photos with the newlyweds in Florence and Verona. But on Wednesday, Vikander arrived solo at the Miami airport.
Watch: Alicia Vikander Auditions for Humphrey Bogart's Role in "Casablanca"