Alicia Vikander Says Julianne Moore Once Defended Her From a Harasser on Set
She also talked about how Time's Up brought women in Hollywood together.
---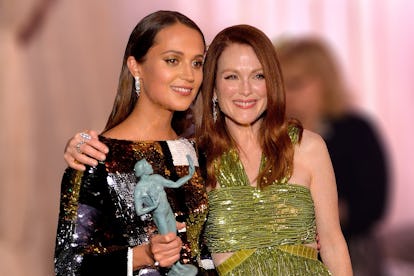 Stefanie Keenan/Getty Images
For Vogue's March issue cover, Alicia Vikander shared a powerful story about solidarity among women in the workplace. While filming the 2014 movie Seventh Son, a man in a position of power, whom she did not name, told a cruel joke at her expense. Julianne Moore immediately came to her defense.
"I was really embarrassed, and I would have just laughed it off," the Oscar winner told Vogue. "But Julianne turned to him and said, 'If you ever do that again, I'm walking out of here and I'm not coming back.' She was just, like, 'Don't you f—ing say that again.' It showed me that she had the power. And that meant so much to me."
Vikander continued by sharing how much the Time's Up initiative, which she has cosigned alongside actresses including Reese Witherspoon, Gina Rodriguez, and Viola Davis, has brought women in Hollywood together. The initiative aims to promote safer workplaces and gender and racial inequality in the workplace, and to combat sexual assault and harassment, and it includes a legal defense fund. According to Vikander, as women over the holidays started to email one another, the movement began to take shape. "It was such a community that came together," Vikander told Vogue the day after the Golden Globes. "I got on the phone with Natalie [Portman], whom I'd never met, and Reese. Suddenly I felt like I made a lot of new friends."
"One thing that really got to me in their initial email was the fact that, because women are not as well represented in all industries, we often have to fight for jobs," Vikander continued. "The competition is so tough that instead of getting to know each other and working together, we learned at an early age to compete for that single spot. So then to get on the carpet yesterday and feel like I had actually made friends with the other actresses and people I admire, it was really cool."
With help from stars like Vikander, the Time's Up initiative has proved immensely successful in the short time since its establishment. This week lawyer Tina Tchen, who's in charge of the legal defense fund, announced that the group had already raised $20 million in just one month. In the same span of time, the group has also received 1,000 requests for help, which means the $20 million, while impressive, is unfortunately not enough. Supporters of Time's Up are nevertheless impressed with how much attention the group has gotten. Speaking at the same event as Tchen, director Ava DuVernay said at first she wasn't too sure about actresses bringing activists to the Golden Globes to create awareness for Time's Up. "I have to admit, in early meetings where they were like, 'Me Too activists are coming with actresses on the red carpet,' I was like, 'That's a disaster, that's not going to work,'" she said. "But it was beautiful."