These Celebrities Couldn't Attend the 2018 Golden Globes, but Still Supported Time's Up in All Black
From Anne Hathaway to J.Lo.
---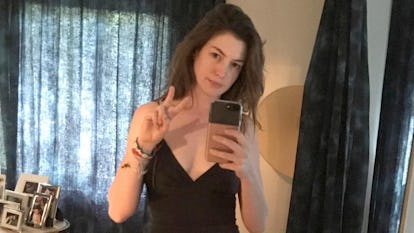 annehathaway/Instagram
The 2018 Golden Globes has seen a powerful parade of black dresses and ensembles as a showcase of solidarity for victims of harassment and to advocate for the newly formed #TimesUp initiative, a movement to assist those fighting systemic harassment in all industries. But the resounding support from Hollywood A-listers was not limited to the Globes' red carpet: Several celebrities donned all black despite not attending the awards show, using social media (as opposed to the red carpet) as a platform to take part in the poignant movement.
For instance, Anne Hathaway, Olivia Munn, and Shonda Rhimes were all unable to attend the Globes due to being sick, but still sported their black getups and voiced their support from home. "In solidarity from my sick bed," Hathaway captioned an Instagram of herself in a black dress. "At home with the flu so my black dress stays on the hanger but my #TIMESUP pin will be on my PJs! Wear black at home with all of us," encouraged Rhimes from Instagram as well. Rhimes posted a separate photo of herself on Instagram in a #TimesUp T-shirt, writing "Standing in solidarity with my sisters everywhere tonight." Munn added from Twitter: "I'm staying home today sick with the flu. But so appreciative of everyone who has rallied around to support."
Jennifer Lopez, with boyfriend Alex Rodriguez by her side, delivered a passionate speech from Puerto Rico that she shared to Instagram, also expressing her support. "Today is the Golden Globes in Los Angeles, and a lot of the women, with the hashtag Times Up, are standing up for equality—to be treated equally and for sexual harassment," Lopez said in the posted clip. "And I stand here in black today doing the same from far away. And it's the same thing here in Puerto Rico—we want to be treated equally."
Other celebrities, including Bryce Dallas Howard, Gabrielle Union, Hilary Duff, Zoë Saldana, and Karlie Kloss, took to social media to share their #TimesUp photos. The messages ranged from the simple ("Because we stand together," Dallas Howard wrote) to the personal (Union opened up about her own sexual assault in her post), but all were part of Hollywood's coming together—from near and far—to stand up to harassment, discrimination, and inequality of all kinds, in all industries.
Related: Debra Messing Calls Out E!'s Gender Wage Gap at the 2018 Golden Globes