Debra Messing Calls Out E!'s Gender Wage Gap at the 2018 Golden Globes
Shout out to Catt Sadler.
---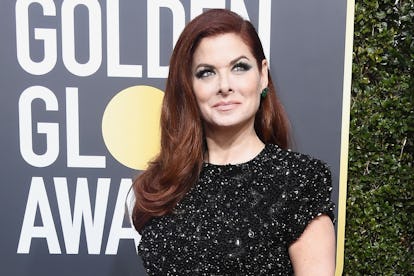 Frazer Harrison/Getty Images
The 2018 Golden Globes—the first awards show of the season and the first in the post–Harvey Weinstein landscape—have been generating important conversations and calling attention to hot-button topics for weeks. From stars dressing in all black to show solidarity for harassment victims to actresses bringing social justice advocates as their dates to the birth of the Time's Up movement, the Globes' red carpet and stage has people's attention for so much more than just fashion and awards this year. And viewers did not have to wait long to see these statements and movements come under the spotlight tonight: As soon as she hit the red carpet, Debra Messing called attention to E!'s gender wage gap issue, which gained publicity after the exit of on-air host Catt Sadler.
When asked by E! correspondent Giuliana Rancic why she had chosen to wear black tonight, Debra wasted no time in making a statement. "I am wearing black to thank and honor all of the brave whistle-blowers who came forward and shared their stories of harassment and assault and discrimination," Messing began. "I am wearing black to stand in solidarity with my sisters all over the globe. And I'm here to celebrate the roll out of this incredible initiative, Time's Up. Time is up. We want diversity. We want intersectional gender parity. We want equal pay. And I was so shocked to hear that E! doesn't believe in paying their female cohosts the same as their male cohosts. I miss Catt Sadler. And so we stand with her."
Messing was referring to Catt's public exit from E! back in December, after discovering that her male cohost Jason Kennedy was earning double her salary. "That was really hard to swallow," Sadler said at the time. "And when you learn something like that, it makes you feel very small and underappreciated and undervalued."
While Rancic did not directly address Debra's comment about E! or Sadler (simply responding that the Globes have become an "amazing platform"), Twitter took the opportunity to applaud Messing's speech and stance. "Shout out to Debra Messing for telling Guiliana that the network she works for is sexist and enables the pay gap," one user wrote. "Debra Messing just said on E! that she was sad to hear that E! doesn't pay their female cohosts the same as their male cohosts. I f–king love this guns blazing awards show, let's do this every time," another added.
Related: Jennifer Lawrence and Jessica Chastain Support Catt Sadler After E! News Exit Over Pay Gap Dispute
Golden Globes 2018: See Hollywood's Biggest Names Wearing Black Dresses On the Red Carpet
Allison Williams arrives to the 75th Annual Golden Globe Awards held at the Beverly Hilton Hotel on January 7, 2018. (Photo by Kevork Djansezian/NBC/NBCU Photo Bank via Getty Images)

Kevork Djansezian/NBC
Caitriona Balfe arrives to the 75th Annual Golden Globe Awards held at the Beverly Hilton Hotel on January 7, 2018. (Photo by Kevork Djansezian/NBC/NBCU Photo Bank via Getty Images)

Kevork Djansezian/NBC
Sadie Sink arrives to the 75th Annual Golden Globe Awards held at the Beverly Hilton Hotel on January 7, 2018. (Photo by Kevork Djansezian/NBC/NBCU Photo Bank via Getty Images)

Kevork Djansezian/NBC
Debra Messing arrives to the 75th Annual Golden Globe Awards held at the Beverly Hilton Hotel on January 7, 2018. (Photo by Kevork Djansezian/NBC/NBCU Photo Bank via Getty Images)

Kevork Djansezian/NBC
Alexis Bledel arrives to the 75th Annual Golden Globe Awards held at the Beverly Hilton Hotel on January 7, 2018. (Photo by Kevork Djansezian/NBC/NBCU Photo Bank via Getty Images)

Kevork Djansezian/NBC
Tracee Ellis Ross arrives to the 75th Annual Golden Globe Awards held at the Beverly Hilton Hotel on January 7, 2018. (Photo by Kevork Djansezian/NBC/NBCU Photo Bank via Getty Images)

Kevork Djansezian/NBC
Claire Foy arrives to the 75th Annual Golden Globe Awards held at the Beverly Hilton Hotel on January 7, 2018. (Photo by Kevork Djansezian/NBC/NBCU Photo Bank via Getty Images)

Kevork Djansezian/NBC
Catherine Zeta-Jones arrives to the 75th Annual Golden Globe Awards held at the Beverly Hilton Hotel on January 7, 2018. (Photo by Kevork Djansezian/NBC/NBCU Photo Bank via Getty Images)

Kevork Djansezian/NBC
Frankie Shaw arrives to the 75th Annual Golden Globe Awards held at the Beverly Hilton Hotel on January 7, 2018. (Photo by Kevork Djansezian/NBC/NBCU Photo Bank via Getty Images)

Kevork Djansezian/NBC
Chrissy Metz arrives to the 75th Annual Golden Globe Awards held at the Beverly Hilton Hotel on January 7, 2018. (Photo by Kevork Djansezian/NBC/NBCU Photo Bank via Getty Images)

Kevork Djansezian/NBC
Laurie Metcalf arrives to the 75th Annual Golden Globe Awards held at the Beverly Hilton Hotel on January 7, 2018. (Photo by Kevork Djansezian/NBC/NBCU Photo Bank via Getty Images)

Kevork Djansezian/NBC
Allison Brie arrives to the 75th Annual Golden Globe Awards held at the Beverly Hilton Hotel on January 7, 2018. (Photo by Kevork Djansezian/NBC/NBCU Photo Bank via Getty Images)

Kevork Djansezian/NBC
Dakota Johnson arrives to the 75th Annual Golden Globe Awards held at the Beverly Hilton Hotel on January 7, 2018. (Photo by Kevork Djansezian/NBC/NBCU Photo Bank via Getty Images)

Kevork Djansezian/NBC
Meryl Streep and director of the National Domestic Workers Alliance Ai-jen Poo arrive to the 75th Annual Golden Globe Awards held at the Beverly Hilton Hotel on January 7, 2018. (Photo by Kevork Djansezian/NBC/NBCU Photo Bank via Getty Images)

Kevork Djansezian/NBC
Amy Poehler arrives to the 75th Annual Golden Globe Awards held at the Beverly Hilton Hotel on January 7, 2018. (Photo by Kevork Djansezian/NBC/NBCU Photo Bank via Getty Images)

Kevork Djansezian/NBC
Christina Hendricks arrives to the 75th Annual Golden Globe Awards held at the Beverly Hilton Hotel on January 7, 2018. (Photo by Kevork Djansezian/NBC/NBCU Photo Bank via Getty Images)

Kevork Djansezian/NBC
Sarah Paulson arrives to the 75th Annual Golden Globe Awards held at the Beverly Hilton Hotel on January 7, 2018. (Photo by Kevork Djansezian/NBC/NBCU Photo Bank via Getty Images)

Kevork Djansezian/NBC
Susan Sarandon arrives to the 75th Annual Golden Globe Awards held at the Beverly Hilton Hotel on January 7, 2018. (Photo by Kevork Djansezian/NBC/NBCU Photo Bank via Getty Images)

Kevork Djansezian/NBC
Allison Janney attends The 75th Annual Golden Globe Awards at The Beverly Hilton Hotel on January 7, 2018 in Beverly Hills, California. (Photo by Frederick M. Brown/Getty Images)

Frederick M. Brown
Alicia Vikander attends The 75th Annual Golden Globe Awards at The Beverly Hilton Hotel on January 7, 2018 in Beverly Hills, California. (Photo by Frazer Harrison/Getty Images)

Frazer Harrison
Issa Rae attends The 75th Annual Golden Globe Awards at The Beverly Hilton Hotel on January 7, 2018 in Beverly Hills, California. (Photo by Frazer Harrison/Getty Images)

Frazer Harrison
Kendall Jenner attends The 75th Annual Golden Globe Awards at The Beverly Hilton Hotel on January 7, 2018 in Beverly Hills, California. (Photo by Frederick M. Brown/Getty Images)

Frederick M. Brown
Pamela Adlon attends The 75th Annual Golden Globe Awards at The Beverly Hilton Hotel on January 7, 2018 in Beverly Hills, California. (Photo by Frazer Harrison/Getty Images)

Frazer Harrison
Elizabeth Moss attends The 75th Annual Golden Globe Awards at The Beverly Hilton Hotel on January 7, 2018 in Beverly Hills, California. (Photo by Frazer Harrison/Getty Images)

Frazer Harrison
Maggie Gyllenhaal attends The 75th Annual Golden Globe Awards at The Beverly Hilton Hotel on January 7, 2018 in Beverly Hills, California. (Photo by Frazer Harrison/Getty Images)

Frazer Harrison
Viola Davis attends The 75th Annual Golden Globe Awards at The Beverly Hilton Hotel on January 7, 2018 in Beverly Hills, California. (Photo by Frederick M. Brown/Getty Images)

Frederick M. Brown
Connie Britton attends The 75th Annual Golden Globe Awards at The Beverly Hilton Hotel on January 7, 2018 in Beverly Hills, California. (Photo by Frederick M. Brown/Getty Images)

Frederick M. Brown
Millie Bobby Brown attends The 75th Annual Golden Globe Awards at The Beverly Hilton Hotel on January 7, 2018 in Beverly Hills, California. (Photo by Frederick M. Brown/Getty Images)

Frederick M. Brown
Kerry Washington attends The 75th Annual Golden Globe Awards at The Beverly Hilton Hotel on January 7, 2018 in Beverly Hills, California. (Photo by Frederick M. Brown/Getty Images)

Frederick M. Brown
America Ferrera and Natalie Portman attend The 75th Annual Golden Globe Awards at The Beverly Hilton Hotel on January 7, 2018 in Beverly Hills, California. (Photo by Frazer Harrison/Getty Images)

Frazer Harrison