Jennifer Lawrence and Jessica Chastain Support Catt Sadler After E! News Exit Over Pay Gap Dispute
"WOW this is so disappointing."
---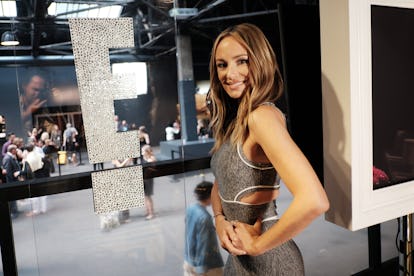 Jason Kempin
Catt Sadler—the former E! News co-host—has left the network due to "a massive disparity in pay" compared to her male counterpart Jason Kennedy.
While negotiating a contract renewal, "an executive from E brought something alarming to my attention namely, that there was a massive disparity in pay between my similarly situated male co-host and myself," Sadler wrote on her website. "I learned that [Kennedy] wasn't just making a little more than I was. In fact, he was making close to double my salary for the past several years."
So, she just decided to leave, and got some surprising support from Hollywood A-Listers for her brave decision. No less than Jessica Chastain and Jennifer Lawrence took to social media to share their thoughts.
"WOW this is so disappointing," Chastain tweeted. "When are companies like @e_entertainment going to understand that women should be paid fairly. 1/2 of her male counterpart is not appropriate."
Meanwhile, Lawrence took to Facebook to share Sadler's post: "Thank you Catt for sharing your story."
Lawrence previously penned a piece for Lena Dunham and Jennifer Konner's Lenny back in 2015 titled, "Why Do I Make Less Than My Male Co‑Stars?" At the time, the The Hunger Games star topped Forbes' list of highest paid actresses with $52 million. The highest paid actor that year? Robert Downey Jr. with $80 million.
"Jeremy Renner, Christian Bale, and Bradley Cooper all fought and succeeded in negotiating powerful deals for themselves," Lawrence wrote in the article, referring to her American Hustle costars. "If anything, I'm sure they were commended for being fierce and tactical, while I was busy worrying about coming across as a brat and not getting my fair share."
Lawrence noted that it was hard for her to publically share her experiences. "My problems aren't exactly relatable," she wrote. Yes, she's comparing millions but—putting that aside—the disparity exists, and that's what matters. It's well known that the gender pay gap is prevalent in most fields. Hopefully, with more public figures like Lawrence speaking out and Sadler making bold moves, times will change. Hollywood—on screen or off—is and continues to be, in a way, a mirror that reflects society today.
As for Adler situation, her former employers offered in a statement that "E! compensates employees fairly and appropriately based on their roles, regardless of gender. We appreciate Catt Sadler's many contributions at E! News and wish her all the best following her decision to leave the network."
Related: Jessica Chastain's One Simple Trick to Making Sure She's Getting Paid as Much as Her Male Co-Stars