Alicia Vikander Is Apparently the Best Part of Tomb Raider, According to Early Reviews of the Film
"But what does it matter in a movie that's dull when it's not inexplicable, and is riddled with bad dialogue and worse special effects?"
---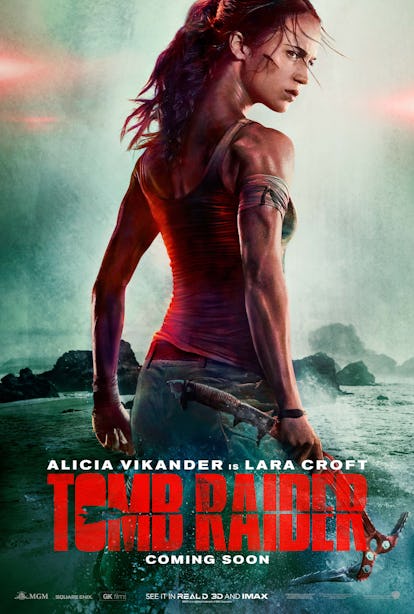 Warner Bros.
This weekend, three female-fronted action movies will be in theaters, the latest being Tomb Raider, following Red Sparrow and Annihilation. That in and of itself is worth celebrating, especially at a time when women account for 31.2 percent of film leads, according to a recent study by UCLA. While this year's Tomb Raider reboot doesn't officially hit theaters until March 16, early reviews are in—and, as it turns out, Alicia Vikander stuns in the action hero role.
Her depiction of the video game protagonist, last played by Angelina Jolie in 2001, is earning many accolades. Perhaps testament to Vikander's stellar acting is that it seems to be the best thing about the film. Currently the movie is sitting with a 49 percent score on Rotten Tomatoes, brought about from reviews like this one from The Washington Post:
"This Lara is spunky and fearless, with a mind of her own," says writer Stephanie Merry. "That's nice to see, but what does it matter in a movie that's dull when it's not inexplicable, and is riddled with bad dialogue and worse special effects?"
While the quality of the visual effects seem to be up for debate, Vikander's acting is not. The Associated Press gave a similar review, writing, "As it stands, though, Tomb Raider is an often fun and visually compelling action pic that is also sometimes unintentionally silly, with a great actress leading the whole thing."
Outside of the dialogue, part of the problem may be with the plot, or lack thereof. "Truthfully, there isn't very much plot here at all. The film skips over large swaths of exposition," says a review from the Tribune News Service. "She's awe-inspiring even when aided by far too much janky CGI, and that's the thing—the story is essentially nonexistent and very silly, and a lot of the digital action is very sketchy. But Vikander attacks this role at a headlong pace, with a raspy primal yelp, and she's so much fun to watch."
Regardless of whether or not the latest iteration of Tomb Raider is an instant classic, it's poised to make a dent at the box office, which is only a good thing as it confirms—once again—that films not fronted by white males are just as desired by the movie-going crowd, if not much, much more, as was the case with Black Panther. This weekend will likely confirm that as the two films, according to Variety, are both projected to rake in around $25 million.
Watch: 11 Fierce Actresses Who Have Dominated Action Movies