Alli Webb, The Queen of Blow Outs, Also Loves a Good Contour
The Drybar founder dishes on all things beauty.
---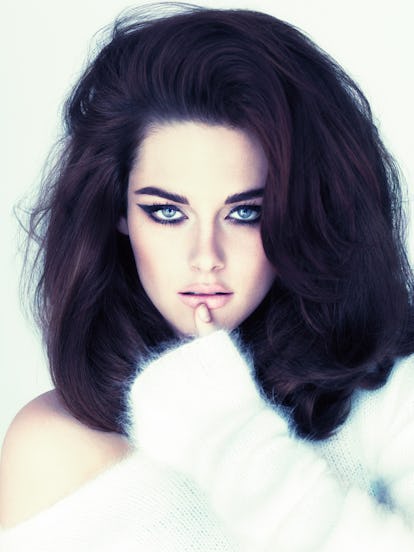 Photography by Mert Alas & Marcus Piggott, styled by Edward Enninful; W Magazine September 2011.
Alli Webb grew up with naturally curly hair–so she knows the transformative power of a good blow out. In 2010, she launched Drybar, a new hair salon concept that solely provides styling services that go by cute cocktail monikers, like the Cosmo, the Maitai and the Dirty Martini. Thanks to Webb's instincts and vision, Drybar has 64 locations and counting across North America, and a three-year-old product line which bears equally cheeky names like Sake Bomb and Lemon Drop. A bio-pic about the entrepreneur is in the works, and she's just finished writing her autobiography, out in October. Here, Webb talks about her business, why she loves Blake Lively's hair, and so much more.
So what was the impetus for Drybar? Well, I have very naturally curly hair. Even as a little kid, when I was, like, 7, 8,9 I begged my mom to blow out my hair. She wasn't a hairstylist, but I just loved how my hair looked when blown-out straight. I couldn't really articulate it back then, but I just felt better. I didn't know why at the time, but I know now. The first page of my book is a picture of my mom blow drying my hair. My whole life, since I was a little girl, I was always on the hunt for a blowout. I remember it so well, because it was this thing for me. And I was so mystified by the supermodels, like Cindy Crawford and Christie Brinkley. How the hell did they get hair like that? I didn't understand it and I was just obsessed with figuring it out. Fast forward to many hours spent in the bathroom during high school trying to figure it out and I could not crack it.
What were you using? When I was in high school, straightening irons weren't around and the curling iron hadn't been used for anything but curling hair. No, it hadn't. Irons weren't really a thing back then. My mom used hot rollers, but I never made that connection back then. I had super long hair, and I remember my friends and I would iron our hair with an actual iron.
How very The Way We Were of you! Well, it worked. It was awesome! But looking back, I did it all very wrong. I thought if I slept on it, the next day it would look better, less frizzy, and of course, that didn't really work. I worked as a receptionist at a salon in high school, since I was so drawn to hair, and I loved every second of it. When they blew out my hair, it was heaven! That's when I started thinking I really wanted to go to beauty school, but I didn't.
So, what did you do? I went to college for less than a year, but it wasn't for me, so I went to New York to work in fashion. I worked for Cynthia Rowley for half a second, then Nicole Miller, where my brother worked in her corporate office. This was about 15 years ago, when she was in her heyday. My brother and I decided to move back to South Florida and open a couple Nicole Miller boutiques there, but it wasn't our passion and we fought a lot. I was 23 and running two retails businesses, and I was young and I didn't know what the hell I was doing. But my brother and I had always gotten along, so I think the tumultuous relationship he and I had made me decide to go to beauty school. My parents weren't thrilled about it, they didn't understand. But I was like, "I'm going to go to New York and I'm going to do editorial and work on magazines and fashion shows!" I had a vision. So I went to beauty school and worked at a local salon called John Peters. Not [Barbra Streisand's hairstylist Jon Peters], but he was this great guy and he had a great salon. It was one of those things you look back on and think, thank god I did that. I learned how to cut from him, and I used to have to blow out all his clients. In South Florida, there's a lot of that older clientele and you're perfecting the art of volume and all that. I hung on his every word and he was a huge fan of John Sahag, so I became obsessed with John because of him.
So you went to work for John [Sahag]? I remember walking into his salon and trying to be very cool. Back then, he was IT. He did all the celebrities. And yet, the salon was very Zen, quiet with a waterfall. I walked in wearing my leather pants and super high heels and thinking, "I'm going to get this f**king job!" And I did.
If I remember John correctly, he was probably wearing his leather pants, too Oh, yeah. I was really an assistant. I worked under everybody, including John. I used to walk his dogs on Fifth Avenue, which was a humbling experience. It was really where I perfected blow drying because John's method was to flatiron the hair, cut it, then have someone else wash it and blow it dry. I really cut my teeth there and became so much better. A lot of the stylists, if not all of them, are still at that salon to this day.
Very cool. But there I was, this young 20-something, figuring my life out and picking up my boss's dog poop, I met a publicist whose job sounded very cool. So I left to work in the music department at Rogers and Cowan under Paul Freundlich. When I told John, he said, "That's a mistake. You should stay in the hair industry." I remember that conversation so well, and it's so bittersweet that I ended up doing this, but he died before dry bar happened.
What was the best advice he ever gave you? There was such a quiet confidence about John. It was less about what he told me and more about how he acted and carried himself. He was the biggest name in hair, responsible for introducing dry cutting to the world, but had no airs about him. He was nice and quiet, confident and sweet. He could have been very different and I think it was a good thing that I learned more by osmosis.
What did you want to be when you were 16? A professional tennis player. When my family moved from Hollywood, Florida to Boca Raton, we joined this country club where Chris Evert's sister Jeannie was the pro. I started playing tennis with her and I really loved it. I even ended up spending a couple summers with [tennis guru] Nick Bollettieri back in the heyday when Andre Agassi and Monica Seles were practicing there. That was a thrill. I thought I wanted to be a professional tennis player, but I realized how incredibly hard it was to be a pro. It was such a mental game, and I realized I didn't have it.
When did you move to Los Angeles? When I was working in PR, I met my husband Cameron and we've been together ever since. We were in New York during 9/11, but then we moved to San Francisco for a year, then L.A. for a job opportunity Cameron had.
And what were you doing then? When we got to L.A., I was like, "Woo hoo! I don't have to work!" I just wanted to have babies. I'd always dreamed of having kids, and when I did, I felt so lucky to be a stay at home mom. We were living in Santa Monica, I walked everywhere with my babies, it was a magical time. But after about 5 years, I started to get a little antsy. It hit me like a ton of bricks. One day, I just thought, I can't spend another day at the park.
So you started your own business. It was a mobile blow dry business that I named Straight at Home. Cameron designed this one-page website and he said, "If we make this really cute, people will call you." That notion never would have occurred to me.
Did it work? I put an ad in this mommy resource site called Peach Head. It said, "I'm a longtime hairstylist and I'm thinking about starting a mobile blow dry business. When your baby's asleep, I'll come over and blow dry your hair." Just to see if there would be any interest. Sure enough, I got flooded with emails and calls and that was it. I charged $40. It was very scientific how we came up with that number. I wasn't looking to get rich from this; I just wanted to get out of the house and be able to take advantage of this skill I had because I was really good at hair. And it was a great way to meet women.
When did you open your first salon? February 2010, in Brentwood. I remember telling my brother and my husband, "There's a bigger opportunity here." Instead of going to my clients, I wanted them to start coming to me. My husband was not skeptical at all. He said, "When you get your nails done, I never notice. When you get your hair blown out, it's the first thing I notice. This will totally work." My brother took a little more convincing, maybe because his wife has stick-straight hair. He said, "Sarah never blow-dries her hair." I said, "Sarah doesn't count. She's the one percent! You did grow up in the same house as me, right? Do you not remember what I went through?" So he gave me the money to open our first door. He was still working in real estate and my husband was still in advertising. None of us knew if this would work. We were all cautiously optimistic.
And we were in a recession… I remember sitting up at night thinking, "Okay, if we can get five women an hour in, ten hours a day, this just might work." Regarding the recession, I actually felt that during this time when people were cutting back might be the perfect time.
Don't buy the shoes… But spend $30 on a blowout. Or if you're growing out color or need a haircut, a blowout will make your hair look better. Also, when your hair looks good, you feel good. We always say, We're not selling blowouts; we're selling happiness and confidence. I wholeheartedly believe that.
How many salons do you have now? Now we have 64. Isn't that crazy? By end of year, we'll probably have between four and six more.
Since you started, have you expanded the blowout menu? Nope. There hasn't been an evolution and I'm really and I'm very proud of that. I get asked that question a lot. But I've always felt that all of our hairstyles cover the gamut. You can ask for a Cosmo, which is a lot of loose curls, but there are a hundred different ways we can give you a Cosmo. It can be everything from old Taylor Swift's curls to Marilyn Monroe's brushed together curls. All of the styles run the gamut. The only thing we added a couple years ago was the Dirty Martini. It's a really bed head crazy, messy look. It's not for everybody, but the ones who get it love it.
Do you get pushback from the no-mirrors policy? Not really. In the beginning, I told the architect stories of my mobile business and how I would do my clients' hair in their living room with no mirror. As a stylist, I was able to get it exactly how I wanted it before they could see it. It forced [the clients] to relax, plus who likes looking at themselves with wet hair for 45 minutes? It was also cool that when I'd tell my clients I was done, they'd run to the bathroom mirror and squeal. We don't have to set this up like a traditional salon, but we're not cutting hair. When you cut, you do need a mirror to make sure everything is even, but when you're blow drying you don't need one. So we wanted to re-create what was magical for me in my mobile business. I was worried and I knew women would come in and be like where are the mirrors? And they did, but once they sat down and started watching the movies or charging their phone, they started to relax and get into the atmosphere. I always tell my stylists, if she wants to see the whole thing happening, we'll just turn her around. But it's a pretty special thing when the client isn't paying close attention to her hair and then you spin her around and she just lights up.
Who comes up with the product names? My husband and his team. I come up with what's inside the bottles and he comes up with the names. Everything's a drink. It's a balance of making sure we're getting across what the product does-ish and making it a drink.
Do celebs come to Drybar? All the time. Gwyneth [Paltrow] comes with her daughter, Julia Roberts is always in, Tina Fey, Emma Roberts, Jennifer Garner, Kate Hudson. The only big celebrity who hasn't come in is Angelina Jolie. But name a celebrity and they all come in. They come in when it's convenient. And that was a surprise because I thought, money isn't an issue, access isn't an issue, why come to Drybar? And their answer is the same as anyone else: It's so fun, it's easy, it's quick, it's inexpensive. I love the atmosphere.
Celebrities ARE just like us! Whose hair would you like to see in your chair? Blake Lively. I'm obsessed with her hair. I love her so much.
What do you wish women did more with their hair? Get a blow out or watch one of my videos and learn how to do just a couple things. My dad always said to me growing up, "Your hair is the frame of your face." It's so weird that my dad said that, actually, but that stuck with me. Hair is the one of the first things people notice on you. It's such a big accessory. Don't take it for granted.
Do you have a favorite Drybar tool? That's like asking me to pick a favorite child, but I do love our 3-Day Bender curling irons. It's such a cool iron and there's nothing else like it. After using more traditional irons, I'm a big fan of this one.
A favorite styling product? It varies. We've been working on this product called Prime & Prep. It's filled with all these vitamins and nutrients. As someone who colors her hair a lot, I've had samples of this stuff for a long time and I feel like it's really helped the health of my hair.
What's your first memory? Probably tied to my mom. I remember watching her set her hair in rollers and going through her whole beauty routine and just being fascinated by it.
What beauty products are always in your purse? Chaser, our shine cream. It's so good if hair gets a little frizzy and our mini Triple Sec. I'm obsessed with eyelash extensions. I think they are the best things ever invented. In my makeup bag is Whoosh. Do you know that brand?
From Bobbie Thomas? Yes. They just sent me their stuff and I'm kind of obsessed with their sheer lip gloss. I also have Marc Jacobs gel eyeliner. Two Faced has this blushing bronzer called Pink Leopard. When I first saw it, I was like, "Um, no." But I tried it and was like Wow. I cannot match the whole bronzing thing; it's too complicated for me, but this is a great fix and they gave me one of their cool brushes that I use it with. And like the rest of the world, I'm really obsessed with highlighter. I have a million of them, but Josie Maran has this stick I love that I put on my cheekbones, but also in the crease of my eye in the corner, it gives you a good pop.
What was your worst beauty blunder? I got a pixie cut when I was about 19. It was cute for five minutes, then growing that out was so traumatizing. At the time, I was like, "Why didn't I bleach my hair super blonde when I did it?" But it's hard to wear hair that short. I feel like you have to be really tall and really thin.
Or have tiny, tiny features. Right? Like when Halle Berry had short hair, that looked really good on her. There's a handful of people who look really good with short hair, but not me.
What is always with you when you travel? I've been working with a trainer who has me drink a protein drink every morning, so now I bring my little shaker bottle and my protein powder and I make sure I drink a shake every morning. Even when I'm traveling. And my Baby Buttercup blowdryer. I don't go anywhere without it.
Do you have a food weakness? French fries. French fries and hamburger from In and Out Burger. I dream about In and Out Burger , but I don't let myself go very much.
How often do you wash your hair? As little as possible. I'd say every three days or so. I try to leave it as long as I can. It's so much better for your hair to not wash and blow dry it every day. I really plan my life around my hair. I was in Paris and Greece for two weeks and I let it be curly, which was kind of fun. The problem with that is as much as I love my hair natural, after I sleep on it, it's so crazy the next day, I can only put it in a bun.
What are you currently obsessed with? Paris. We went two weeks ago and I'm like, How did no one ever told me how amazing this place is? I'd never, ever had such a strong reaction to a city. I was so taken with everything–the fashion, the style, the culture, the history, the buildings. To the point that when we came home, I said to my husband, "I want to get a tutor. The kids are going to learn French, we're going to learn French." We're already talking about living there for a month next summer. Ugh, I just loved it.