Almost Famous Is Coming to Broadway as a Musical
The hit movie is coming to the stage.
---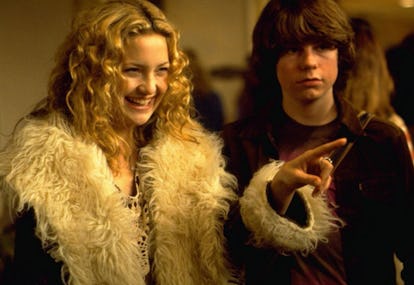 It's all happening. Following Mean Girls and Cruel Intentions, Almost Famous is the latest early-aughts movie to get the musical treatment.
On Tuesday, it was announced that Cameron Crowe's 2000 film would be adapted into a musical. While Crowe will pen the adaptation—he wrote the Oscar-winning screenplay, after all—the Tony-winning composer Tom Kitt will create the score. The musical will be directed by Jeremy Herrin, whose credits include Wolf Hall, Noises Off, and People, Places and Things.
In a tweet posted last week, Crowe seemingly teased the project with a video featuring Kitt playing piano.
Almost Famous follows the journey of a 15-year-old boy who lands a once-in-a-lifetime assignment from Rolling Stone to write about a rising rock band. The assignment leads to a life-changing experience for the main character as he navigates professionalism and being swept up in the rock scene himself. The story was, in fact, a fictional version of Crowe's experience working for the publication in the 1970s.
"I remember the first day of filming Almost Famous," Crowe told Rolling Stone in an interview about the news. "We were standing in downtown San Diego, shooting a scene with Phillip Seymour Hoffman on the very same street where I'd first met Lester Bangs. It felt surreal. It felt like a miracle. I called a friend of mine and said, 'How did I get here?' He laughed and said, 'Enjoy it, this won't happen again.' The current miracle is that the feeling is coming alive again."
While the film stars Kate Hudson, Billy Crudup, Patrick Fugit, Frances McDormand, Philip Seymour Hoffman, and Zooey Deschanel, it's unclear whether any of the cast will appear in the musical rendition of Almost Famous. There's also no official timeline for the project's release. Still, here's way-too-early congratulations to the Broadway ingenue who eventually lands the role of Penny Lane. Best of luck, though, to the person who is charged with figuring out how to stage the "I am a Golden God" scene onstage.
Kate Hudson's Adventurous Hairstyles, From Beachy Waves To A Blonde Buzz Cut
A young Kate Hudson poses at the Eighth Annual MTV Movie Awards in 1999, wearing a natural face with tousled curls.

Getty.
Wearing a mauve lip with her shoulder length locks and tousled bangs, Hudson attends the Hollywood Women's Press Club's 60th Annual Golden Apple Awards in 2000.

Getty.
Wearing her natural curls in a tousled up do with a burgundy red lip, Hudson attends the 14th Annual American Comedy Awards in 2000.

Getty.
Radiating at the 2002 Golden Globe Awards, Hudson wears her golden blonde locks in voluminous curls with a hint of blush on the cheeks.

Getty.
Hudson is all smiles at the Raising Helen film premiere in 2004, pairing her wild curls with a mauve lip.

Getty.
Hudson keeps her look minimal and chic with a simple high ponytail and luminous skin at the Sydney premiere of You, Me and Dupree in 2006.

Getty.
At the Orange British Academy Film Awards in 2008, Hudson opts for a simple braided do with side swept bangs.

Getty.
At the Glamour Magazine 2010 Women of the Year Gala, Hudson channels old Hollywood with her sleek S-wave curls with a satin red lip.

Getty.
Wearing an elegant up do with a frosted smoky eye, Hudson arrives at the 67th Annual Golden Globe Awards in 2010.

Getty.
At the amfAR 3rd Annual Inspiration Gala in 2012, Hudson opts for a slicked back, low tousled pony with a golden smokey eye.

Getty.
Wearing her perfectly blown out curls with a stain nude lip, Hudson attends the 70th Annual Golden Globe Awards in 2013.

Getty.
Looking regal at 86th Annual Academy Awards in 2014, Hudson wears her elegant waves with a subtle smokey eye.

Getty.
Hudson keeps her look simple at the 72nd Annual Golden Globe Awards in 2015, wearing a low, middle-parted bun with a natural lip.

Getty.
Debuting her newly chopped bob, Hudson wears her loose waves with a pale pink lip at the 2016 Vanity Fair Oscar Party.

Getty.
Opting for a dramatic up do the a 2017 Costume Institute Gala, Hudson pairs her frosted white locks with a taupe smokey eye.

Kevin Mazur