Mean Girls the Musical Gets 'Fetch' Reviews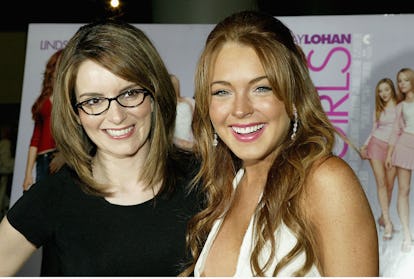 Paul Hawthorne/Getty Images
In an age when reboots have become the norm, quality can be the exception. So when it was announced that the beloved 2004 teen comedy Mean Girls was being adapted as a Broadway musical, there was a healthy amount of skepticism. As it turns out, though, not all remakes are destined to fail, and Mean Girls the musical is one of those exceptions.
It's totally "fetch," according to Deadline, which says, "At least one of the characters in Broadway's Mean Girls would describe this musical adaptation of Tina Fey's 2004 not-for-teens-only film comedy as absolutely fetch."
Part of that is due to how creator Tina Fey recontextualized the coming-of-age film for the social-media-raised Generation Z. "That this Mean Girls takes place (still at an Illinois high school) 14 years later than the film has proved no obstacle to Ms. Fey," writes The New York Times. "After all, social media only increases opportunities for social climbing and subversion." Fey herself has commented on why the film resonates just as much, if not more, today.
"The movie was about relational aggression among women," she told Variety. "But now that behavior has really metastasized across our society, and you see it everywhere. You see it in people being horrible to each other on social media. So if anything, it's gone wider. It's such an escalation in the interpersonal arms race." Fey also explained the decision to make social media a part of the musical, saying, 'You would immediately know that it was not of the present, if social media wasn't part of it."
"Mean Girls isn't flawless," Vulture notes, adding that "the musical has its share of beloved moments to live up to." Although, according to the publication, "it delivers—partly by approaching its material with immense energy and a wicked sense of humor, and partly by diving headlong into joyful inside-jokery."
Entertainment Weekly delivered a similar verdict, giving it a B+ and writing, "Propelled by dazzling set design and several stand-out performances, the musical—written by Fey, with music by Jeff Richmond, and directed by Casey Nicholaw (The Book of Mormon) — gives fans everything they want while bringing the saga of Regina George and the Plastics into the social media age."
Considering how well Mean Girls the musical has landed, maybe there is hope for a film remake after all—and, more important, there's hope that if it should happen it will be good.
Related: Reintroducing Lindsay Lohan: The Actress Has Found a Sense of Calm, and Is Now Ready to Launch a Beauty Brand
Once Upon a Time, Lindsay Lohan Had Your Ultimate Early '00s Wardrobe
Lindsay Lohan during Mean Girls World Premiere at Cinerama Dome in Hollywood, California, United States.

Getty
indsay Lohan arrives for the premiere of Herbie: Fully Loaded at the El Capitan Theatre on June 19, 2005 in Hollywood, California.

Getty
Lindsay Lohan departing the Metropolitan Museum of Art Costume Institute Benefit Gala "AngloMania: Tradition and Transgression in British Fashion" at the Metropolitan Museum of Art May 1, 2006 in New York City.

Getty
Lindsay Lohan attends the MTV's Iced Out New Years Eve celebration on December 31, 2004 in New York City.

Getty
Lindsay Lohan attends a party for Calvin Klein.

Getty
Lindsay Lohan at the Tommy Hilfiger Paris Store on Rue Saint Honore in Paris, France.

Getty
Lindsay Lohan attends the Cartier Charity Love Bracelet Party in June 2006.

Getty
Lindsay Lohan during Saved Los Angeles Premiere at The National in Westwood, California.

Getty
Lindsay Lohan attends the 2004 Teen Choice Awards.

Getty
Lindsay Lohan attends the 2004 MTV Movie Awards.

Getty
Lindsay Lohan during Movieline's Hollywood Life 7th Annual Young Hollywood Awards.

Getty
Lindsay Lohan during Mr. And Mrs. Smith Los Angeles Premiere.

Getty
Lindsay Lohan during Cartier Celebrates 25 Years in Beverly Hills in Honor of Project A.L.S. at Cartier Store in Beverly Hills, California.

GEtty
Lindsay Lohan stops by TRL at the MTV Studios on December 6, 2005.

Getty
Lindsay Lohan during 12th Annual Race to Erase MS Themed "Rock & Royalty to Erase MS" – Arrivals at The Westin Century Plaza Hotel & Spa in Los Angeles, California.

Getty
Lindsay Lohan during 12th Annual Premiere Women in Hollywood in Beverly Hills, California.

Getty
Lindsay Lohan visits TRL at MTV Studios in New York City on May 8, 2006.

Getty
Lindsay Lohan during 14th Annual Elton John AIDS Foundation Oscar Party Co-hosted by Audi, Chopard and VH1 – Arrivals at Pacific Design Center in Hollywood, California.

Getty
Lindsay Lohan during 2005 MTV Movie Awards at Shrine Auditorium in Los Angeles, California.

Getty