Lindsay Lohan Reenacting Mean Girls Lines Will Take You Right Back to 2004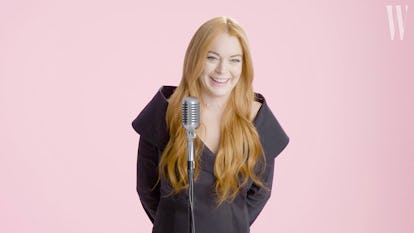 Nearly 14 years after Mean Girls premiered, there's still a sizable army of fans who gravitate toward pink clothing on Wednesdays and scarf down Kalteen bars as Spring Fling prep. (As the good lord Regina George intended.) Among this loyal group is one Lindsay Lohan, who played the protagonist Cady Heron in the 2004 comedy and, like you, still cracks up at every Tina Fey-penned sick burn from the movie. In a new video for W, the actress travels back in time to reenact her eight favorite lines from Mean Girls — only two of which are Cady originals.
Highlight from the video include Lohan telling viewers over and over (and over), in a range of volumes and levels of sass, that they smell like a baby prostitute, and her quoting the all-knowing Coach Carr's warning, "Don't have sex, because you will get pregnant and die," before affirming that his words are indeed true. She also attempts to punch up her sixth-favorite line. "Sorry, we only carry sizes one, three, and five. You could try Sears," Lohan intones, perfectly channeling the catty saleswoman at 1-3-5, then launches a quick brainstorm session to come up with something "funnier than Sears." Once informed that the original line does in fact reference Sears, and therefore should not be altered, Lohan curses Fey's decision to include what is, apparently, the most unfunny department store in Old Orchard Mall.
Lohan and the rest of the Mean Girls fanbase will likely be quick to forgive the Sears-loving Fey's transgressions, as she is now hard at work developing the movie for the stage. According to Variety, the Mean Girls musical will hit Broadway's August Wilson Theater this spring, with previews beginning March 12 and opening night on April 8. The show opened for a pre-Broadway run at Washington, D.C.'s National Theatre on October 31, and has already earned rave reviews from The Washington Post. Could this be the key to finally making "fetch" happen?
Related: Reintroducing Lindsay Lohan: The Actress Has Found a Sense of Calm, and Is Now Ready to Launch a Beauty Brand
Once Upon a Time, Lindsay Lohan Had Your Ultimate Early '00s Wardrobe
Lindsay Lohan during Mean Girls World Premiere at Cinerama Dome in Hollywood, California, United States.

Getty
indsay Lohan arrives for the premiere of Herbie: Fully Loaded at the El Capitan Theatre on June 19, 2005 in Hollywood, California.

Getty
Lindsay Lohan departing the Metropolitan Museum of Art Costume Institute Benefit Gala "AngloMania: Tradition and Transgression in British Fashion" at the Metropolitan Museum of Art May 1, 2006 in New York City.

Getty
Lindsay Lohan attends the MTV's Iced Out New Years Eve celebration on December 31, 2004 in New York City.

Getty
Lindsay Lohan attends a party for Calvin Klein.

Getty
Lindsay Lohan at the Tommy Hilfiger Paris Store on Rue Saint Honore in Paris, France.

Getty
Lindsay Lohan attends the Cartier Charity Love Bracelet Party in June 2006.

Getty
Lindsay Lohan during Saved Los Angeles Premiere at The National in Westwood, California.

Getty
Lindsay Lohan attends the 2004 Teen Choice Awards.

Getty
Lindsay Lohan attends the 2004 MTV Movie Awards.

Getty
Lindsay Lohan during Movieline's Hollywood Life 7th Annual Young Hollywood Awards.

Getty
Lindsay Lohan during Mr. And Mrs. Smith Los Angeles Premiere.

Getty
Lindsay Lohan during Cartier Celebrates 25 Years in Beverly Hills in Honor of Project A.L.S. at Cartier Store in Beverly Hills, California.

GEtty
Lindsay Lohan stops by TRL at the MTV Studios on December 6, 2005.

Getty
Lindsay Lohan during 12th Annual Race to Erase MS Themed "Rock & Royalty to Erase MS" – Arrivals at The Westin Century Plaza Hotel & Spa in Los Angeles, California.

Getty
Lindsay Lohan during 12th Annual Premiere Women in Hollywood in Beverly Hills, California.

Getty
Lindsay Lohan visits TRL at MTV Studios in New York City on May 8, 2006.

Getty
Lindsay Lohan during 14th Annual Elton John AIDS Foundation Oscar Party Co-hosted by Audi, Chopard and VH1 – Arrivals at Pacific Design Center in Hollywood, California.

Getty
Lindsay Lohan during 2005 MTV Movie Awards at Shrine Auditorium in Los Angeles, California.

Getty