Reintroducing Lindsay Lohan: The Actress Has Found a Sense of Calm, and Is Now Ready to Launch a Beauty Brand
Lindsay Lohan is a redhead again, but pretty much everything else has changed.
Photographs by Brigitte Lacombe
---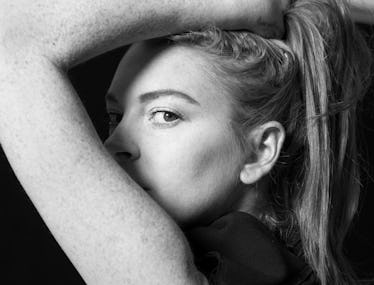 Lindsay Lohan wears an Alexander Wang sweater, $650, alexanderwang.com.
Lindsay Lohan needs no introduction. And yet, with hand extended, she offered one: "Hi, I'm Lindsay." Her voice was raspy and without a trace of the vaguely European accent she's rumored to have adopted.
It was a gloomy January day, and Lohan was at Condé Nast's studios for a photo shoot with the photographer Brigitte Lacombe. Clad in a red sweater, black Alexander Wang sweatpants, and a pair of high-heeled black boots, Lohan arrived—yes, on time—flanked by two of her younger siblings, Dakota and Aliana. At five-feet-five, she's notably more petite than her brother and sister, but what Lohan lacks in physical presence, she makes up for with energy. For five hours, Lohan posed for photos, stopping only now and then to grab a quick bite of kale salad before hopping back in front of the camera. It's certainly a far cry from the girl who was once famously hospitalized for exhaustion. Perhaps this Lindsay Lohan does, in fact, need an introduction: a reintroduction as the adult she's become.
Three days later, Lohan emerged in the lobby of The Mercer hotel, where she was staying during her brief trip to New York, arms outstretched for a hug, before deciding to relocate to her room. Upstairs, in the comfort of her temporary home, the 31-year-old settled into an armchair next to a window with a view of SoHo, the neighborhood she lived in until just a few years ago. For the next hour, she sat uncharacteristically still, moving only to pull up an image on her phone, or absentmindedly fiddle with her hair, which she's only recently dyed back to its natural color. "My hair was starting to grow back red, and I was starting to look like a white pumpkin with orange roots, so I was like, 'This is a sign that I'm meant to go back to red,'" she explained. But the return to her old hair color is also a sign of a deeper understanding of herself. "With blonde hair, you really have to maintain and everything I wear is different. You feel like you have to be blonde. And I don't want to have to feel like that in life."
Lohan continues to make headlines—in the past week alone, she's made waves for getting into an almost–Instagram spat with Kim Kardashian and for a late-night talk show shout-out from Lisa Kudrow—but it's been several years since she last lived in New York, and five years since she dominated tabloid headlines on nearly a daily basis and was a favorite target of the paparazzi. "The time that I really valued in my most recent years was when I just switched off on everyone in my life, and went on a limb to Turkey and just threw myself into understanding what was going on," she said. "No one even knew that I was there until I had gone already, which was the best part. That was a leap of faith, and a blessing in disguise. It changes people, especially when you go alone."
Post New York, Lohan lived for a few years in London, but now calls Dubai home. "I felt so relieved when I moved everything over from London to Dubai and I saw everything in one place," she said. "Now I don't have to open suitcases and live out of hotels and bags. Everything is where it should be. It's a cleansing of your head, which is what I needed, and it took me a while to do it. My mom tolerated my boxes [in her Long Island, New York, home] for a long time. I would love to own a place in New York, and that's something I will look into in the future, but right now I'm okay with where I live."
After all, in Dubai there's no one watching her every move. "There's a certain calmness that I find there. There's no paparazzi, no cameras; that's a big deal for me," she said. "I never considered people taking a picture 'bothering' me, but I don't want people to misinterpret who I am as a person if they see me sneezing and they say I'm crying. I do really appreciate having the life where I can just go outside and not have to worry."
It's true: There are fewer photos of Lindsay Lohan, the celebrity, in the world these days, but that's also because her days of late nights at nightclubs like Hyde—i.e., the ones that sell magazines—are now in the past. "I mean, I'm a Cancer, so I like to go out and then go back into my shell. I don't bitch about just sitting home and having friends over all the time," she said. "Now I have more appreciation for the time where I don't feel compelled to run around and do everything." While in New York, she mainly spends time with family; in Dubai, she has a close circle of female friends. "It's a very big place for female activists," she said. "Women have a very strong community. It's a whole different world, which is really cool. It's a place you think women don't have as much of a right to be themselves, but they actually have more than you'd imagine."
And though Dubai isn't Hollywood, it is a center for business. While there, Lohan is engaging in a number of entrepreneurial business. First up, there's a Lohan beauty brand, due out in the coming months. "I love lipstick, but I love using lipstick as blush," she said. "But if I have a cream blush, I want to be able to use it on my lips and not worry about breaking out after. So, I developed one." There will also be a clothing line—a Dubai-based stylist has been helping with the design process—and she hopes to eventually show the collection of head-to-toe looks in an intimate setting. The project, she noted, is a different direction from her most recent foray into fashion, 6126, a niche line of leggings she debuted back in 2008. "I did my leggings line, but I think I was filming [too much], and I didn't have the focus," she said. As for this upcoming line, "it's closer to haute couture."
There's also Lohan candles, one of which flickered behind us, a project that stemmed from the idea of doing a charity walk and making candles to light the path. (She also wants to start a foundation of her own to help "in uniting kids and families and giving them a light in their life.") And then there's Lohan Nightclub, in Athens, with a new location due to open on Mykonos. And, perhaps, an actual Lohan island, as she hinted on a recent appearance on The Wendy Williams Show. "My mind thinks so many things at every second," she said.
And though Dubai may be 8,000 miles away from Hollywood, she hasn't completely turned her back on acting. Lohan will appear in the upcoming season of Sick Note, a British sitcom starring Rupert Grint, and also in Frame, an all-female movie out of Saudi Arabia that will begin shooting in April. "To do an all-female project [in Saudi Arabia] is a milestone," she said. "Everything happens for a reason. I would have never expected to do a movie at this time that I have such a say in, and coming out of Shadi, Riyadh, and Abu Dhabi. I feel lucky."
However, much has changed in the industry since the height of Lohan mania in the early aughts, a period during which she headlined films like Freaky Friday, Mean Girls, and Herbie Fully Loaded—and Lohan is well aware. "It's [called] an iPhone," she deadpanned when asked about how Hollywood has changed. "We didn't have Instagram… It would have been a lot calmer for me. When you think about it, paparazzi are not as crazy as they used to be when I used to be in New York. Now I can just [take a picture] before I walk out the door and then there is no story. It's good, but it's a little in-genuine. But don't you think it's going to go away? It used to be, the less you are seen, the better. But that's impossible. What, are you never going to leave home?"
Like with her many projects in the works, Lohan seems to take matters into her own hands when it comes to finding roles. Currently, the only thing on her Twitter is a superimposed photo of herself and Batgirl, a sort of one-woman campaign to get her cast in Joss Whedon's upcoming cinematic adaptation. "I even considered flying to Los Angeles the other day just to stalk them for Batgirl," she said. "It's true. I thought, How do I get to Los Angeles without anyone knowing that I'm there?"
While she hasn't been immersed in Hollywood for a few years, Lohan said she still keeps in touch with some of her former, very famous costars. "I still talk to a lot of actresses that I've worked with, especially Jamie Lee Curtis," she said. "She has always been a really big part of my life and a strong female force who I really admire. And Jane Fonda, Felicity Huffman; there's a lot of amazing women that have graced my path and I have been very grateful to work with and just know."
As she continued to talk about acting, she got excited. "My dream role is Jessica Lange in Frances," she said. "That is my dream movie to remake. It's always been. I was going through a weird phase of being tired, and just working. I was really good friends with Jared Leto, and this was before we did Chapter 27, and he goes, 'Sit here and watch this movie.' It was the most traumatizing two and a half hours of any movie I've ever seen in my life, but I loved sitting there and watching it. Jessica Lange is just breathtaking. That moment really clicked, because it did show that all this other chatter can make you mental. It would be a dream movie to do."
You see, Lindsay Lohan has done a lot of things, but she still has things left to check off her list. For one? Make it to the Academy Awards. "But I don't want to go just to go," she noted. "I want to go because I have accomplished something great, and I just want to be there for the film. I don't want any personal thoughts, or, I don't want to come there with a statement of some kind. I just want to come there and say, 'I've been aspiring to come here on the stage like all the Hollywood greats that I've looked up to my whole life—the Elizabeth Taylors, the Marlene Dietrichs, the Anne Baxters—and I'm here. Thank you.' I just want to say thank you."
Oh, and she eventually wants to direct too. It may sound like a lot, but that's fine with Lohan. "It's always good to have something going on," she said. "Otherwise, I'm bored. Only boring people get bored. And I'm not a boring person."
Shoot produced by Aaron Kurlander and Michael Beckert. Hair by Eloise Cheung for T3 Micro at Kate Ryan. Makeup by Brigitte Reiss-Andersen at Starworks Artists. Manicure by Sarah Nguyen for OPI at Kate Ryan.
Lindsay Lohan Re-enacts Her 8 Most Favorite Mean Girls Quotes
Related: See Meryl Streep and Lindsay Lohan in W's May 2006 Issue
Once Upon a Time, Lindsay Lohan Had Your Ultimate Early '00s Wardrobe
Lindsay Lohan during Mean Girls World Premiere at Cinerama Dome in Hollywood, California, United States.

Getty
indsay Lohan arrives for the premiere of Herbie: Fully Loaded at the El Capitan Theatre on June 19, 2005 in Hollywood, California.

Getty
Lindsay Lohan departing the Metropolitan Museum of Art Costume Institute Benefit Gala "AngloMania: Tradition and Transgression in British Fashion" at the Metropolitan Museum of Art May 1, 2006 in New York City.

Getty
Lindsay Lohan attends the MTV's Iced Out New Years Eve celebration on December 31, 2004 in New York City.

Getty
Lindsay Lohan attends a party for Calvin Klein.

Getty
Lindsay Lohan at the Tommy Hilfiger Paris Store on Rue Saint Honore in Paris, France.

Getty
Lindsay Lohan attends the Cartier Charity Love Bracelet Party in June 2006.

Getty
Lindsay Lohan during Saved Los Angeles Premiere at The National in Westwood, California.

Getty
Lindsay Lohan attends the 2004 Teen Choice Awards.

Getty
Lindsay Lohan attends the 2004 MTV Movie Awards.

Getty
Lindsay Lohan during Movieline's Hollywood Life 7th Annual Young Hollywood Awards.

Getty
Lindsay Lohan during Mr. And Mrs. Smith Los Angeles Premiere.

Getty
Lindsay Lohan during Cartier Celebrates 25 Years in Beverly Hills in Honor of Project A.L.S. at Cartier Store in Beverly Hills, California.

GEtty
Lindsay Lohan stops by TRL at the MTV Studios on December 6, 2005.

Getty
Lindsay Lohan during 12th Annual Race to Erase MS Themed "Rock & Royalty to Erase MS" – Arrivals at The Westin Century Plaza Hotel & Spa in Los Angeles, California.

Getty
Lindsay Lohan during 12th Annual Premiere Women in Hollywood in Beverly Hills, California.

Getty
Lindsay Lohan visits TRL at MTV Studios in New York City on May 8, 2006.

Getty
Lindsay Lohan during 14th Annual Elton John AIDS Foundation Oscar Party Co-hosted by Audi, Chopard and VH1 – Arrivals at Pacific Design Center in Hollywood, California.

Getty
Lindsay Lohan during 2005 MTV Movie Awards at Shrine Auditorium in Los Angeles, California.

Getty