Five minutes with Brigitte Lacombe
French photographer Brigitte Lacombe is somewhat legendary for her pared-down approach to portraiture: a camera, the subject, the photographer. The system certainly seems to work, given the hundreds of celebs (Meryl and Leo are favorites),...
---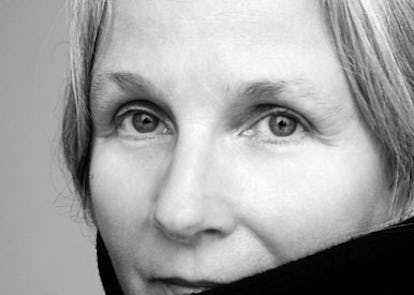 Is it true that when you're doing a portrait, no one is allowed in the room with you? Well, it's not exactly like that. My assistants are with me. But you know, I always kind of construct a little private space wherever we are, if we are in a studio or if we are on location. Inside that space, the person feels contained and kind of protected. I stay one-on-one every time I can. It's like if you have dinner with a group of people or if you are just giving a one-on-one dinner—it's not the same intimacy.
From all of the images of film sets in the book, do you have a favorite? I love the image of Leonardo DiCaprio on the set of Gangs of New York. He's raising his hand, and suddenly I saw that he had this little digital camera. He's dressed as the character among many of the people, extras for the most part. But it was just such a beautiful moment. Because he's very unaware that he's being watched. And he's the one watching. Odd that he wants to also record it, you know? Also the image of Gwyneth Paltrow turning around on The Talented Mr. Ripley with her beautiful leopard coat. She's looking at me, but she's really kind of looking through me.
You've photographed Meryl Streep many times through the years. Is it true she hates being photographed? In the case of Meryl I first [photographed her] on Kramer vs. Kramer. And it's unfortunate, because even though we've developed the most incredible closeness and friendship—truly, I never have enough of photographing her—she is constantly trying to avoid it! I think she kind of tolerates it, you know? And sometimes it's good, because she has to have a photograph taken and it may as well be me [rather] than somebody else. You know, most women and actresses, at a certain point, will start to feel beautiful in the eye of that moment for the photographer and they start to relax and enjoy it. But Meryl will never get to that point, because she's not interested in being looked at if she's not performing.
How did you get Miuccia Prada into a pool wearing a bejeweled headband? There's a few people, Miuccia and Daniel [Day-Lewis] and Meryl Streep, people that I have an ongoing friendship. With Miuccia, she's the only person in that world of fashion that I'm interested in and truly close to. So for that portrait, I'd been spending time with her, staying with her in Tuscany. She was just swimming so I said, "Oh, let's just do the portrait now." And then I asked her, will she just wear a piece of jewelry, because she has all this extraordinary jewelry. So she did.
What's the strangest suggestion that a celeb has made for a portrait? The only thing that was actually not even suggested but just kind of imposed was Mick Jagger [dressed in full makeup and drag with Jerry Hall]. I would never have asked him. I never would have thought it myself.
Is there a fantasy subject you'd like to shoot? Well, there are a lot of people I should have photographed and now it's too late. I would have loved to photograph the great actors of the forties, and I could have in the beginning when I first came to Los Angeles. James Cagney or Robert Mitchum. But I can't think of anyone from now.
That means you've probably gotten to a lot of them. I've gotten to a lot. I love what I do so much and that's my entire life. I don't have another life, I don't have a family. So for me, there is so much to look for work-wise because I'm interested in so much. There's always more and more.