Amandla Stenberg Directed Her Debut Music Video with a Cute Twist Ending
Amandla Stenberg covers Mac DeMarco's "Let My Baby Stay," and directed and edited the music video herself.
---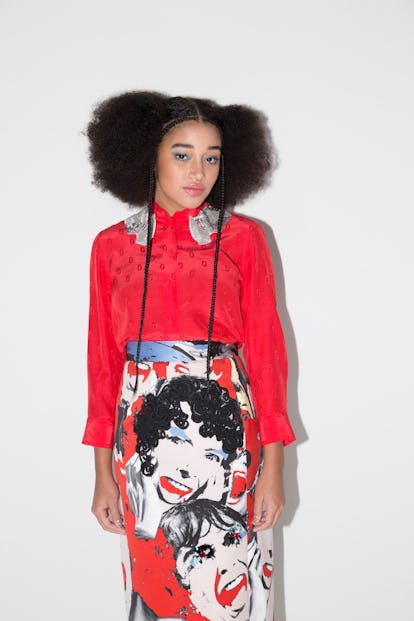 Amandla Stenberg is following in the long line of former child stars who are forging a second career as a musician, but unsurprisingly Stenberg doesn't do anything quite like the teen idol predecessors of eras past. Instead of safe, ready-radio pop, she makes her debut with a smooth cover of indie rock musician Mac DeMarco's "Let My Baby Stay." She also didn't call in an A-list music video director to make some sort of TRL-ready high budget music video. In fact, she not only directed but edited the video herself.
The result is a simple but focused video with a bit of a twist ending that feels all-too-relevant today.
The 18-year-old Hunger Games actress is seen dancing in front of a neon-lit (and, at times, computer-generated) room occasionally intermingling with a bunch of smartphone-addled zombies. Not only is Stenberg the life of the party, she seems to be the only person with any life at the party.
Please take the approximate two-and-a-half minutes to watch the video above lest you run into any spoilers, because as it turns out all those people staring at their phones during the party were just watching videos of Stenberg being the only person actually enjoying herself. Have we not all been to a party that is basically that?
Stenberg previously collaborated with singer-songwriter Zander Hawley in a folk-rock band called Honey Water, but hadn't set out on her own until now. No word on how far she hopes to take her music efforts, but this track was recorded for the soundtrack of her upcoming movie Everything, Everything. In the star's first leading role, she plays a young girl who suffers from "bubble baby disease" and is quarantined in her home with her physician mother. The film is based on the hit young adult novel of the same name and is set to hit theaters next weekend.
Related: Amandla Stenberg on New Film As You Are and Taking on Projects with Impact
See W's Video on Inspiring Women: