Amandla Stenberg Is a Superpowered Teen in The Darkest Minds Trailer
And the government can't handle it.
---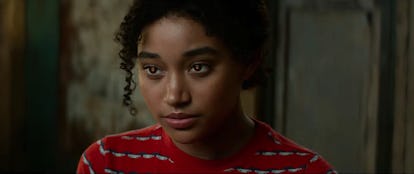 20th Century Fox/Youtube
Amandla Stenberg may have bowed out of consideration for the role of Shuri in Black Panther for very applaudable reasons, but, as it turns out, she's still coming to the big screens as a super powered teen soon.
In the first trailer for her new dystopian-future movie, The Darkest Minds, teenager Ruby (Amandla) develops unusual, powerful abilities that no human was previously thought to ever be capable of. (It's also based on the popular young-adult novel of the same name). Ruby's unparalleled powers are soon declared a national security threat by the government — her parents aren't any help in stopping this, since they're not around — and she soon discovers she isn't the only young person with these powers who has been detained at a camp. Oh, and most of the country's young people have already been wiped out by an unknown disease, which makes Ruby's predicament all the more pressing.
As the film's official description reads, Ruby then "escapes her camp and joins a group of runaway teens seeking safe haven. Soon this newfound family realizes that, in a world in which the adults in power have betrayed them, running is not enough and they must wage a resistance, using their collective power to take back control of their future."
But getting to this so-called safe haven by a riverbank won't be easy for the gang — who all possess powers such as pyrokinesis, mind control, power over electricity, telekinesis, and heightened intelligence — especially since a bounty hunter is right on their tails the entire time, hoping to score some major money for their capture.
Watch the trailer below, and count down the days until The Darkest Minds's August 3 release date. The film also stars Mandy Moore and Gwendoline Christie, so you know there will be a lot to look forward to.
Related: The 10 New Young Adult Books You May See Coming to a Theater Near You