The 10 New Young Adult Books You May See Coming to a Theater Near You
Which one of these YA books will be the next Love, Simon or A Wrinkle in Time?
---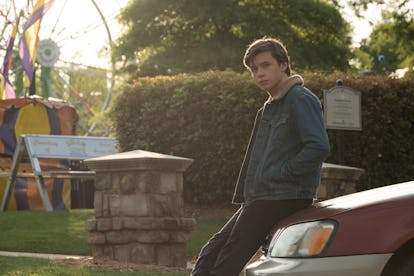 Photo by Ben Rothstein
Young adult fiction is having a moment right now in Hollywood, with Ava DuVernay's blockbuster adaptation of Madeleine L'Engle's A Wrinkle in Time, about a time-traveling girl on a mission to save her long-lost father, to Becky Albertalli's Simon vs. the Homo Sapiens Agenda (adapted for the big screen as Love, Simon), about a teenage boy's coming out story. And right now, there are many new YA books about complex young people worthy of your attention—and potentially, a screen adaptation at some point. Here is the latest on the next Hunger Games-esque trilogy; a novel about an unraveling teenager in the era of the AIDS crisis; a romantic comedy that flourishes entirely over text messages, and more. When they're eventually in theaters or on Netflix, you can say you read the book first.
Though Lynda Barry originally published her coming-of-age novella in 1988, its recent reprint by Drawn and Quarterly resonates just as much as it did 30 years ago. Set in Seattle in the late '60s and early '70s, the book follows the friendship between young friends Edna Arkins, who is white, and her neighbor, Bonna Willis, who is black. In a changing neighborhood affected by racial tensions, Edna and Bonna foster a friendship based around their shared love of music. Through Edna's childlike narration, we encounter a world of adults set in their prejudiced ways—and, like Edna, try to make sense of why things are they way they are. Barry's book is presented with pages full of stunning visuals, so it's not hard to imagine what this story would look like on the screen, with the two leads making the case for more nuanced young characters. Wise, well-observed, and tender, The Good Times Are Killing Me is a journey back to childhood from which you can always learn something new.
Though Holly Black's newest book series does have the tropes associated with "YA fantasy"—faeries, a narcissistic prince, a moody teenage girl—The Cruel Prince rises above the genre's trappings thanks to Black's knack for creative world-building and distinctive characters. The story follows Jude, a mortal teenager living in the High Court of Faerie against her will. In order to escape, she must come head-to-head with the titular Prince Cardan, putting everything she's lived for thus far on the line. With its psychedelic color palettes, beautiful mythical creatures, and a strong-willed mortal woman who doesn't belong, we can't help but imagine what this particular "fantasy world" would look like for the giant screen—perhaps like A Wrinkle in Time, but more sinister.
Seasoned YA author Maureen Johnson has close to 20 titles under her belt. With Truly Devious, the first book in a mystery trilogy of the same name, she transports readers to Vermont's Ellingham Academy, a school for bright youngsters with a rocky past. Through alternating chapters, we learn about Ellingham's haunted history, one that amateur detective Stevie Bell hopes to solve in Johnson's web of mystery, which is on par with Agatha Christie's most riveting whodunits, complete with a totally unexpected ending. Those who love watching thrillers unfold will get a young detective at work (in dazzling costumes, no doubt)—in fact, it would be a perfect vehicle for Stranger Things' Millie Bobby Brown.
In his debut YA novel, Vanity Fair's film critic Richard Lawson brings a cinematic plot to a group of Boston-area teens who find themselves in a hospital waiting room after a horrific bridge collapse. There's Skyler, the granddaughter of Cambodian immigrants, who waits to hear about the fate of her older sister; Jason, a closeted young man who waits with his sister, Alexa, to hear news about their parents; and Scott, who waits to hear about his girlfriend, Aimee, who was headed out of town at the time of the accident. Chapter by chapter, Lawson reveals the complex relationships that connect these characters to one another—and how each one will move forward after the day's life-changing events.
The Belles by Dhonielle Clayton
In the fantasy world of Orleans, the "Belles" are a subgroup of citizens who have all the power, simply because they're beautiful—and their magical powers that allow them to make others look beautiful, too. The teenager Camellia is privileged to be an extraordinary Belle with the strongest of magical powers, but at a dangerous cost. When the queen asks her for a life-risking favor to save a sick princess, Camellia must make a decision that will devastate either her sisterhood of Belles, or the very fabric of Orleans. In movie form, Camellia could very well be the new Katniss Everdeen, who undergoes an awesome transformation from the token "pretty girl" to strong "badass bitch." The Belles is the first installment of a trilogy that explores the dark side of being extremely beautitful. It makes Mean Girls look like child's play.
Still Here by Rowan Blanchard (out now)
Out of all the YA books in this list, Still Here is the only one written by an actual teenager—albeit, in a scrawling scrapbook/diary format. The actress Rowan Blanchard may only be 16 years old but she's proven to be wise beyond her years as a young queer activist. In it, readers get a peek into the inner life of this rising Hollywood star, and the struggles and anxieties that come with being a teenager. Several of Blanchard's notable friends—Gia Coppola, Tavi Gevinson, Jenny Zhang, Rupi Kaur, to name a few—offer support along the way by contributing writings, poems, and photos of their own. If this book were to be adapted, naturally, Blanchard, who actually appears in A Wrinkle in Time, should be the star of her own life.
The love and power of music is the thread through the lives of three friends in the face of tragedy. There's the artist Autumn, the songwriter Logan, and the music blogger Shay, who must all deal with harrowing grief on what they would consider "the day when the music died" for each of them. But, somewhere along the way, a glimmer of hope rises when a band's music finds the trio coming back together again. The debut novelist Ashley Woodfolk turns up the emotional levels high in this heartbreaking story. It's been awhile since we've seen a YA film where music is at the heart of the movie—which seems surprising—and The Beauty That Remains would have an epic soundtrack.
Children of Blood and Bone (Children of Orisha) by Tomi Adeyemi
There's no question if you'll be seeing Nigerian-American author Tomi Adeyemi's debut YA fantasy book series on-screen—its film rights were acquired by Fox 2000 earlier this month. The first book in this three-part Hunger Games-level epic introduces readers to the fantasy world of Orïsha, steeped in African history and mythology. Though Orïsha was once home to magical people called the maji, a violent and ruthless king has extinguished their powers—and has created an empire when skin color dictates social status. Children of Blood and Bone is told from the point of view of Zélie, a headstrong maji and heroine-in-the-making who's ready to to take down the violent and ruthless monarchy.
Emergency Contact by Mary H.K. Choi (out March 27)
This engrossing novel is so contemporary even millennials will feel old. Chapters alternate from the POVs of Penny, a Korean-American college freshman in NYC, and the slightly older 20-something Sam, whom Penny befriends while he's having a meltdown. From there, their friendship builds through a series of charming text messages that Penny and Sam exchange as each other's "emergency contact"—texts that offer glimpses into their personal struggles and turmoils that they wouldn't dare share with anyone else. Choi, in her debut novel, proves deft at crafting real dialogue for digital-savvy young people. Now if they can only find a way to render text messaging onscreen in a way that doesn't make us cringe.
Tell Me No Lies by Adele Griffin (out June 12)
Plenty of YA books take place in the current day or the near dystopic future, but what's most refreshing about Tell Me No Lies is its 80's Philly setting. Missing from the narrative are social media snafus; instead, three teens long to create genuine personal relationships. Lizzy is a goody-goody high school senior who is on a path of rebellion her final year—she not only begins dating dream boy Matt, but she becomes close with a mysterious new student named Claire who introduces her to bad behavior. But, can you ever truly know someone? Soon hell breaks loose when secrets are kept and lies are told. This is not the 80's of John Hughes movies.