Amber Heard and Elon Musk Break Up After a Tesla-Filled Year of Romance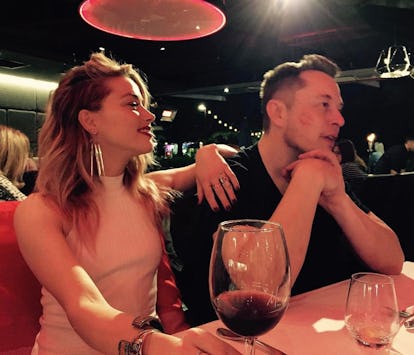 There will be no more Tesla rides or jaunts to the Sydney Opera House for billionaire tech mogul Elon Musk and actress Amber Heard. The couple split after just more than a year together—rumors they were dating began circulating last July, just after Heard filed for divorce from then-husband Johnny Depp—due to myriad issues, according to Us Weekly, which broke the news.
"The timing wasn't good for them," an anonymous source told Us. "He's super busy and works all the time. Amber is filming [Aquaman] in Australia until October. She's in no position to settle with him. She feels her career is just starting." They had been spotted together in Australia in recent months: In April, she posted their first Instagram together, just after TMZ reported they had gone ziplining together, effectively confirming their relationship; and in May, she posted another dispatch, this time with Musk and his five sons at the Sydney Opera House. (Australia has been the site of quite some intrigue for Heard, who made an odd, viral apology video with Depp after they were caught trying to smuggle a dog through the country's notoriously strict bio-security checkpoints.)
It's a quick end to a long courtship: Musk began pursuing Heard as far back as 2013, when they met on the set of Robert Rodriguez's Machete Kills. Emails leaked to the Hollywood Reporter revealed Musk had been "not angling for a date" with Heard and wanted to meet her "just out of curiosity," requesting the Rodriguez camp set up a dinner for him and Heard. (She was dating Depp at the time; they married in February 2015 and she filed for divorce in May 2016.) He was, apparently, fascinated by her reported taste for George Orwell and Ayn Rand—a woman who reads, "most unusual."
Musk, in the course of trying to win over Heard, gave her a Tesla—just one of the perks of dating a billionaire, and certainly an upgrade from the horse Johnny Depp gave her when they started dating. Their split truly proves that stars, they're just like us, trying to manage their daily hustle and their romantic lives—only, for most of us, the daily hustle doesn't involve building the Hyperloop.
If Nicole Kidman went on Survivor, she'd probably crush it: