Serenity Now
Frazzled by 15 years of big-city living, Amely Greeven finds peace at last in the Wyoming wilderness.
---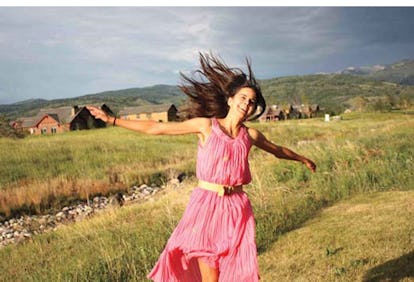 I live in a little red cabin, far from sight, on a creek near a wall of mountains, in the top-left corner of Wyoming, down the road from Grand Teton and Yellowstone national parks. In summer, lightning walks across the peaks that loom over my rented property. On winter nights, if the plowman hasn't come, I walk the quarter-mile driveway to my house with a military-grade flashlight, scanning ahead for massive bull moose.
The cabin has a creepy room filled with vintage ice picks and axes; its bare pine walls look like those of a sauna. Inside, I wear thick-soled work boots over my pj's while I craft product copy for companies like Tom Ford Beauty and monitor the Amazon rankings of my book collaborations, such as the detox guide Clean. Though I've always resided mainly in cities, I have half stepped around frontier living for years. I've set up temporary camps in Montana (a ranch job), Arizona (meditation training), and New Mexico (a writing retreat). But inevitably I return to the sensible centers of New York or Los Angeles. I've always been too timid to really live at the edges.
Now, at 37, I've finally cut the cord. My home is Jackson Hole, a long, oval valley, prized for its remoteness. It is among the last pristine wildernesses in the lower 48, bracingly clean and gigantic in scale. Winter can last 22 weeks, and grizzly bears, buffalo, elk, bald eagles, and wolves move around one another in unpredictable choreography. Jackson Hole is famous for first-class ski vacations and extreme wealth—the second, third, and fourth homes of America's über elite stud the terrain, making Teton County, by some estimates, the richest zip code in the country. But the Hole's true spirit is shaped by the mavericks, explorers, and cowboys who have, for more than a hundred years, sacrificed convenience and comfort to live here full-time.
I moved last July after I woke up one morning in my California apartment gripping the floorboards. Something was trying to shake me out of my life. I'd unhooked from New York's fashion and media worlds some years earlier, after jobs at Vogue and Harper's Bazaar and a brief dip in the dot-com gold rush had left me spent. Layer by layer, I crafted my low-key, low-tech version of the California dream. With a few favorite writing clients still on my roster, I'd also become a meditation teacher and health-book ghostwriter, and immersed myself in spiritual practice. For seven years I'd advised others on how to balance their stressed bodies and find their inner quiet. Then a rumbling started inside me that disrupted the whole picture.
I felt an unavoidable urge to live wilder, to get stronger and tougher, and to be more capable in nature. I wanted to sleep alone outside, walk barefoot on red rock, and start fires without matches. I wanted to be a riper woman—one who weighed more, laughed more, fought for things more, and was tethered to the land, not floating rootless on the surface. It was the wolfier, lustier side of my psyche stirring again. Los Angeles had temporarily sedated her, because it's sunny and outdoorsy and the desert is within a two-hour drive. But now she was waking up, and she was pissed: You've become as lightweight as the city you live in. You're too thin, too detoxed, too civilized. Too tame!
From top: The first dustings of snow on Sleeping Indian mountain; Greeven's new home
When these inner earthquakes hit, it's your soul rattling its cage, telling you some new aspect of yourself needs to get birthed. In this chaos of disturbance, such sensible considerations as career and finances seem minor. Instead, trust: I knew clients and book projects could follow me digitally. Move: Head toward the unknown, because that's where new life emerges. Go big: Where is the extreme place, the brave place, that's not accountable to logic or caution?
Which is how I got to Jackson Hole, whose smells and mood I hadn't been able to shake since I'd driven through it on my way to California in 2003. A Shoshone elder told me that the Grand Teton mountains are the center of a massive wheel of sacred sites 1,200 miles wide. They energetically sustain the West's vast terrain, holding it together without asking for credit. They quietly insist you visit them—and then try to make you stay.
If you do, this energy lends daily life some tension. One minute you're rebelling against the mountains' pull, frustrated by bitter February winds and endless conversation about skiing and the stifling size of a three-square-mile town with 9,900 residents. The next minute you round a bend toward a landscape you've glimpsed a hundred times before and are overcome with devotion so fierce it hurts. I've never been to a place where so many people, of all different backgrounds, describe their coming here as choiceless.
My first month I got to know this land of giants from the ground up. The scale of the Tetons intimidated me, so I stayed low to the floor. I pitched a tent and slept fitfully, with bear spray at the ready. I slipped into the cold, rushing Snake River, and two sleek-headed otters popped up to watch. I climbed into a massive mountain cave, and impulsively stripped off all my clothes. I was starting to feel hungry again.
As August brought hot prairie winds and boiling, black skies, I fell in with a local crusade called TreeFight, a group of artists, athletes, and scientists that is trying to protect a single species of tree, called the White Bark Pine, from a beetle infestation that has turned the green mountainsides death gray. High on a windy ridge, we watched a grizzly lope through an annihilated ghost forest on the opposite saddle. A stake was driven through my heart and into the ground, right there on the ridgeline: Consider yourself tethered.
By September people started asking, "You staying for winter?" It was tossed out casually, but I could tell it was a test: Are you in, or are you out, like all the other California girls, taking our summertime stories and bucking-bronco postcards with you? I couldn't bear to be a California girl. I wanted to be a Wyoming woman: fearless, chap-lipped, and steady at the wheel in a blizzard. I saw the cabin listed on Craigslist. It was incredibly cheap but oddly special, located in a secluded glade where Indians once took shelter. The owner, a bachelor naturalist with a collection of Beat poetry and Zen books, delivered a speedy tutorial on using the woodstove. I had a silent panic attack about cold, solitary nights, and feared my quest for female capability had gone a bridge too far. For a second, sparkly city things danced like sugarplums in my head: salsa music on street corners, LEED-certified lofts with poured concrete floors, kisses in taxicabs after cocktails. But I was pretty sure I couldn't sacrifice the aliveness I felt for that familiar lifestyle. So I cowboy-ed up and moved in, armored for aloneness.
From top: On the banks of the Snake River; late July in the Teton valley.
But what I learned, as fall turned the valley gold, and then winter turned it white, is that there's no true solitude in a place as empty as this. Sure, you need some self-reliance, but that's basic Girl Scout stuff. Chop logs; shovel the car out of a snowbank; never leave home without subzero boots. However, the deeper lesson was about interdependence: You can't survive winter in Wyoming without asking for help. New friends helped me chainsaw, haul, and split an entire season's supply of wood in a day. They laughed at my flushed appreciation: "This isn't a favor. This is fun." There's a fluidity and trust to small-town life in wide-open spaces—drop by, take my car, borrow my dog if you're sad. At 6,500 feet, fences are for cattle and horses but doors are always open, and I fell into this net with gratitude and relief. My neighbor said, simply, "When people are scarce, you value them highly."
Eleven months after arriving, my daily reality has a smaller and more intimate scale. I picture a lasso that I've cinched in tight: Most of what comes into my radius is more local, less global. Experience is more concentrated and more dense. Perhaps life has more substance when you take responsibility for a small corner of the world.
I'm still adjusting to this new reality. While working on beauty copy, with minus-10 temps outside, I sometimes wonder, What would it be like to be the woman whose lips are lacquered Tom Ford Cherry Lush red and who stops traffic with her smoky eyes? What kind of lingerie-filled life, free of frozen pipes, does she lead? But then I notice my softer face; my denser, stronger body; and the satisfying blisters I've gotten from splitting logs and keeping vigil for ancient trees.
And then I figure, it's not an either-or. I'll do smoky eyes and lacquered lips for country-swing night or sport my old Manolos to serve up wild-antelope chili—out here it's just called maverick style. Maybe I'll even rent one of the new LEED-certified houses in town to write my stories about ghost forests—one with an even bigger wood-burning stove.
Because I still need to work on my fire-starting skills.
Courtesy of Amely Greeven