Opening Night
The American Ballet Theatre's spring gala was big on style and celebrity
---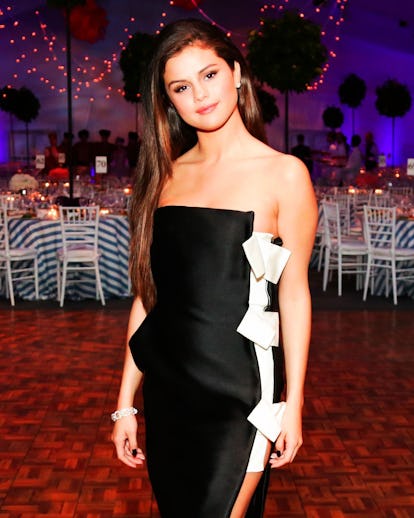 What: The American Ballet Theatre opening night spring gala, sponsored by Lanvin.
Where: The preview performance, including selections from "Don Quixote," "Cinderella," "Coppelia" and "La Bayadere," was held at the Metropolitan Opera House, followed by a tented dinner adjacent to the theater.
When: Monday, May 12th
Who: The evening's honorary chair Michelle Obama was not in attendance, but the co-chairs Emily Blavatnik, Nina Rennert Davidson, Nancy McCormick, Kalliope Karella Rena, Mary Elizabeth Snow, and Monica G-S Wambold, were joined by Chris Cornell of Soundgarden, Selena Gomez, Sigourney Weaver, Zoe Kravitz, Valentino Garavani, and Amar'e and Alexis Stoudemire.
Why: You wouldn't expect a ballet gala to draw a cross-section of fashion, music, Hollywood and even sports—though guest Victor Cruz could probably show some of the dancers a few non-barre moves.
Karlie Kloss and Coco Rocha. Photo by Benjamin Lozovsky/BFANYC
Emmy Rossum. Photo by Will Ragozzino/BFANYC
Selena Gomez. Photo by Benjamin Lozovsky/BFANYC
Zoe Kravitz. Photo by Will Ragozzino/BFANYC
Valentino Garavani and Giancarlo Giametti. Photo by Benjamin Lozovsky/BFANYC
Lydia Hearst Shaw. Photo by Will Ragozzino/BFANYC
Anne V. Photo by Benjamin Lozovsky/BFANYC
Kelly Rowland. Photo by Will Ragozzino/BFANYC
Julia Restoin Roitfeld. Photo by Will Ragozzino/BFANYC
Sigourney Weaver. Photo by Benjamin Lozovsky/BFANYC
Robyn Lawley. Photo by Will Ragozzino/BFANYC