American Horror Story: Cult Episode 11 Recap: The Finale Fast Forwards to a Future Election
And you'll never guess who's running this time.
---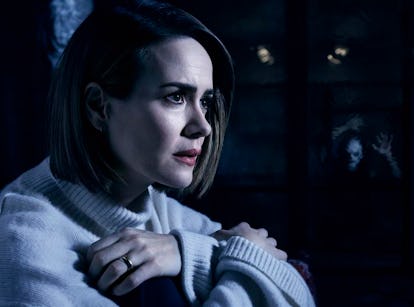 Copyright 2017, FX Networks. All rights reserved.
"Great Again," the season finale of the ripped-from-the-headlines season of American Horror Story: Cult, brings us right back to where we started, with an election that comes down to a nasty woman and a strongman. This installment began with post-election hysteria, which turned into clown-masked killers, which soon devolved a Manson-cum-alt right cult. (If that seems hard to follow, it was!) More than anything else, this season has found horror in the divide between men and women, and the ultimate fight comes down to Ally versus Kai, who have circled around one another through this entire story. This is their showdown.
Episode 11 begins in the future—2018, to be exact—where Kai is locked up in maximum security prison. But he's already cult-ing up the place, recruiting a female guard as his new follower (and lover). We've got pinky time, "divine ruler" praise, and a new crew of burly dudes who will kill for Kai gladly. Still, Kai is not happy! He talks about how women are destroying the world outside these walls.
So what happened to Kai to end up here? We flashback to eleven months earlier, when he was at Ally's house planning the Night of 100 Tates, an homage killing to Charles Manson that would target pregnant women. (Did we really need to go there?) They think women will be so outraged they will blame the senator and vote for Kai. Uh. Ally watches coolly.
In the kitchen, a broken Beverly makes food: "I am very privileged to be making this watermelon and feta salad," she intones. Oy. She begs Ally to kill her, but she won't; there's too much to do and see. We wonder for a second if Ally really has gone cult.
Kai is totally stressed about all this mass murder planning! And Ally has more bad news. One of the devotees, Speedwagon (LOL), was the police informant, not Winter. He cries over how he killed his sister for nothing. Yup.
But Ally encourages him to go on, basically embodying the creepy voice inside his head. Man, I miss the Wiltons! Simpler times, am I right? It all started with reality TV addicts and clowns and then all of a sudden there's a fascist leader. So weird, that doesn't remind me of anything in 2017 America at all!
Ally leaves to get snacks and then the façade breaks: she was the informant, not Speedwagon. Oh, and she was working with the FBI, who storm the place in a shootout, only saving Beverly, and leading a screaming Kai out of the building.
Ally is famous! She survived a cult! The Butchery is an Instagram hotspot! (Unbreakable Kimmy Schmitt, anyone?) Beverly comes by for a visit. She doesn't understand why Ally told the FBI to let her go. As we know, she was just as important as Kai in the cult's original clown-killer form. Beverly also has some questions about Ivy: Kai pled guilty to every murder except for hers. He claims Ally did it, but Ally insists Kai did it in front of her. Hmm.
How did Ally do it? When she was in the psych ward, the FBI came to her for information, and told her to infiltrate the cult. In exchange, she'd get immunity.
From here, things move pretty fast, and the season is over so let's wrap it up: Kai calls and threatens Ally, saying he's going to kill her and tell everyone what she did to Ivy. He hatches a plan to break out of prison with the help of that female guard. Ally, in turn, decides to run for that same senate seat that Kai wanted. She wears pantsuits and plays up her cult-survivor status. Beverly is her campaign manager. At a big debate, she crushes it. (A standout line: she might be a snowflake, but millions of snowflakes make a blizzard!) That is, until Kai shows up with his new followers, wielding a gun. He wants to crush women once and for all. If he kills Ally, women will finally know their place. He aims to shoot and… there's no bullets in his gun. The female guard unloaded them—Ally got to her first, warning her about Kai's ways. As Ally says, there is something scarier than a man with a wounded ego—a nasty woman! Beverly shoots Kai dead. Ally wins the senate seat in a landslide.
But who won exactly? What does Ally believe in? Who has she become? In one of the last scenes, she tucks Ozzie in for the night and gets ready for an important meeting with powerful women, who want to change the world. Ozzie wonders if these people are like Kai– she promises they aren't. In the last shot of the season, Ally puts on a witchy green cape and readies herself to steal out into the night. Coven?!
It's one of the only hints at the supernatural all season, and a craftily deployed one at that. As so-called "witch hunts" in Hollywood for men abusing power abound, many have noted, yes, these are witch hunts in that witches are hunting you. And with that, AHS: Cult signs off.
Related: American Horror Story: Cult Episode 10 Recap
Photos: Sarah Paulson Won't Be Typecast, On Screen or Off
Sarah Paulson wears an Alexander McQueen bra.
Photo by Mona Kuhn, styled by Patrick Mackie. Hair by Dennis Gots for Kerastase at The Wall Group; Makeup by Jo StrettelL for Lancome at Tracey Mattingly.
Sarah Paulson. Photo by Mona Kuhn, styled by Patrick Mackie.

Mona Kuhn
Sarah Paulson wears an Alexander McQueen dress and bra.
Photo by Mona Kuhn, styled by Patrick Mackie.
Sarah Paulson in Altuzarra at the 2016 CFDA Fashion Awards in New York, New York, June 2016. Photo by Getty Images.
Sarah Paulson with Holland Taylor in New York, New York, December 2015. Photo by Getty Images.
Sarah Paulson with Holland Taylor in New York, New York, October 2015. Photo by Bruce Glikas/FilmMagic.
Sarah Paulson and Cherry Jones during Cherry Jones Reception Hosted by Paula Wagner at CAMPANILE restaurant in Los Angeles, CA, United States. (Photo by E. Charbonneau/WireImage for CW Productions)
Cherry Jones, Christian Slater, Sarah Paulson and Jessica Lange
See what's trending on W video: