American Horror Story: Cult Episode 5 Recap: Rotting Corpses, Torture Chambers, and Actual Horrifying Horror
Finally, something scarier than politics.
---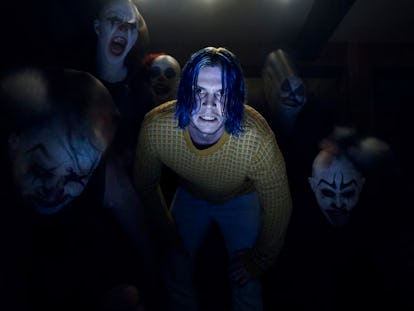 Copyright 2017, FX Networks. All rights reserved.
After last week's flashback episode of American Horror Story: Cult, we land back where we started in episode three: Meadow Wilton is missing, Ally fears for her life, and all is chaos in this quaint Michigan town in the post-election world. But after some revelatory plot twists, it's not clear whose side we should be on anymore—the Wiltons, Beverly, and Winter are all in on it, and possibly Ivy, too. And this might be the most gruesome episode of the season so far, with horror that reaches far beyond recent headlines.
Episode five opens with a news report from Beverly, as she interviews Kai about the mysterious trucks poisoning the town and Meadow's disappearance. We now know that these two are colluding. It's likely this is a ploy, to use scare tactics via media as a way to control their audience. Strange, that doesn't sound familiar at all!
Beverly is probably the most interesting perversion of the news cycle on the show: she embodies the "crooked media" while also harnessing the rage of the disenfranchised. Bob is immediately suspicious of her reports; somehow Beverly is always the first on the scene. He calls her stories fake news and tells her to stop giving Kai Anderson airtime. (New game: Drink every time someone references fake news.) Who would've thought? Bob is surprisingly woke. Beverly wants to air the footage of Serena's murder, but Bob nixes that. Beverly calls him out for sleeping with Serena, and he tries to fire her, but Beverly knows too much.
In Kai's basement, the whole crew meets to discuss strategy to get Kai elected. Winter is leading the charge: we've got Gary, Harrison, Beverly, and R.J. the camera guy. Their goal is to cause panic so people turn to a leader (i.e., Kai) for help. I have to admit, it's a timeworn premise for a cult that's supposedly brand new! They don't have a Scientology chapter in Michigan?
Kai thinks the murders need to be scarier: "The world isn't tell me, it's show me." Thank you, writers' room. Beverly says people aren't scared because they haven't seen the clowns. Good point, Beverly! Too bad Bob wouldn't let them air Serena's murder. They decide to kill Bob. One more person shows up at the end of this love fest… Ivy! She's in the cult, too.
Poor Ally. She has a nightmare about bugs crawling through her flesh, and scratches herself raw. (Mm, drugs?) She tells Dr. Vincent about it. This would seem to be a new phobia, he notes, but Ally corrects him—she's always been afraid of holes. Remember, she freaked out about the perforated food that Ivy served her. Given what we know now, Ally was clearly set up by Ivy and Winter. Ivy even canceled all the credit cards; it was like Ivy prepared, Ally notes.
So what is going on with Ivy? She sees herself as a radical. "I hate my country," Ivy says to Winter. "I hate my f—ing wife for letting it happen." The only thing she cares about is making the world a better place for Ozzie. The cult members all roll up to Bob's house (Detective Samuels included!) ready with cameras. They torture Bob on video and just when they're about to kill him, he reveals he has a gimp in the attic.
After entering this gruesome scene, Kai murders the gimp, too, in front of Bob. Ivy vomits and leaves. (It's her first murder, we find out.) The rest brutally murder Bob on camera, with Beverly supplying the final blow, taking her mask off to show Bob what's up.
And Beverly's first on the scene with the news! And she has exclusive footage of the murder, of course. Beverly and Kai meet later to hash it out at the Butchery. Kai compliments Beverly on her obedience; the others, however, need a lesson. They decide to go after the weak link: RJ, the camera guy. He's been soft during all the murders. (I don't even remember him! So.) We still don't quite understand what happened to Meadow…
Ally looks around Ozzie's room, then hears a noise outside. It's just Harrison ("just"—he is secretly a clown-clad killer.) Ally spies on him in the house through a telescope, in an obvious Rear Window reference. She suddenly sees Detective Samuels and Harrison making out. Huh? She heads right over, and she sees a grave dug in the back—a hole!—with Meadow writhing at the bottom. Ally runs home to call 911 but they're experiencing high call volume. (WTF?) She tries calling Ivy for help, when Meadow bangs on the window and spills the truth. She's being hunted by a sick cult, and everyone's in it: the police, Harrison, Winter, even Ivy. Before Meadow can explain more, she gets bagged over the head and taken away by a shadowy figure. Please don't let this be the end of Leslie Grossman! Let's take a minute to shout out her most significant Ryan Murphy collab since the reign of _Popular'_s Mary Cherry, one of TV's craziest, campiest queens.
Back at the ranch, Ivy arrives at another cult meeting. Kai's ahead of the all the other candidates in town, which he boasts is the the biggest jump in the quickest amount of time ever. (Everybody drink!) They go to the basement to waste weak-link R.J. with a nail gun. Ivy wants to back out. Moment of truth time—is Ivy with them, or against? She tearfully fires the first shot.
Kai and Beverly have pinky-swear time to talk about her fears, but she has questions for him. Like: What happened to his parents? He lives in their house, after all. It turns out Kai's dad had a motorcycle accident years ago that left him in a wheelchair, full of pent-up anger. He often lashed out at Kai, a jobless religious studies major, and at Kai's mom, who he suspected of cheating. One fateful day in 2014, Kai's mother shot his dad and then herself, her "only way out." But Beverly doesn't remember a murder-suicide in town. Well, that's because it was never reported: Kai called his brother to sort it out…and twist! It's Dr. Vincent. It was his idea to cover up the murder, in order to keep the money from their dad's accident and avoid taxes. And he didn't "want to have to explain to new clients why my parents killed each other." Good point, but doesn't he have a different last name? Dr. Vincent holds up a pinky finger: well, that explains that origin myth. It also explains how the cult has an insight into Ally's deepest fears.
Kai still visits his parents, tucked away to rot in a bedroom in secret, having pledged to his mother he will be something, driven by his hatred of his father. He breaks down in tears in front of Beverly, who looks on coldly. Who has the power now? It's Beverly time.
Related: American Horror Story: Cult Episode 4 Recap
Photos: Sarah Paulson Won't Be Typecast, On Screen or Off
Sarah Paulson wears an Alexander McQueen bra.
Photo by Mona Kuhn, styled by Patrick Mackie. Hair by Dennis Gots for Kerastase at The Wall Group; Makeup by Jo StrettelL for Lancome at Tracey Mattingly.
Sarah Paulson. Photo by Mona Kuhn, styled by Patrick Mackie.

Mona Kuhn
Sarah Paulson wears an Alexander McQueen dress and bra.
Photo by Mona Kuhn, styled by Patrick Mackie.
Sarah Paulson in Altuzarra at the 2016 CFDA Fashion Awards in New York, New York, June 2016. Photo by Getty Images.
Sarah Paulson with Holland Taylor in New York, New York, December 2015. Photo by Getty Images.
Sarah Paulson with Holland Taylor in New York, New York, October 2015. Photo by Bruce Glikas/FilmMagic.
Sarah Paulson and Cherry Jones during Cherry Jones Reception Hosted by Paula Wagner at CAMPANILE restaurant in Los Angeles, CA, United States. (Photo by E. Charbonneau/WireImage for CW Productions)
Cherry Jones, Christian Slater, Sarah Paulson and Jessica Lange
See what's trending on W video: