American Horror Story: Cult Episode 3 Recap: How Literal is Too Literal?
This week gave us a heavy-handed horror fix
---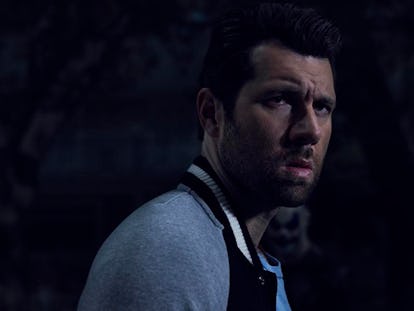 Copyright 2017, FX Networks. All rights reserved.
The latest season of American Horror Story has gotten mixed reviews so far, primarily for its heavy-handedness tackling current events. While it's a wildly different project, Darren Aronofsky's horror-tinged Mother!, which came out this weekend, also earned similar jabs for its lack of subtlety–hey look, an allegory! Watching this season of AHS, I also thought of the recent Beatriz at Dinner, in which a Trump-like businessman and a holistic healer from Mexico square off at an Orange County dinner party. AHS is even more on the nose, with its breathless liberal elites, its energized alt-right. Isn't it all so painfully obvious? Then again, for a season of TV reckoning with the 2016 election results, the takeaway is, no, nothing is too obvious for Americans now. The rational reasoning for why an unseasoned candidate with a track record of fraud, racism, and sexual harassment, shouldn't be president does not win out. Hillary Clinton's new book is literally titled What Happened, as if we weren't all too aware by now. There's no room for subtlety: Obviousness is the tonic of 2017. It worked for Trump, and those who might oppose him are trying to make it work for them.
In the teaser of this week's episode, we meet Rosie, who has a phobia of coffins. She's been working closely with Dr. Vincent, too. But when she and her husband come home from a session… the clown cult has beat them there. They've filled a room with white coffins and proceed to lock the couple inside.
Over at the Mayfair-Richards's house, Ally is beside herself about accidentally shooting Pedro. But Michigan has a stand your ground law (this is true) so she is not in legal trouble. The detective on the case tells her she had a right to defend herself. Ivy is, to my surprise, extremely understanding, and quickly reasons that ISIS could have been behind the blackout (what?!). And then Ally goes on about the clowns again! No one believes her, and the detective plants the seed that Pedro–already a murder suspect–might have had cruel intentions already.
In town, the community is picketing against Ally, yelling "No justice no peace." A local newscaster gives a report about the recent string of violence– calls to 9-11 have tripled. As for Ally? She's the lesbian George Zimmerman. Oof. Ally has a run-in with Kai, who calls her brave. Ally is touched. Women of the alt-right, people: this is how it starts.
Back at Ally and Ivy's house (Have I mentioned how much I love this house? Exposed beams! Quirky bookshelves!), Ally opens the door to find the Wiltons in sombreros. They ask if she's going to shoot them, too, taunting her about how it feels to exercise her white privilege and execute people of color with impunity. Harrison, after all, is 10% Mexican, per his 23 and Me test. The Wiltons are by far the most irritating and fascinating element of the show. They're campy and eye-roll obvious, yet they cling to whatever outrage or trend has the most currency. It's not exactly cultural appropriation: they're more like cultural mercenaries.
Ally is still in the news; so is the couple buried alive in caskets. Ally and Ivy find their yard full of dead birds. It seems to be the result of a mysterious black truck spraying chemicals at night–and the city knows nothing about it. (Clowns!)
Winter comes by per Ivy's request, and Ally is upset she's still around after bailing during the blackout (and being creepy). Ivy insists: Winter wants to take care of Ozzie. Why do they keep giving this girl so many second chances?! Oh, and Winter let someone in the front door because he said he was coming about an ad online. Great judgment again.
A naked man is jerking off in the living room. Didn't see that one coming. Someone posted a phony ad about horny lesbians looking for action, and Ivy chases him out. There's a dead giveaway detail in the ad they find online: "Caucasians preferred. Latin lovers need not apply." Do I even need to say it?
Dr. Vincent and Ally talk about making a plan: the ad keeps coming up over and over, even after Ally requests for it to be deleted. Dr. Vincent encourages her to file a police report since this is harassment. Dr. Vincent asks why the Wiltons are targeting her. "They think I'm a racist…Do you understand the specific pain of someone like me being accused of that?" Ups to Sarah Paulson for delivering this line with a straight face. Thankfully, not even the good doctor is buying this B.S., and suggests an in-patient facility.
Ally pulls into town and immediately protesters bombard her car, but Kai then miraculously breaks up the crowd, simply by telling them, "Enough." Right.
At home, Winter and Ozzie play with a new pet guinea pig–seriously, this girl!–which isn't allowed. Everybody, now: Ally is sensitive to dander! His name is Mr. Guinea. Wait for it: Ally does not like these cis-normative pet names one bit! But turns out the pet was a gift from the Wiltons: "a peace offering." Or an admission of guilt? Ally calls them up, and gets ripped to shreds by both of them. Plus Ozzie is mad at her for having to give up his pet. Just then, the mysterious black truck comes spraying chemicals and Ally demands the vehicle stop. Of course, it doesn't and she has to jump out of the way, leaving her bloodied and bruised.
Meadow Wilton knows Kai, too. They do the pinkie ritual. He eviscerates her about her fears: of being without children, sex, and love. She fears her husband is turning against her. He has a "friend" now. Kai advises her to stop saying sorry. Everything is somebody else's fault from now on. In the Trump era, it makes perfect sense that we've ended up here. In a later scene, Kai indoctrinates Harrison, too. His biggest regret? "That I married my fag hag." Kai gets him to admit he'd rather Meadow were dead.
The Mayfair-Richards take a break from the outside world with a cozy family dinner at the restaurant. Ozzie apologizes; moms kiss and make up. But once they get home, the sinister smiley-face symbol (courtesy of the clowns) is on their door. The family goes inside to find Mr. Guinea in the microwave moments before his demise. Bye, Mr. Guinea.
Ally storms into the Wilton's house, thinking this is their work. When she mentions the smiley face, the Wiltons say that's mark of the killer–it wasn't them. Ally doesn't believe it and threatens to kill them. On leaving the house, Ivy loses it with Ally's anxiety–it's affecting their son and is spelling lawsuit. Ozzie notices there's a smiley face on the Wilton's house, too. Then the black truck pulls up again, and guys in gas masks come and spray the lawn. Ally demands to know who they are: Halliburton? No, girl. She rips off the mask and there's the same smiley face, though more clownish. She passes out in her phobia-induced trauma.
Later, Ally is spewing her crazy theories about the neighbors to the same detective. But he has confirmation the graffiti is authentic: they have been marked.
Upstairs, Ozzie yells, and moms go to check on him. He clicked on a freaky link, but won't let them see. They insist and find surveillance footage of Ally in the bath while Winter tried to seduce her in last week's episode– but in this version, Winter is reaching down to touch Ally in the tub. As we know, that didn't actually happen. Fake. News. Scandal.
Ivy freaks out and slaps Ally, threatening to leave with Oz just as the police roll up to the Winters'. Harrison is covered in blood; Meadow is missing. He immediately accuses Ally. Back inside their house, Ozzie discovers it's now covered in blood. The writing is on the wall–very, very literally.
Related: American Horror Story: Cult Episode 2 Recap
Photos: Sarah Paulson Won't Be Typecast, On Screen or Off
Sarah Paulson wears an Alexander McQueen bra.
Photo by Mona Kuhn, styled by Patrick Mackie. Hair by Dennis Gots for Kerastase at The Wall Group; Makeup by Jo StrettelL for Lancome at Tracey Mattingly.
Sarah Paulson. Photo by Mona Kuhn, styled by Patrick Mackie.

Mona Kuhn
Sarah Paulson wears an Alexander McQueen dress and bra.
Photo by Mona Kuhn, styled by Patrick Mackie.
Sarah Paulson in Altuzarra at the 2016 CFDA Fashion Awards in New York, New York, June 2016. Photo by Getty Images.
Sarah Paulson with Holland Taylor in New York, New York, December 2015. Photo by Getty Images.
Sarah Paulson with Holland Taylor in New York, New York, October 2015. Photo by Bruce Glikas/FilmMagic.
Sarah Paulson and Cherry Jones during Cherry Jones Reception Hosted by Paula Wagner at CAMPANILE restaurant in Los Angeles, CA, United States. (Photo by E. Charbonneau/WireImage for CW Productions)
Cherry Jones, Christian Slater, Sarah Paulson and Jessica Lange
See what's trending on W video: