American Horror Story Is Bringing Back Jessica Lange, As Evidenced by Ryan Murphy's Set Photo
Even though she said she was done with it.
---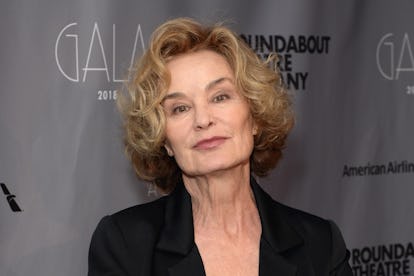 Andrew Toth/Getty Images
Never say never, as Jessica Lange has learned. After announcing that she was done with American Horror Story two years ago, the actress has been working on the eighth season of the show, which creator Ryan Murphy confirmed.
She couldn't be happier to be back on set either, as evidenced by the photo the cocreator shared on Instagram. "To celebrate 300k followers, here's a first look at the return of Queen Constance," Murphy wrote on Instagram in the caption of the photo he shared of Lange and Paulson, referencing Lange's season one character, Constance Langdon. "The one and only Lady Lange…being directed by that dynamo of wit and talent Sarah Paulson. Love them both!"
Lange's return to the beloved show will be her first appearance on it in four seasons, following the Emmy and Golden Globe she won for her roles on it. Two years after she won the Emmy, in 2016, she told Charlie Rose that she had no more plans to appear on American Horror Story. "I had four years with that, four seasons, and each year was a marvelous character," she said. "Everything changed from one year to another, which made it very interesting to me. But, no. I think sometimes you come to the end of something."
This upcoming season is also bringing together Lily Rabe, Emma Roberts, Taissa Farmiga, Gabourey Sidibe, and Frances Conroy, as other teases have revealed. The season, which is titled The Apocalypse, is a mashup of sorts, drawing from the first one, Murder House, and Season three, Coven. It is reportedly set in the future on October 6, 2019, as previously speculated.
While the first episode premiered last Wednesday, September 12, there are still surprises in store for this season, as Murphy teased to Entertainment Weekly. "You will see so many fan favorites return that you'll feel like it's The Love Boat," he said, a premonition that has already come true with the reveal of Lange's return. "It's a very high concept." There's only nine more episodes to go until we have a much clearer picture of what that high concept is.