American Horror Story: Apocalypse: Everything We Know So Far
What will become of the characters returning for the most ambitious crossover in television anthology history?
---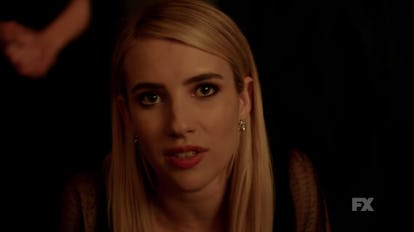 FX/YouTube
American Horror Story: Apocalypse really is shaping up to be the most ambitious crossover event in television history. Season one, or Murder House, mixed with season three, also known as Coven, means this season will consist of pure fan service. Well, almost pure fan service. Most of the cast members involved with both of those seasons are set to return, but not everyone will be back (ahem, Angela Bassett, why have you forsaken the fans like this?) and the fates of some returning characters still remain unknown, despite the hints dropped in each teaser tidbit released on social media.
What we do know about season eight of Ryan Murphy's horror anthology, besides the fact that it is a mashup of seasons one and three, is that it begins with the end of the world. The most recent trailer released by FX shows Leslie Grossman, Evan Peters, and Joan Collins in a turbulent private jet, as well as the entire coven from season three, which includes Frances Conroy (even though her character's fate ended in an iconic season three moment, where she burned at the stake while shouting "Balenciaga"), Taissa Farmiga as Zoe Benson and Emma Roberts as the spiteful witch Madison Montgomery (bet you thought you'd seen the last of her), the gimp suit from Murder House (which was revealed to be Evan Peters back in season one), and Jessica Lange.
A few questions remain after viewing this season's cryptic trailer. First, where is Connie Britton? We know that Britton will return as Vivien Harmon, the unsuspecting mother of the antichrist born near the end of Murder House, and thanks to the actress' Instagram, we know that Sarah Paulson (Ryan Murphy's A1 since day one) is directing Britton and her television husband Dylan McDermott (Mark Harmon in the AHS universe) in at least one episode this season.
And what about Gabourey Sidibe and Stevie Nicks? Or Kathy Bates? None of them made it to the trailer, though a Coven cast photo including all three did surface a couple weeks ago. Bates is confirmed to return for Apocalypse, likely reprising her role as Delphine LaLaurie, the serial killer who tortured black slaves in Louisiana (she is based on a real person, by the way), and since Bates did not appear in the trailer, but is confirmed to appear in this season, could it be possible that Angela Bassett is just playing with us? Her Coven character butted heads with LaLaurie, and if we're going to watch an entire coven of witches survive the apocalypse, we need to see Marie Laveau going through it with the rest of them. There's still time for a stealth appearance from the Voodoo Queen.
Some of the characters will also play multiple roles in Apocalypse, so things could get a little confusing, depending on where the characters left off in previous seasons. For example, in Murder House, Farmiga played Violet Harmon, and Evan Peters played Tate Langdon, but in Coven, Farmiga played Zoe Benson and Peters played Kyle Spencer, a Frankenstein frat boy. Plus, in this new season, Peters will be playing a new role, as evidenced by the short clip of him in this season's trailer. So will Paulson, who claims this new cryptic character is unlike any of the ones she's played before. This is why Apocalypse really is the most ambitious crossover event. Will both Farmiga reprise the roles of both Violet and Zoe return in Apocalypse, or will just one of them return? It's hard to tell from the cryptic teasers released before the show's September 12 premiere.
Related: Is American Horror Story: Apocalypse Inspired By a Classic Short Story?