Swimsuit Model Amilna Estevao Hails from the Beaches of Angola, Wears Sunglasses at Night
The emerging talent shares her secrets to a stylish summer.
---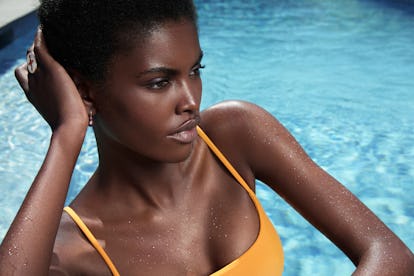 Estevão wears a Matteau bikini, Pascale Monvoisin earring and ring. Photo by Easton and Roso, styled by Caroline Grosso. Visual Editor: Biel Parklee. Hair by Michael Lollo at Honey Artists; makeup by Misha Shahzada for Christian Louboutin Beauty at See Management. Model: Amilna Estevão at the Society Management. Photography Assistant: Alex Hodor-Lee. Production Assistant: Paige Viti. Special thanks to Jenny Landey Locations.
It wasn't exactly swimsuit weather when model Amilna Estevao agreed to try on just about every one and two piece under the sun on a particularly chilly day in May, but her energy and exuberant smile made summer feel that much closer.
It comes as no surprise that the 18-year-old Angolan model, who spent much time at the beach growing up, is comfortable in a swimsuit. But she's also embraced a more tomboyish aesthetic now that she has short hair, and keeps it simple when it comes to summer beauty and style. However, she names the always-confident Naomi Campbell as her ultimate inspiration.
Estevao was first discovered at the age of 14 when she entered the Elite Model Look contest in Luanda, Angola. She ended up winning, and was given a modeling contract on the spot. Today, she's signed to Elite as well as The Society Management in New York, where she's based. This season, she walked in major shows in every city, from Maison Margiela to Monse. Here, she talks about summer style, her fashions icons, and more.
Do you go to the beach a lot back home in Angola? Which ones are your favorite?
I do like to go to the beach sometimes, even if just to relax and breathe some fresh, natural air. I love to go to Baia de Luanda or Ilha.
Do you prefer a one-piece bathing suit or a bikini? A hat or sunglasses? Jean shorts or a dress?
I prefer bikinis, sunglasses, and jean shorts.
What's your favorite bathing suit right now and why?
My favorite bathing suit is one from Hermès that I just got as a gift. I love the color, which is a wonderful black and orange. It goes with my skin tone!
How would you describe your personal style?
I like to be comfortable and cool, and dress a little bit boyish because of my haircut. I usually just throw some jeans on top of some sneakers or boots.
Who are your beauty and style icons?
I really idolize Naomi Campbell. I think she's an inspiration for a lot of people, and I think she has a strong and amazing personality. I also really love Candice Swanepoel, as well. She's amazing and has a beautiful and strong face…and I love her figure!
What was your most recent purchase for your summer wardrobe?
I love to carry bags of all different colors. You can wear very simple pieces, but carry a cute bag to give off some chic vibes.
What do you wear for a night out in the summer?
For a night out in the summer, I like to dress more sexy and simple, with some high heels sandals and a mini dress. For me, this look is perfect. I also love to wear sunglasses, even during night time just to give more swag, hah!
What are you currently lusting after?
The beach!
What beauty products do you use every single day in the summer?
I use this 24-hour rehydrating fill-in care from La Roche-posay. It's so good for people who have really dry skin. I also use a skin gel from Sephora to give you a perfect skin texture and glow. My favorite mascaras for summer are from YSL or Marc Jacobs—they make my lashes long and beautiful.
Summer exercise regime?
I like to go run sometimes or do ab exercises at home. I prefer to do everything myself, rather than go to the gym.
What is always in your suitcase when you travel?
I need to have a pair of blue or black jeans, heels, and a cute dress just in case.
Do you have any hidden talents?
I like to dance a lot. I would love to teach you guys how to dance "kuduro" from Angola because it's amazing. But eventually, I would like to learn how to dance to all different types of music, and I think I could maybe act because I'm little bit dramatic sometimes.
If you weren't modeling, what would you be doing?
If I weren't a model, I think I would be doing some type of design. I used to think about that before and started practicing, but then I became a model, and now I think I'm in the right place.
What is your dream job?
To work with Versace, Chanel, and Gucci.
Summer vacation plans:
I would love to visit Monte Carlo in the South of France. It's just beautiful, even from afar, and I've heard great things about it. I would love to go to the Bahamas as well. I'm an Aquarius, so I love the ocean water and relaxing in it!
Dream destination:
Anywhere with beautifully blue ocean water!
The Ultimate Guide to Summer's Best Swimsuits
Watch top models talk about their best beauty advice, and more: