Amy Adams Played a Prank With a Fart Machine on the Set of Sharp Objects
And director Jean-Marc Vallée wasn't amused.
---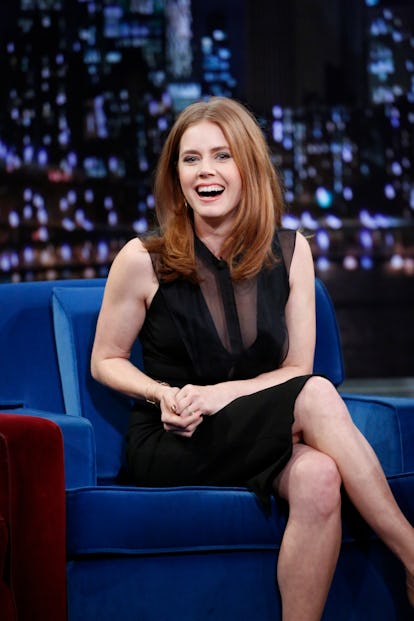 NBC
HBO's forthcoming miniseries Sharp Objects, based on the crime thriller by novelist Gillian Flynn, is not exactly going to be a knee-slapping laugh factory, but that doesn't mean that star Amy Adams didn't get in a few punch lines on set. Taylor John Smith, who plays a grieving family member in the series, told Vulture at the Los Angeles premiere that Adams became an unlikely comedian on set with the aid of one very important prop: a fart machine.
"There was a scene that's very gritty and heavy, probably one of the heaviest of the show," Smith said. "To break the ice, she brought on a fart machine."
The hijinks were evidently exactly what everyone on set of the hyper-intense production needed, even if director Jean-Marc Vallée wasn't initially amused. "She hid it inside the set unbeknownst to Jean-Marc," Smith continued. "First couple takes, she'd press the button and Jean-Marc freaked out. He was like, 'Who was that? Who was that?' It was great."
Sharp Objects tells the crime-thriller-horror tale of a journalist (Adams) who returns to her hometown after a stint in a psychiatric hospital to investigate the gruesome murders of two young girls. The role is evidently so intense that showrunner Marti Noxon noted that it has been a difficult one to inhabit. "I think it's been a burden for [Amy] to carry that character," she told Entertainment Weekly last year. "It's a very brutal part and one that can take a toll on you." Perhaps no one needed some slapstick fun with a fart machine more than Adams herself.
This intense role will be Adams's first return to television since a three-episode stint on The Office back in 2015. Maybe she borrowed the fart machine trick from Michael Scott?
The eight-episode miniseries will premiere on HBO on July 8.