Amy Adams Is Compelling in the First Trailer for Sharp Objects
It's like a mix of "Gone Girl" and "Big Little Lies."
---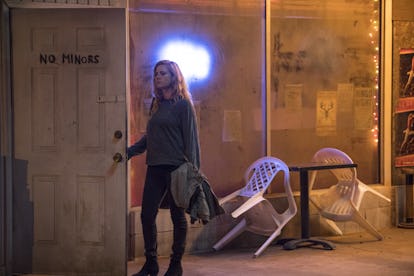 Anne Marie Fox/HBO
The first trailer for Sharp Objects is here, and it's as dangerous as the title suggests. Amy Adams stars in the series, which is being directed by Big Little Lies first-season alum Jean-Marc Vallée and is based on a book from Gone Girl author Gillian Flynn.
Beyond those names, the show's impressive pedigree also includes showrunner Marti Noxon (best known for producing UnReal and 20 episodes of Mad Men) and Patricia Clarkson, who co-stars as Adams's estranged mother, who is definitely hiding something. When Adams, playing an investigative crime reporter named Camille, shows up to her mother's doorstep in her hometown of Wind Gap, Missouri, on assignment to investigate a murder and missing person, her mom is less than thrilled to see her.
"I'm just in town on business," Adams tells her mother, Adora.
"You're here. You're my daughter. Everything you do comes back on me," her mom later tells her, to which Adams replies, "I didn't come back to cause any problems."
Yet Adams's presence is less of a consolation and more of a concern for other residents in the small town, like one who cryptically tells her, "It doesn't help anything, riling folks up," to which she replies, "You got two mutilated girls on your hands. Someone else is doing the riling."
If the trailer appears to be as haunting as a horror film's, that's because the series toes the line between one and a crime thriller. "I was really nervous it would just turn into a horror movie and lose a lot of the nuance," Flynn told Entertainment Weekly of the limited series based on her 2006 debut novel, Sharp Objects. "The mystery is as much about who Camille is and what happened in this town as it is about the murders."
Adams, too, appears to be hiding something, as her character has just been released from a psychiatric hospital when she comes back to her hometown. The role is quite the pivot from her last TV one: a three-episode role on The Office, back in 2005. Perhaps not surprisingly for those who've watched the trailer, it took a big mental toll on Adams to gear up for this role. "I think it's been a burden for [Amy] to carry that character," Noxon told Entertainment Weekly, adding the same for Clarkson. "It's a very brutal part and one that can take a toll on you." Thankfully, she only had to stay in character for eight episodes, which premiere starting July 8 on HBO.
Related: Amy Adams May Actually Reprise Her Princess Role in an Enchanted Sequel