Sharp Objects Teaser Trailer: Amy Adams Goes to a Dark Place in the New Gillian Flynn Adaptation
"I'm not scared of them ghosts. Are you?"
---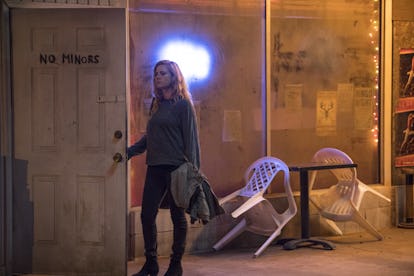 Anne Marie Fox/HBO
The first teaser trailer for HBO's Sharp Objects dropped Sunday night, and it's shaping up to be the darkest Gillian Flynn adaptation yet. But that shouldn't come as too much of a surprise, considering it's from the author of Gone Girl, the producer of Get Out, the director of Big Little Lies, and the creator of UnREAL. Based on the minute-long clip, that's the perfect team to pull off a Southern Gothic thriller about psychological demons, affluent WASPs with huge skeletons in their closets, and, of course, murder.
The teaser, which aired before the season two premiere of Westworld, opens with Amy Adams' character, a journalist named Camille Preaker, returning to her hometown of Wind Gap. She's there to cover the murder of two young girls, while dealing with her estranged mother (Patricia Clarkson, who manages to terrify without saying a word) and much-younger sister (newcomer Eliza Scanlen). "Mom says she saw a ghost once," a girl says in a voice-over. "I'm not scared of them ghosts. Are you?" From there, we get clips of Adams toying with a straight razor, sinister bathtubs, creepy doll houses, trapped tarantulas, and blood. At one point, Clarkson's spooky matriarch gets told, "We need to talk about your daughters, how one of them is dangerous, and the other one is in danger," which poses the obvious question of which one is which. So, not a whole lot about the plot, but what we do see is more than enough to satisfy the Big Little Lies-meets-Gone Girl craving you didn't know you had.
In a New York Times interview, Adams described the character as "dark," and recounted her experience of having to do a tricky single of crawling on a bathroom floor "while weeping and drinking fake vomit she then had to spit up." If you weren't sold before, you definitely should be now.
Sharp Objects is a limited series, and airs this July. Watch the full teaser trailer below.
Related: Westworld: What's Real and What's Just Programming in the Season 2 Premiere