Amy Winehouse's Family Has Approved a Biopic About the Late Singer
The film begins production in 2019.
---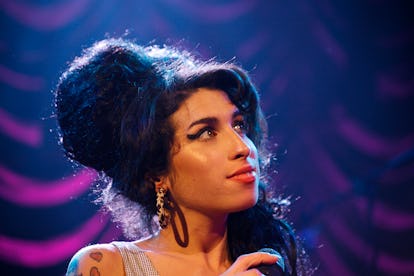 Chris Christoforou
Just days after an announcement that a tour featuring Amy Winehouse's hologram will happen, her family has revealed that a biopic about the late singer is in the works.
According to The Guardian, the Winehouse family will executive produce the movie, which is set to begin filming in 2019. It has also been reported that proceeds from the biopic will go toward the Amy Winehouse Foundation.
"We now feel able to celebrate Amy's extraordinary life and talent," the singer's father, Mitch Winehouse, announced in a statement. "And we know through the Amy Winehouse Foundation that the true story of her illness can help so many others who might be experiencing similar issues."
Joining the Winehouse family are Monumental Pictures' Debra Hayward and Alison Owen, the mother of the British singer Lily Allen, who will coproduce the film. Kinky Boots writer Geoff Deane is set to pen the story.
"We're proud that Mitch Winehouse has entrusted us with the story of amazing Amy, an icon whose songs have provided the soundtrack to a generation," Monumental Pictures said in a statement.
In The Sun, Winehouse's father revealed that despite being approached to have Lady Gaga portray his daughter several times, it isn't going to happen. "It wouldn't be Lady Gaga. She doesn't speak our kind of English," he said, adding, "I wouldn't mind betting it would be an unknown, young, English—London, Cockney—actress who looks a bit like Amy."
But he did add that he wants whoever plays his daughter to be authentic to who she was. "It's obviously something that we are going to do, 100 percent. What we want is somebody to portray Amy in the way that she was…the funny, brilliant, charming, and horrible person that she was." Hopefully the team behind the forthcoming biopic will find someone who is able to portray the talented and troubled singer in a way that honors her memory.
Winehouse's life and subsequent death was previously made the subject of the 2015 critically acclaimed documentary Amy, which the Winehouse family dubbed a "disgrace." A second documentary about Winehouse is due in November, titled Back to Black.