Amy Winehouse, the Hologram, Is Going on Tour, and It's Normal to Feel Weird About It
And it's okay to feel weird about it.
---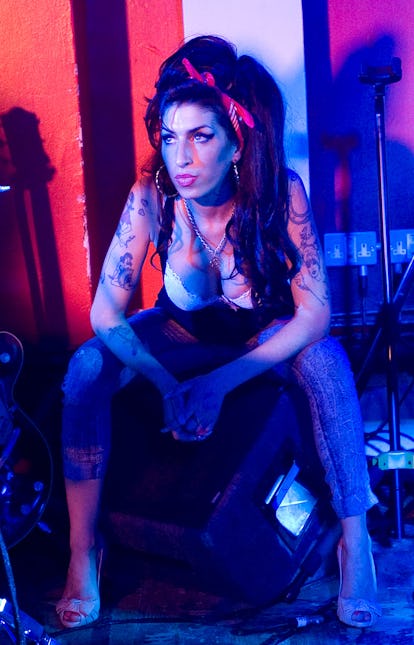 Samir Hussein/Getty Images
Amy Winehouse is the latest artist to fall victim to becoming a hologram. Because nothing is sacred anymore, the late artist, who died at 27 while dealing with substance abuse, is being resurrected for tour. Though the concept sounds disrespectful to the memory of Winehouse, whose music and likeness are being used posthumously to tour without her approval, proceeds are going toward the Amy Winehouse Foundation, says her father, Mitch.
The tour, which benefits Winehouse's organization that works "to prevent the effects of drug and alcohol misuse on young people by supporting, informing and inspiring them to help them reach their full potential," is taking place in the fall of 2019. "This is a dream for us," Mitch Winehouse said in a statement. "To see her perform again is something special that really can't be put into words. Our daughter's music touched the lives of millions of people and it means everything that her legacy will continue in this innovative and groundbreaking way."
As for the set list, it will be centered around her greatest hits and include a live band with backup singers and "theatrical stagecraft." "Fans have been clamoring for something new from Amy, but really there isn't anything new in terms of music," Mitch told Reuters, per Vulture. "We felt this would be a tremendous way for Amy both to revisit her fans through a hologram, and also an incredible way to raise money for our foundation."
Winehouse's hologram tour comes in the wake of a hologram tour of the late Roy Orbison, which included the Royal Philharmonic Orchestra, and was organized by the same company, BASE Hologram. It also follows Tupac Shakur's hologram headlining Coachella, in 2012, and news that Frank Zappa was being considered for a hologram tour. A few years ago, there was also talk of a Selena Quintanilla hologram show, but her father, Abraham Quintanilla, ultimately dismissed that idea. While the justification behind Winehouse's tour sounds valid enough, is it ever really okay to support a business venture that capitalizes on a tragic death? That will be up to fans to decide.