An Impeccably Curated London Flat That Marries Cutting Edge Design With a Sense of History
Inside the Shoreditch apartment of the illustrious design curator and writer Jane Withers, where not a piece — whether an of-the-moment chair or a 17th century flagon — seems out of place.
---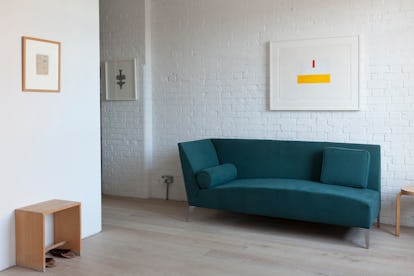 The London apartment that the design curator, consultant and writer Jane Withers calls home is a portrait of someone clearly in love with her subject. Withers curates the Brompton Design District, a showcase for emerging design talent during the annual London Design Festival, and has organized exhibitions on the 20th century British designer Robin Day for the Victoria & Albert Museum and on the architect Richard Rogers for the Royal Academy, as well as for Selfridges and the Roca London Gallery, where her exhibition on communal bathing culture, "Soak, Steam, Dream," is on view until January 28, 2017. You might say that Withers takes her work home with her, and that is a very good thing. "I'm like the cobbler," she says. "I end up with things that have a story related to work."
Withers lives at the northern end of Shoreditch, in London, away from the hustle and bustle of the now-trendy neighborhood, in a converted factory building with a central courtyard. Her spare, airy flat is filled with pieces by some of the most talented designers working today, as well as contemporary art and everyday, handmade objects from around the world. Large windows and a skylight illuminate the space, with its double-height living-dining room, where a staircase leads to a mezzanine and roof terrace. The architectural vibe is quite different from those of her previous abodes, which included a flat on the first floor of a townhouse in the Bayswater area — it had, Withers notes, "a wonderful volume and tall French windows overlooking a garden square" — and an early Georgian house in Clerkenwell, back when the neighborhood was so unfashionable that "the only places to buy food were the petrol station or Smithfields meat market."
Withers renovated the two-bedroom space with the help of her brother, Simon, a London-based designer, replacing ceramic tile floors with half-sawn oak, and updating the kitchen and bathrooms. The living room contains classic midcentury modern pieces like wood and rattan seating by Hans Wegner, but also a sinuous metal chair by Andre Dubreuil from the 90's (when Withers curated a design exhibition in Tokyo for Shiseido), a concrete stool by the young Swiss designer Nicolas Le Moigne, a cork bench by Ilse Crawford for Ikea, and a photograph by Christopher Williams. In the master bedroom, a sofa designed in the 80's by Jasper Morrison sits against one wall, while another is adorned with one of Peter Marigold's asymmetrical wooden Split Box bookcases.
In the kitchen, a copper watering can by the Dutch designer Aldo Bakker shares pride of place with a Tunisian tinned-copper cooking pot, a Rajasthani turban head (akin to a hat form), an unglazed English Arts & Crafts pot, and Morrison's green glass bottles, along with a 17th-century wine flagon. "I tend to focus on objects that interest me, rather than a particular period or culture," Withers says. "I often start collecting things as a way to explore a subject."
Withers's fondness for mixing old and new design dates back to her childhood, when her parents exposed her to everything from French cathedrals to Marimekko. After getting a B.A. in art history from the Cortauld Institute, she received a joint M.A. in design history from the Royal College of Art and the V&A.
Since then, Withers has successfully married her interests in design's past and present. "I'm interested in the way historic objects may have relevance for today, especially in terms of sustainability, where there are 'forgotten' materials, processes, and rituals that make real sense for today and the future," she says. In particular, she has focused on the subject of water in projects like "Soak, Steam, Dream" or last year's "Water Bar," which was part of Selfridges's "Project Ocean" exhibition, created to raise awareness of plastic pollution in global waters. As Withers explains, "The 'Water Bar' was about imagining life without the plastic bottle; we gathered an amazing collection of water vessels from different areas and cultures that showed what a rich language there is — or was — around water, and how limited (as well as poisonous) the single-use plastic water bottle is."
And as you would expect for someone whose domestic and work lives are so intertwined, Withers has several such vessels at home. Her bathroom is full of objects related to water: an Iranian metal hammam bowl; an Indonesian barrel stopper; or a spout, shaped like a sea creature, from Istanbul. And they're likely to stick around, even after Withers moves on to the next subject.
"I tend to keep things around," she says, "like old friends."
Inside the London Flat of Design Curator Jane Withers
Photo by Nicole Bachmann.
Photo by Nicole Bachmann.
Photo by Nicole Bachmann.
Photo by Nicole Bachmann.
Photo by Nicole Bachmann.
Photo by Nicole Bachmann.
Photo by Nicole Bachmann.
Photo by Nicole Bachmann.
Photo by Nicole Bachmann.
Photo by Nicole Bachmann.
Photo by Nicole Bachmann.
Photo by Nicole Bachmann.
Photo by Nicole Bachmann.
Photo by Nicole Bachmann.
Photo by Nicole Bachmann.
Photo by Nicole Bachmann.
Photo by Nicole Bachmann.
Photo by Nicole Bachmann.
Photo by Nicole Bachmann.